Next group of Penn State draftees perform in NFL rookie minicamps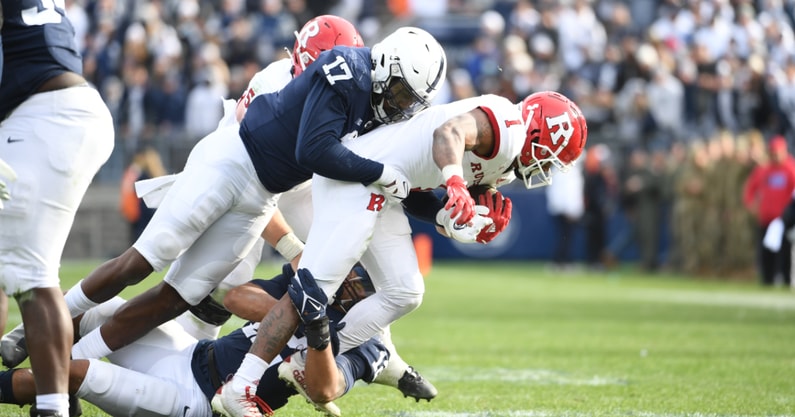 Penn State football produced its largest draft class to the NFL since 1996, sending eight to the next level last month. The number was the fourth-highest among all college football programs.
While four Nittany Lion draftees had already participated in their first NFL rookie minicamp, the second set of four got its first crack at the NFL this past weekend.
Let's take a look at some of the storylines to come out of their first weekends in the NFL, here:
Arnold Ebiketie
Taken early in the second round of the draft, Penn State defensive end Arnold Ebiketie was selected 38th overall by the Atlanta Falcons to help fill an immediate need.
Coming off a season in which the Falcons struggled to find a pass rush, Ebiketie was tabbed to rectify it. And as Ebiketie told reporters this weekend, he's got every intention of living up to the billing.
"I'm confident in my potential and I know that I'm gonna come in and put the work in," Ebiketie said. "I don't expect any handout. One of my coaches used to say you have to earn your keep. So I tend to come out here every day and work at trying to earn my spot."
Part of the process toward accomplishing that goal will involve technique changes from his collegiate days, Ebiketie said. Spending his first two days with the franchise learning the Falcons' scheme and techniques needed, he said that his on-field steps are different and that he'll be lining up in a two-point stance 90 percent of his reps. 
Taking his cues from Von Miller, T.J. Watt, and Nick Bosa, among others, Ebiketie is confident his approach to the game is what will key his on-field success.
"I think it comes down to how I approach pass rushing. And for me, it's always been about how I study my opponent and translate it onto the field," Ebiketie said. " I think I'm agile enough, I'm versatile enough to be able to do different things. So as long as I keep that mindset and study my opponent the way I'm supposed to, I think I should be fine moving forward."
Brandon Smith
Meeting with the media covering the Carolina Panthers for the first time in Charlotte, former Penn State linebacker Brandon Smith detailed his early impressions of the transition.
Praising the atmosphere of the franchise for being genuine and filled with "a lot of love" Smith said he spent his first practices playing at the Will. He also expects to continue playing at that spot in the Panthers' defense, though head coach Matt Rhule suggested Smith's versatility could allow for cross-training.
"He was kind of one of those chess piece type players. He's a linebacker who can also rush. Fast, athletic, still a young player. So, we'll play him at all three linebacker positions," Rhule said. "Part of this weekend was looking at him, looking at Amare Barno, seeing exactly how maybe they could fit in with us. But I think we'll start him off at linebacker and let them learn that. That's probably one of the hardest positions to learn. So then just see what else he can do."
Smith weighed in at 244 upon arriving in Charlotte but said he expects to be at a playing weight of 250 during the season. He also signaled an attitude of openness about his beginnings with the Panthers.
Pledging to lean on his veteran teammates at the position, Smith said he understood emulation would be critical to his success.
"Just looking at those guys, they've been in the system for a while. And this is like really truly my first couple of days within the system," Smith said. "So you got to swallow your pride. And you also got to say, Hey, these guys have been making millions of dollars on the second, third contract. I mean, I don't know much of anything. I'm still trying to get my feet wet. So I'll be like a sponge and soak up whatever information they give."
Tariq Castro-Fields
Taken with the 221st overall pick by the San Francisco 49ers in the sixth round, former Penn State cornerback Tariq Castro-Fields acknowledged the arduousness of the process this weekend.
Eager to begin the next chapter of his career, Castro-Fields was forced to wait until later in the day Saturday to hear his name called. But once that took place, he said, he turned his attention to what was next.
"Of course it was hard to wait," Castro-Fields said. "But I was surrounded by family, my teammates. KJ Hamler came down. I had a lot of people come and support me. And I just use that as fuel.
"Life is not fair. You never really know. I'm just gonna use that as fuel and prepare myself for… I get a new opportunity with the 49ers are a great organization. I'm blessed to be here and I'm in Cali. Life is good."
In his first minicamp, Castro-Fields had mixed performances according to various reports from the weekend. Beaten on a deep post for a touchdown by receiver Danny Gray, and said to have played "aggressive bump-and-run coverage" throughout, he got burned for it "multiple times." On the brighter side, Casto-Fields also notched a pass breakup against the same receiver, taken in the third round of the draft.
Emboldened by the training he's had throughout his college career at Penn State, particularly in routinely facing off against Jahan Dotson, Castro-Fields said he's looking to take on as much knowledge as he can from those around him at the next level.
"Guys on his team like Emmanuel Moseley, Jason Verrett. We got dogs here that I can learn from. And that's what I did in college," Castro-Fields said. "I want to be a sponge. I'm going to ask as many questions as I can. And it's a job now, so it's no excuse but to improve. This is my craft. I'm gonna dedicate myself. I'm gonna give the 49ers my all. I can't wait. It's a new start. I can't wait."
Jesse Luketa
Picked up by Arizona Cardinals GM Steve Keim with the 256th overall selection, Penn State defender Jesse Luketa was thrilled.
"It's an honor. All I needed was one team to believe in me," Luketa told reporters this weekend. "There are 32 teams in the NFL and I just need one opportunity. So for him to make that decision to pick me, I'm extremely grateful to be here. I'm excited to get to work, find a role, and contribute to the organization."
From the onset, that role will be as an outside linebacker for the Cardinals. But as Luketa added, any opportunity that exists is one he's happy to work toward.
"I'm currently working with outside backers, working with Coach Bullen… That's where I'm just gonna keep working my technique and my craft," Luketa said. "And I look forward to contribute on special teams and just finding a role."
On a team that also features second-year linebacker Markus Golden and veteran DE J.J. Watt, Luketa added that he's looking forward to the chance to take cues from his new teammates and model his approach after theirs.
"Just being able to learn from them, see how they go about their business. Just how they prepare and the little things and try to add it to my own regimen," Luketa said. "I'm excited to get to work, earn their respect and their trust, and just let them know, show them that I can be accountable and I'm ready to work."