Penn State cornerback Joey Porter Jr., declares for 2023 NFL Draft, will forego bowl game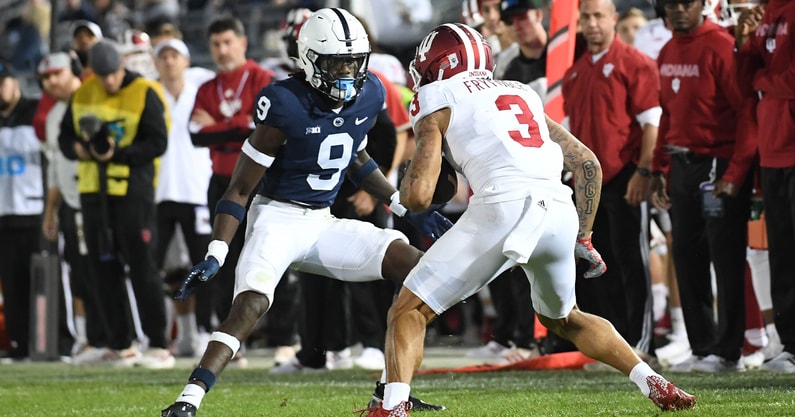 Penn State corner Joey Porter Jr. has declared for the 2023 NFL Draft. The Nittany Lions standout defender announced the news on Wednesday after the team ended its 2022 regular season with a 35-16 victory over Michigan State.
"First and foremost, I sincerely appreciate my teammates, coaches, family and every member of the Penn State community who have made the last four years so memorable. My time at Penn State has been nothing short of a blessing," Porter Jr., wrote on Twitter. "To my family, thank you for the unconditional love and support. I wouldn't be the man I am today without the love and guidance from my Mom. To my Dad, thank you for introducing me to the game I love and for always pushing me to be my best.
To my coaches and teammates, I will cherish the memories we have made and the lessons we have learned together.
"I have been fortunate enough to be surrounded by men who exemplify what it means to be hard-working leaders and for that I am grateful. After careful thought, I have decided to forego our bowl game and declare for the 2023 NFL Draft. From one dream to the next, I am excited to continue this next chapter."
The corner had a terrific career in blue and white. He topped the 100-career tackles mark. And, he was often avoided entirely by opposing offenses. Porter Jr., is up for the Jim Thorpe and Chuck Bednarik awards and also the Nagurski Trophy. The Associated Press named him a midseason All-American and there will be postseason honors coming in that vein, as well. And, he was a unanimous first-team All-Big Ten selection.
Where will Penn State corner Joey Porter Jr., go in the 2023 NFL Draft?
Penn State has never had a cornerback drafted in the first round. Porter Jr., is aiming to change that fact. Many media mock drafts think he will go during the first night of the draft.
"While Porter isn't an elite athlete in terms of explosiveness, he does bring a very enticing mix of reactive athleticism, corrective twitch, and fluidity for a 6'2″ cornerback with near-elite length," Pro Football Network writes. "On top of that, he's constantly physical in contact situations and showcases high-level instincts and ball skills when quarterbacks challenge him.
"Porter is a young and naturally talented defender with the mindset needed to compete at CB. He should spend most of his time on the boundary. But, he's shown he can slide into the slot as well if needed. A lot depends on his technical development, but at his maximum, Porter can be a quality NFL starter with dual-phase playmaking upside and versatility between man and zone alignments."
Porter Jr., will test well at the NFL Combine. His stock will only rise. Penn State should end its NFL Draft drought when it comes to never having a cornerback going in the first round of the pro selection process.