James Franklin details Penn State QB situation ahead of Michigan State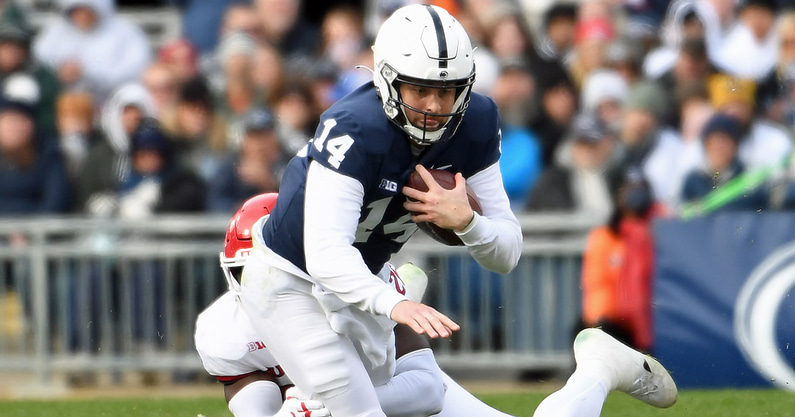 Penn State head coach James Franklin said Tuesday afternoon that the Nittany Lions plan to revert back to their typical depth chart at quarterback against Michigan State, despite Christian Veilleux's solid showing Saturday versus Rutgers.
"We'll go back to the rotation that we have had," Franklin said.
That means Sean Clifford will get the start for the Nittany Lions.
Franklin clarified that Clifford left Saturday's game against Rutgers because he was one of several players suffering from the flu — not for any other reason.
It wasn't clear who was going to start at quarterback for the Nittany Lions until the day of the game, Franklin said.
Penn State installed a new cadence in the team hotel prior to the game. Clifford's voice was compromised to the extent that the Nittany Lions needed to use a silent count despite their home field advantage.
"After the IVs, doctors and trainers and all that, Sean felt like he could go," Franklin said. "But him and [offensive lineman] Caedan Wallace, both of those guys tried to go and they did not have the energy and were lightheaded and weren't really productive, so we said, 'Yeah, we're going to make a change here.'"
Veilleux, a true freshman, played well in Clifford's stead. Veilleux completed 15 of his 24 pass attempts for 235 yards and three scores.
"Obviously, it's a good feeling knowing that you have a guy who you feel has played and played at a high level in actual game reps, which is something we haven't had up until that point," Franklin said.
Veilleux earned Penn State's offensive player of the game nod for his effort, Franklin noted.
Franklin on Penn State's health situation
The flu virus that ravaged the Nittany Lion roster and necessitated Veilleux's entry into the game is abating, Franklin said.
Twenty-five Nittany Lions were unavailable Saturday afternoon, and another 14 tried to play through it to varying degrees of success.
"Everybody had envisioned that they were going to be the Michael Jordan Flu Game," Franklin said. "…It didn't necessarily play out that way for a lot of guys that were sick, but I still truly — and I know their teammates — appreciate the effort that they tried to give."
The Nittany Lions hope that they will enter this week's game at Spartan Stadium in better health.
Franklin said many of the players who sat out Saturday's game with the illness are now recuperated and returning to practice. However, a couple more players have become sick since Saturday.
Franklin specifically mentioned Clifford, offensive lineman Mike Miranda and linebacker Curtis Jacobs as players the Nittany Lions are expecting back in action this weekend.
"I think we've got a chance to be healthier than we've been in a couple weeks," Franklin said. "Obviously, after last week, which I think was an extreme."