Penn State Football portal scouting, Hoops update: BWI Daily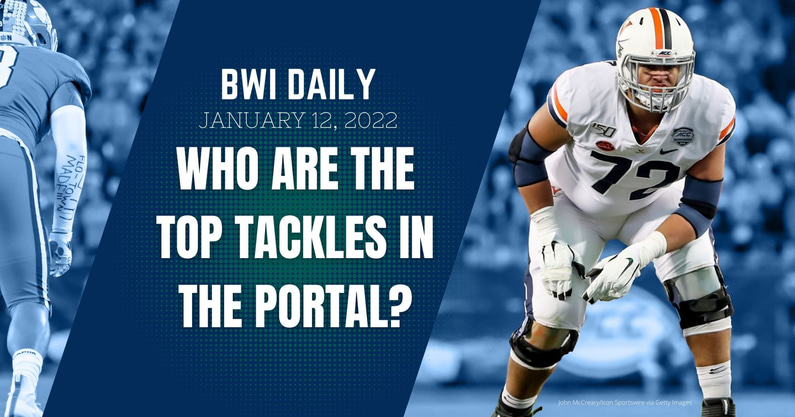 Penn State head coach James Franklin said that the team would be active in the transfer portal this offseason during his early signing day press conference. However, the spring semester has started at Penn State, and only one transfer, receiver Mitchell Tinsley, has joined the Nittany Lions.
Penn State Portal Scouting
However, that doesn't mean that there aren't players in the portal that Penn State should be interested in bringing to campus. Host of the BWI Daily Edition, Thomas Frank Carr, brings up two players at the most critical position for Penn State to fill this offseason, offensive line. T-Frank starts the show by giving a quick scouting report of former Virginia right tackle Ryan Swoboda, and Vanderbilt left tackle Tyler Steen.
Swoboda's name has been linked to Penn State for a while now, with the 6-10 tackle entering the portal some time ago. So what should you know about his game? T-Frank explains what he's seen on tape.
Featured: Thomas Frank Carr breaks down the skills needed to be a prototype interior lineman.
Steen is relatively new in the portal, entering his name earlier in the week. T-Frank gives a quick summation of the three-year player at Vanderbilt and explains the pros and cons of each player.
Were the Penn State Tight Ends that bad?
Next, he gives a quick preview of a future topic on the show, the tight end room. The trio of young players at that position came into the season with high expectations set by their head coach James Franklin after calling them the country's deepest room. Was it all as bad as it seems? T-Frank gives a quick preview of that topic, which he'll dig deeper into later this week.
Hoops Update
Featured: Dave Eckert analyzes Penn State Basketball's win over Rutgers
After that, he switches gears and brings in Blue White Illustrated's basketball reporters to talk about Penn State Hoops. The team has won three of their last four games and is now .500 in Big Ten competition. Senior Editor Nate Bauer and reporter Dave Eckert break down the team identity and their impressions of head coach Micah Shrewsberry in his first season.