Penn State head coach James Franklin's press conference: Watch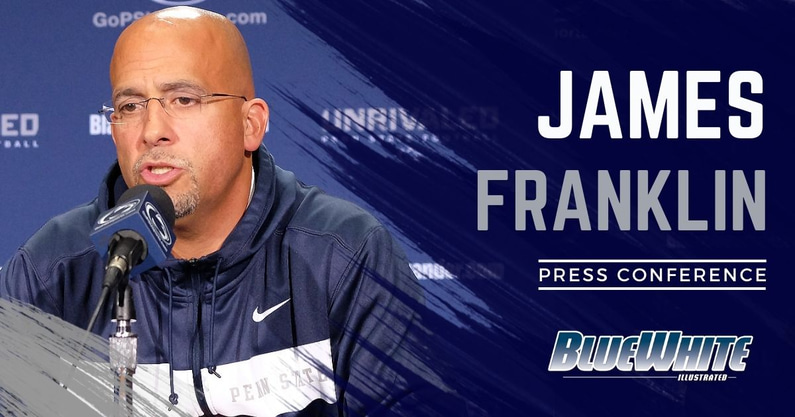 Penn State head coach James Franklin was back with the media Tuesday. As expected, he began recapping Saturday's win against Rutgers and then looked ahead to the season finale against Michigan State.
Of course, a contract extension from Penn State was another popular topic. Franklin told the media after the game Saturday that he hoped details would be finalized by the time of his weekly news conference. That didn't happen. The Penn State board of trustees met at 3:45 p.m. Tuesday, hours after Franklin's session with reporters had wrapped up.
"I was hoping that I'd be able to have a conversation with you guys at this stage, but I don't have anything new to report at this time," Franklin said. "Hopefully I will be [when] I get with you guys on Wednesday. I don't mean to keep moving this thing out, but as I told you guys before, I want to be able to make sure that when I say things to you guys, that it's completely transparent and totally honest. There's still some moving parts going on."
Penn State coach James Franklin
Subscribe to Blue White Illustrated's YouTube channel
Franklin was also asked about the status of a few Penn State players who were impacted by the flu. He confirmed that QB Sean Clifford, OL Mike Miranda and LB Curtis Jacobs are all expected back at practice today.
"As you know, we had massive numbers on Saturday. We had 35 guys. Most of those guys are coming out of it and are in a pretty good place, but as you can imagine, we've had a few more kind of go into it with the flu. So, it's kind of a moving target."
In regards to Clifford, he went on to add, "Sean wasn't feeling great on Sunday, was feeling better on Monday and is feeling back to normal today.
A win over Michigan State Saturday would be a major boast to Penn State's bowl hopes. Currently, the Nittany Lions are projected to play in either the Music City Bowl or the Las Vegas Bowl. A win would jump them to 8-4, which opens up the door for the Outback Bowl in Tampa, Fla.