Penn State linebacker season preview: BWI Daily Two-A-Days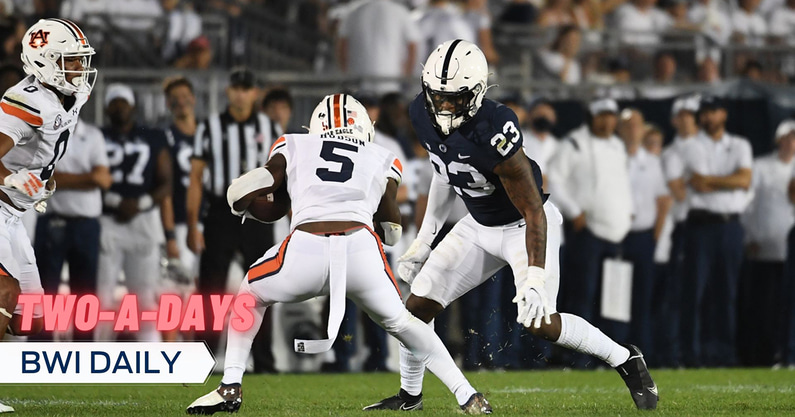 The 2022 Penn State football season is fast approaching, so Blue White Illustrated is getting you ready with BWI Two-A-Days. Each day host Thomas Frank Carr and senior editor Nate Bauer discuss a position group and give a season preview for fans. Today they focus on the linebackers.
Penn State's biggest camp battle: Middle Linebacker
The linebacker group might be the most interesting positional breakdown of any heading into the fall. On the one hand, the team has linebacker Curtis Jacobs leading the Penn State defense. But, on the other hand, Tyler Elsdon and Kobe King are fighting during camp to decide which inexperienced player will get his first start at middle linebacker. Throw in the positional ambiguity of the third linebacker spot, and the Nittany Lion fans have a wide variety of topics to discuss with the group.
T-Frank starts with the Penn State "starters" for this group, looking at Jacobs, King, and Elsdon. To start the show, T-Frank and Bauer discuss how vital that battle is in the middle of the defense. Next, T-Frank wants to know why Jacobs isn't getting the same hype as some of his predecessors despite producing more at similar points in his career than they did.
Next, the duo discusses Jonathan Sutherland's role in the defense and the nature of Manny Diaz's defense. There's still confusion about which players are playing behind Sutherland or can potentially see snaps at that linebacker spot. T-Frank assumes that only safety-type players are playing at the new "Striker" position, but he asks Bauer if he's missing something.
Are we sleeping on Abdul Carter?
After discussing that position, they shift their focus to the young Penn State players at the position behind the starters. T-Franks comments on the staff's excitement in freshman Abdul Carter and wonders out loud about another player on the roster. Will Carter pass more experienced players on his way to a role in the defense? Bauer points out a critical fact that might shift the conversation.
Lastly, they wrap up the show with their X-Factors and stock up or down.