Penn State picked Minnesota as this year's White Out game opponent; here's why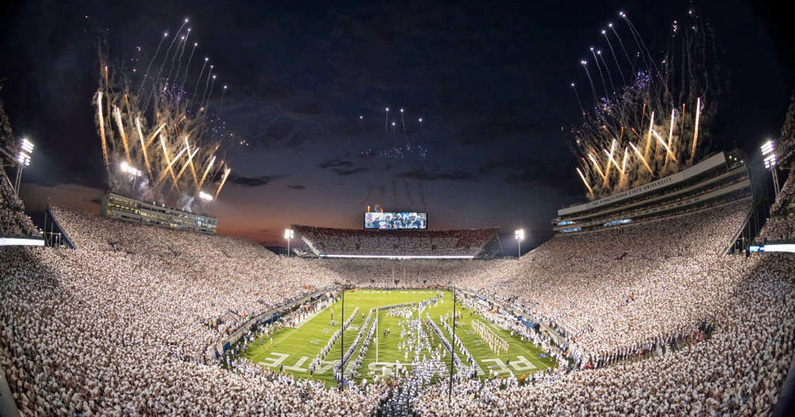 In its annual White Out game, Penn State usually faces Ohio State or Michigan, depending on which team it faces at home.
This year, however, the program has picked its Oct. 22 date with Minnesota to ask all fans to wear white clothing in support of the Nittany Lions.
The decision became a hot debate among fans earlier this year. Some felt the special occasion should be reserved for the biggest opponent of the year at Beaver Stadium. Others were adamant that, regardless of who or when, the decision should be based on whether or not the matchup is in primetime.
How did Penn State make its choice? James Franklin offered insight at Big Ten Media Days.
To Noon or not to Noon
First things first: Penn State-Ohio State does not have a start time yet. It's widely believed that the contest will be FOX's Big Noon Kickoff on Oct. 29. But, that isn't etched in stone yet.
We'll start here, however, because another hot topic among Nittany Nation is FOX's decision over the last few years to put its best game of the year at Noon instead of in primetime.
"For us, our White Out game has typically been a night game with the fireworks, and the white t-shirts and clothing on the backdrop of the black sky," Franklin said. "It's pretty special. Although the 12 o'clock games, if you look at the ratings, the Big Ten has done unbelievably well, and I think it's been an ingenious approach, in terms of starting out college football Saturdays with a primetime [caliber] game."
Whether Lions fans agree, Big Noon Kickoff is here to say. Franklin made clear why that is the case: Ratings. And so, it left Penn State with a decision: Wait and see when that game would be, or go with a sure bet primetime matchup.
How Penn State made its choice
Franklin said Penn State polled its fan base about what was most important to them regarding the White Out game. The leader of the Lions said that he, new athletic director Pat Kraft, and the fans all agreed that a night game is best.
That leads us to the matchup with the Golden Gophers. The Homecoming matchup is set to air at 7:30 p.m. TV is still to-be-determined television. That fact was all Penn State needed to make its decision.
"The data said that most people want a night game," Franklin said. "So we looked at our schedule. The game that we thought had the best chance to be a night game, another game we had seen [he's implying Ohio State] was probably going to be a 12 o'clock game. That impacted the decision, and that's where I was leaning [toward the pick being Minnesota]. The fans back that up. Then, when Pat came in, I asked him and right away he was he thought the same thing. So that's why the choice was made."
Some other factors played a role, as well.
"From a scheduling perspective in the Big Ten, the way it currently sits, we can't have night games after a certain point on the schedule," Franklin said. "So that limits it as well. And then also, if you want all the fans to dress up in white, that becomes more difficult later in the season, when people want to wear their hunting gear to stay warm. That makes sense.
"So a lot of factors that went into it. I think it also maybe caught people a little bit off guard. The way the schedule fell up to that point, it had pretty much rotated between two opponents. So, it kind of set up an expectation. That's really just kind of how it played out."