Penn State quarterback Sean Clifford uses Combine 'snub' to fuel Pro Day performance, push to make NFL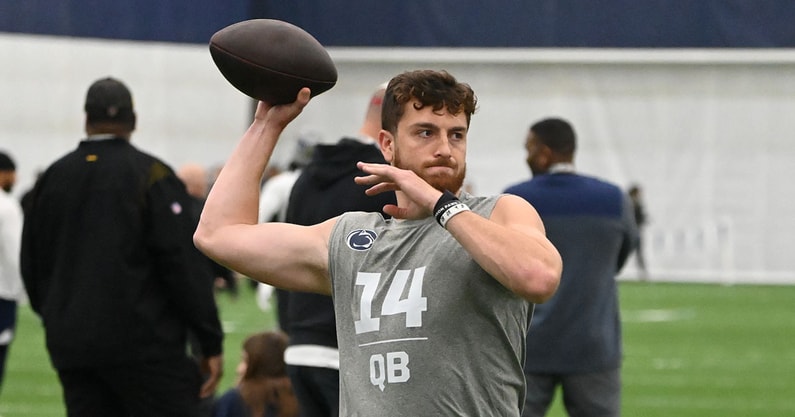 STATE COLLEGE — Two things will never change about Penn State quarterback Sean Clifford: The Cincinnati, Ohio native, four-year Nittany Lions starter, and six-year member of the program will always speak his mind and endlessly believe in himself.
That was on display again here on Friday as NFL personnel from across the country descended on Holuba Hall for Pro Day. Clifford went through numerous testing drills and then held a throwing session. He believes strongly that all of them should have been performed at February's NFL Combine in Indianapolis. But, without that opportunity, he made the best of this one while making clear that doing so a month after other hopeful pro passers did fueled his performance.
"I feel like I was snubbed with the Combine for sure," Clifford said. "The body of work that I've had with these teams here; when I didn't see my name as a Combine guy, I felt disrespected for sure. But, hey, it's just more fuel to the fire.
"Being able to come out here, show the scouts what I got, and being able to really just put on a show, it's been a lot of fun, and a good way to cap off a great career at Penn State. So I'm really thankful."
Clifford clocked a 4.57-second 40-yard dash and felt he impressed with his speed. It's on tape, of course, as the quarterback ran and passed plenty over his lengthy time at Penn State. But, this was another chance for him to showcase what he believes is a stength. Later, he threw a scripted session to current Lions KeAndre Lambert-Smith, Malik McClain, and his brother, Liam Clifford, in addition to tight end and draft classmate Brenton Strange.
"Really well," Sean Clifford said when asked how his overall day went. "Especially getting out there and being able to show my speed. I think that's something I really wanted to come in and kind of re-prove. I know that I've shown speed on film. But I wanted to come out here and post a good time. So being able to post a 4.57[-second 40-yard-dash], I'm proud of that number."
Clifford is looking for any chance to jump from Penn State to the pros
Clifford finished off his time at Penn State in the Rose Bowl. It was his best performance as a Lion. Immediately after it, he turned his focus completely to the NFL Draft. He sold his name, image, and likeness agency, LimitlessNIL (though he still sits on the board of the new iteration), and went to train in Florida. There, he worked with quarterbacks coach Tony Racioppi on various fundamental tweaks and upgrades as he looks for a shot at the next level.
With Pro Day over, he will throw for the Dallas Cowboys next week. Other similar opportunities are likely in the week ahead, too. None of those, nor the fuel and self-belief he possesses, will guarantee that Clifford is anything more than an undrafted free agent or camp invitee if that. No outside noise has ever stopped the quarterback from striving for the stars, though. That's again the case, as he continues to push forward to join the ones who populate NFL rosters, either as a draft pick or otherwise.
"I just need to be in a camp," Clifford said. "I just need to be able to be in a practice with the pros. Because I know I'm a pro, [and] I know I can come in and add value to a team. I know that more than anything. I still think that I can play in the [NFL], 100 percent, provide to a team, win games, the same way I did here.
"So it's just being able to come out, talk to as many scouts as possible, get to know some coaches. It's just being able to get around a bunch of teams, because I truly feel like no matter where I'm at, I could add a substantial amount of value."