South Carolina women's basketball: Brea Beal's defense could be the key to a championship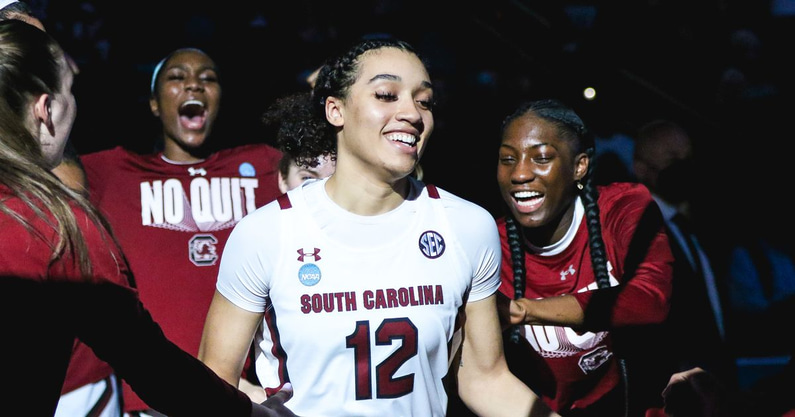 South Carolina Women's Basketball: News • Recruiting • Schedule • Roster • Stats • SEC • Polls • Scholarships
Brea Beal has been South Carolina's best perimeter defender, and she will take on her biggest challenge of the season Sunday night when the Gamecocks play for the national championship.
It goes without saying that the scouting report on UConn begins with Paige Bueckers. Bueckers missed over half the season with a knee injury, and she isn't back to full strength, even before banging her injured knee during a collision in the fourth quarter of the semifinal against Stanford.
"When you get her back, even if she's 70%, you got to guard her. You've got to pay attention to her," Dawn Staley said.
Bueckers had 31 points as a freshman in 2021 when UConn beat South Carolina 63-59 in overtime. But earlier this season she had 19 points and four turnovers as South Carolina won 73-57. 
Zia Cooke said the key will be keeping Bueckers' production closer to the second game than the first.
"We've just got to limit Paige's production," Cooke said. "If we can do that, try to get their post players in some foul trouble, do what we have to do to get this game."
Cooke, along with LeLe Grissett, Bree Hall, and perhaps Saniya Rivers, will get a shot at Bueckers. But the assignment falls primarily to Beal. Beal has been outstanding in the tournament. She scored a season-high 12 points in each of the last two games, and she locked down Louisville's Hailey Van Lith in the national semifinal. Beal doesn't get recognized for her defense outside Columbia, but after she blocked Van Lith's first two shot attempts and held her to four points, Louisville knows. Now she gets another shot at Bueckers.
"You have to have the same mentality every game," Beal said. "You have to know what she likes to do and what the team likes to do for her. No matter what, she's going to go out there with adrenaline and we are going to get her best game of the year. I take pride in guarding high-value shooters and scorers. That's the majority of the team's heart right there. So when they do tend to have a bad game or slow game, I take pride in that."
Bueckers admitted that Beal was able to rattle her a little bit in the Bahamas.
"I think the last time we played them, I had a major shift in not being able to stay composed and keep the team together," Bueckers said. "I think that'll be the biggest change. Making sure we're all on the same page is key."
Beal will be ready. She takes her defense seriously and doesn't just rely on her physical gifts. She started watching more film this year, including watching on her own at night. She knows the tendencies of the players she guards.
"Elite defender," Staley said. "She's just locked in. She knows what your best move is. She knows what your counter is, and she just waits. She forces you into those situations, and you've got to go to your third option as an individual player, and by then if you have to go through your first, second, and third, your teammates are standing around, so we've got you. So she really understands that part of it."