South Carolina women's basketball: Five Things to Watch - USF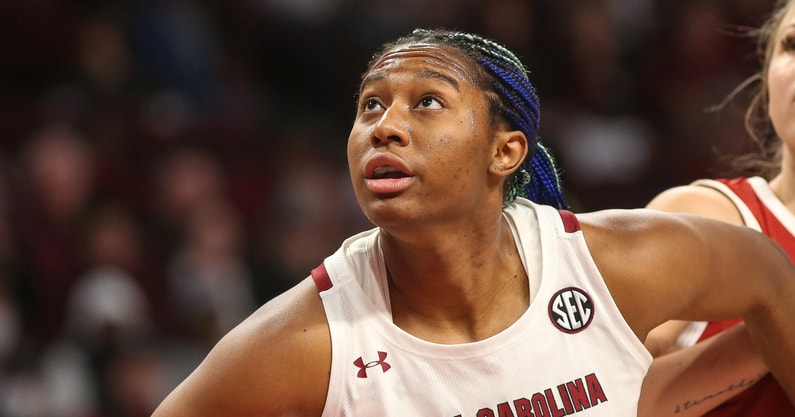 South Carolina Women's Basketball: News • Recruiting • Schedule • Roster • Stats • SEC • Polls • Scholarships
1. First five minutes
For two days, the Gamecocks have been hearing about how they struggled to beat Norfolk State in the first round. They've heard about the turnovers, the lost rebounds, and the missed free throws.
You'd never guess they won by 32.
They know they didn't play their best. Not one player disagreed when I asked about different struggles. With that in mind, don't be surprised if South Carolina comes out and dominates from the opening tip to send a message.
USF, on the other hand, is going to try to do the opposite. They want to withstand the initial push and make it a 40-minute game.
"You've got to get off to a good start and try to take the crowd out of it," USF coach Jose Fernandez said. "We played in hostile environments in Connecticut and Texas and Louisville and Tennessee, so our players have been through that stuff."
[Spring Ball Special! $10 for 4 months of Gamecock Central!]
2. Post matchup
Dulcy Fankam Mendjiadeu had an epic performance against Marquette, scoring 22 points and grabbing 16 rebounds. She shot 8-9 from the floor and drew nine fouls. As good as she was, it's going to be a lot tougher against Aliyah Boston, the reigning defensive player of the year.
"They are both really good post players," Sammie Puisis said. "Dulcy has so many moves. She doesn't just have one move. Really good footwork. So I think she can be really special tomorrow."
Boston was able to watch some of USF's game against Marquette in person, and has watched film of Fankam Mendjiadeu.
"She's a great post player, very physical," Boston said. "She rebounds the ball pretty well and she's pretty good around the basket."
Of course, Boston has an advantage Fankam Mendjiadeu doesn't have: Cardoso. Both teams will try to match-up one-on-one, but South Carolina can rotate Boston and Cardoso. Fankam Mendjiadeu has to do it on her own.
"She posts-up so strong, she's very, very active on both side of the basketball, she's unafraid," Staley said. "She wants the ball and she does a really good job at scoring, like she's very efficient when her two feet are in the paint. She runs the floor extremely well. And there are a lot of similarities in their game because they will command a lot of attention. I don't think we'll double or triple team her. I think we'll just play her straight up and if she forces us to double her, she's working us over."
3. Rebounding
South Carolina led the nation in rebounding margin at 20.4 per game, but USF wasn't too shabby at 10.4 per game. For the Bulls to pull of the upset they will have to hold their own on the glass.
"What concerns me is their size and their rebounding ability because sometimes their best offense is getting it off the glass and putting it in," Fernandez said. "Cardoso and Boston and then Amihere and all them other three, fours and fives that this they throw at you, that's the biggest concern. How we are going to collectively defend the paint and limit their paint touches and also second and third opportunities."
[Become a "FAM" Member, support USC women's basketball]
4. International flavor
South Carolina has international talent, with players from the US, Canada, Brazil, and the US Virgin Islands. But it is nothing compared to USF. The BUlls' starting lineup alone represents five different countries, and a total of nine countries are represented on 13-player roster.
USF and Fernandez have always gone international when recruiting, trying to find talented players that other teams may not know about. 
"There are great players here in the States, but we had a player that we are recruiting against 30 schools," Staley said. "You go overseas, they have maybe two or three, five at the most. I think it's a viable option for programs that are committed to it."
Staley joked about a recruiting budget that would allow her to vacation in Europe, but the truth is USC and USF rarely recruit the same players. The international players South Carolina recruits have typically already come to the United States, like Kamilla Cardoso. 
However, South Carolina has recruited the Toronto, Canada area for a while. That's where they got Laeticia Amihere, and they have been involved with several other players.
5. Scouting the Bulls
USF is similar to South Carolina. The Bulls want to play defense, rebound, and get second chance points.
Fankam Mendjiadeu is one of the Big Three for USF, along with Puisis and Elena Tsineke. They combine for over 71% of the Bulls' scoring and almost half of their rebounds.
Puisis had 14 poitns in the first round, while Tsineke struggled against Marquette and had just six points in the first 38 minutes. But she scored seven points in the last seven minutes to spark USF's comeback. 
When Tsineke was struggling, Carla Brito had 15 points and nine rebounds to pick up the slack.
The Ws
Who: #1 South Carolina (33-0) vs #8 USF (27-6)
When: 1:00 ET, Sunday, March 19
Where: Colonial Life Arena
Watch: ABC