Clay Helton talks offensive line performance, receiver rotation, injury updates after Week 1 win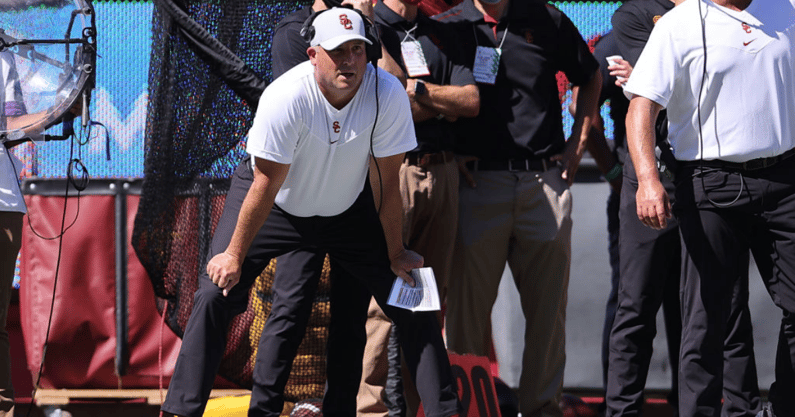 USC head coach Clay Helton spoke with the media on Sunday evening, providing injury updates and thoughts on the USC offensive line, wide receiver rotation, two standout defensive backs and other topics.
Injury updates
USC played without outside linebacker Drake Jackson, defensive end Nick Figueroa and cornerback Chris Steele for various amounts of time against San Jose State. All three are listed as day-to-day at this point, according to Helton.
Jackson has a thigh contusion. He sat out a long stretch of the middle of the game but returned late.
Figueroa suffered an AC sprain. Helton said after Saturday's game that Figueroa assured him he'd be ready to go against Stanford.
Steele has a shin laceration. He limped to the sideline in the second half and didn't return. He, too, is day-to-day.
Helton said they'd see how those three move around tomorrow.
USC was without safety Isaiah Pola-Mao, running back Darwin Barlow and wide receiver Gary Bryant Jr. for the opening game. Pola-Mao was in health and safety protocols. Bryant Jr. was cleared from those protocols on Friday, but is also dealing with a hamstring injury.
Helton said they are hoping Pola-Mao is available for this week's game. He is "on pace to be back later in the week."
Barlow warmed up before the game but did not participate. Helton said a decision was made late in the week to hold him, but they did not want Saturday to be a full rest day for him. So he got some work in during warmups in the hope he can continue progressing and be ready for Stanford.
The hope is that Bryant will also be available this week.
"He'll get a full week of practice and hopefully we'll have him back for this game," Helton said of the sophomore wideout.
USC could use an additional experienced receiver. Just two wide receivers caught passes against the Spartans.
Wide receiver rotation
Drake London caught 12 passes and Tahj Washington caught four. That was it for production from the position, while John Jackson III, Kyle Ford and Michael Jackson III — who all had terrific fall camps — did not see the field.
"They had practiced all week and had the opportunity to fit within the game plan, and a little more 12 personnel came out," Helton said.
Helton laughed when asked about wanting to get more wide receivers involved, saying in 12 years here that's the first time he's been asked about getting wide receivers more involved. And that usually it's asking about how the tight ends can get involved.
"It was one of those days where 15 (Drake London) was hot and he had a great chemistry with Kedon [Slovis] and I don't blame Kedon to throw it to him, either," Helton said. "He was making plays."
Helton said he expects other receivers to be more involved in the offense moving forward.
Reviewing the offensive line
"I was impressed with Courtland Ford," Helton said as his initial comment about the offensive line unit. "I thought he did a nice job his first start."
Helton attributed the two sacks to Slovis holding the ball too long and to a physical beat against Jonah Monheim.
Helton reiterated he was pleased with the way Ford plays and added that the three interior linemen played like veterans.
"Solid performance," Helton said of the line overall. "Obviously some things to clean up…It was a good start, especially with two guys making their first starts."
Defensive line's impact
USC did not record a sack in the game, but Helton praised the effort up front for setting the tone against the run on early downs and making San Jose State quarterback Nick Starkel uncomfortable on third downs.
"When you go back and watch the film, you watch the amount of hurries and them being right on top of the quarterback as he's delivering the throw and it really caused a little bit of inaccuracy on his part," Helton said. "Not one of those where the stats are all pretty, but the production on third down, it was really created by them."
Helton praised the play of true freshman Korey Foreman and also said Jackson, Nick Figueroa and Tuli Tuipulotu stood out.
More praise for Greg Johnson
Safety Greg Johnson made the play of the game on Saturday with his interception return for a touchdown. Helton praised Johnson following the game and again spoke highly of his performance.
"I think he's a consistent force," Helton said. "I think the other guys . respect that. He's the same guy every day. When we talk about, hey, be productive and just do your job at a high level, that's who he is."
Johnson had a difficult assignment on Saturday, with the Trojans asking the secondary to lock up in man coverage for a huge majority of the afternoon.
"And he was matched . up on one of their better receivers all day in the slot and did a phenomenal job," Helton said. "All of a sudden, we change it up on a third and short and change it to zone, and he's in the exact right spot reading the quarterback's eyes, pulls the trigger and makes a play. And it's the biggest play in the game."