Musings from Arledge: Finding gold in Oklahoma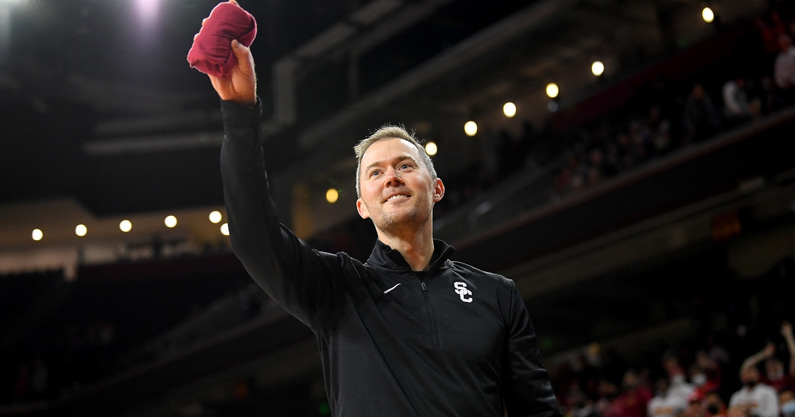 It was almost 9:00 p.m. last Wednesday. I was at a gas station parking lot just outside Ardmore, Oklahoma, buying gold jewelry from an Arab tourist. 
And it occurred to me: my week might be something like Lincoln Riley's. 
I don't always buy Middle Eastern gold in rural Oklahoma. But there are deals to be had, I think.
An hour or so earlier, I had been in Norman, Oklahoma. Like Lincoln Riley, I was committed to getting out as quickly as possible without looking back. I stopped for gas just north of Ardmore. While filling my car, a very nice BMW pulled up, the window lowered, and a guy I had never seen told me he badly needed my help. This was his story:
He said he was from Dubai and that he had just lost his wallet, phone, passport, cash – everything. He was traveling with his wife and toddler son, and they still had close to a thousand miles to go. He couldn't get there without money, and it was all gone. I asked him what he needed. He said he needed 120 bucks. While he was telling me his story, he removed gold chains from his neck and forced them into my hand.
Now I realized, of course, that this might be a con man. I didn't know him. I can't tell real gold from fake gold. But I also realized that it would be a strange con, indeed, if he had acquired a high-end BMW for the night, placed a woman and child in the car, and then decided to try to make a killing $120-bucks-at-a-time at Ardmore-area gas stations. It's possible Bernie Madoff started that way, but he probably didn't.
Besides, I believed him. If he was lying, he was a remarkably skilled actor. And what remarkably skilled actor can you find in Ardmore, Oklahoma? This wasn't LA. It wasn't New York. It wasn't anywhere, really.
I told him to keep the chains, that I would give him the money and trust him to pay me back when he got home. This only served to persuade him all the more that I needed his gold. He added a gold ring to the chains and insisted I take them. He said he was rich, that he could replace the gold, and that the $120 was like a million dollars to him under the circumstances. So I said okay. I went to the ATM – that's right, would-be muggers, I don't carry that much cash around with me very often, so don't get any bright ideas – pulled out $120, gave it to him, and took his alleged Arab gold.
It felt like the right thing to do. And how bad could it be? Either I just made a very lucrative deal or I just made a fool of myself and would have an entertaining story and some fake-gold souvenirs for years to come. 
USC is in a similar position. Sometimes you go to Oklahoma for one thing, and come back with a lot more than you expected. USC pulled in Lincoln Riley. They undoubtedly expected to land some of Riley's OU assistants, too. I don't know if they expected to walk away with a Heisman candidate, an elite receiver, and other prospects to be named later, but all of that is potentially in the works.
If Riley pulls it off, he will have considerably sped up the process of getting USC back into the elite of college football. No, Caleb Williams and Mario Williams cannot, by themselves, get USC into the same orbit as Alabama and Georgia. But landing a legit Heisman candidate and some skill position talent should bolster what is already likely to be a much-improved offense next year. 
But landing Caleb Williams and Friends will do more. Lincoln Riley's decision to move to USC helped change the national narrative. USC was dead under He Whose Name Shall Never Again Be Spoken. USC is now interesting again. It is once again a place where players, especially offensive players, can expect to play in a cutting-edge system and receive the best coaching. But if Caleb Williams picks USC, and if he brings some other top players with him, the message will be deafening that USC is a legitimate destination for the best of the best. 
It will also likely mean that USC has upped its NIL game, and that's critical. I know Nick Saban is complaining that NIL money is affecting recruits. That's ironic coming from a guy who has made $100 million coaching Alabama – you think the compensation has had any impact on Nick Saban's decision where to coach? – and who coaches in the SEC, where NIL money was cool before it was cool. But anybody who wants to compete in college football is going to have to get over that. Caleb Williams is worth millions of dollars to a university. That he will use his skills and notoriety to generate revenue for himself means that Caleb Williams will be doing what almost everybody who reads this Musings does, did, or will do for themselves for most of their lives. I don't feel bad about that. 
I don't know how USC will compete in this new NIL world. But I suspect Lincoln Riley looked into it and was satisfied. And the rest of us will have to understand that this is a new world, not just in college football, but at USC. There were any number of USC fans who were telling everybody for the last few years that USC doesn't care about football, that the administration is trying to de-emphasize it, that Clay Helton had the same job security as Governor Edwin Edwards.
They were wrong. They didn't know nearly as much as they thought they did. Now many of those same people are telling us now that USC can't and won't try to compete with the SEC and Ohio State in the NIL world. USC isn't willing to play like that, they say.
Wanna bet? USC didn't promise to pay Lincoln Riley the GDP of Uruguay, and Lincoln Riley didn't leave a top-5 job, so he could come to a place that will lose every major recruiting battle because it won't capitalize on its connections in the entertainment capital of the world and make sure guys get their fair market value. Lincoln Riley isn't that stupid. 
I think Riley makes this deal happen. Or maybe not. Maybe he'll walk away having spent $120 and received only a handful of fake jewelry. I don't know. I don't have any inside information. (By the way, I'm always open to inside information. Shoot me a message.) But Riley is right to roll the dice. This is a risk worth taking.   
---
Yes, if you're wondering, I think the jewelry is real. At least, the jeweler next door thinks it's real. I still have no idea what it's worth. More than $120, I suspect, but probably not nearly enough to buy a '67 'Vette Stingray or an Italian villa. So being that I still can't retire to that villa, I'll keep churning out these articles for the time being.
---
So Oregon got blown out again? That's sad. I hope that doesn't happen six or seven times next year.
---
Georgia is favored over Alabama? Geez. Don't make that bet, people. Bama is going to roll. Georgia's secondary has no answer, and Georgia's own passing attack just isn't scary. Yes, if both teams had to commit to running the ball on every down, I'd take Georgia. But that's not the way this one will play out. 
---
I'd love to talk about expectations for next year. But there's just too much we don't know. And I, for one, am enjoying the ride. Let's just have fun with the process. It's so nice to feel hope again. I don't know how long it will take for this feeling to get old, but I'm not close to being there yet.