12 Group of 5 transfers who will be a big deal for Power 5 schools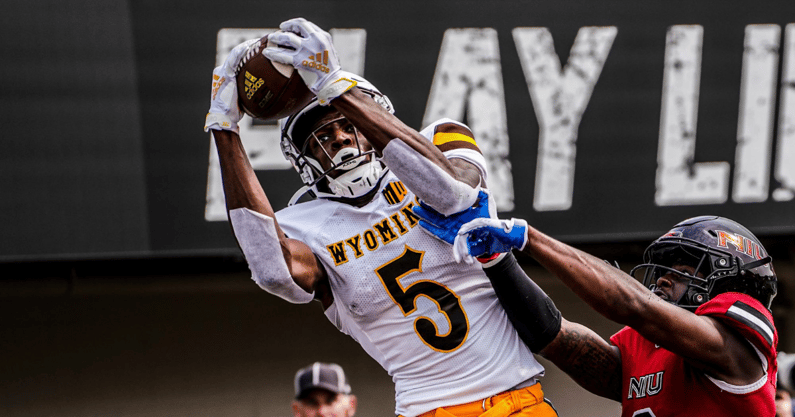 Recruiting in the transfer portal has become an important adjunct to recruiting the high school ranks.
With high school recruiting, we've gone through the early signing period and are eight days away from National Signing Day. Transfer portal recruiting has been going on all along, as well.
While most of the attention is paid to Power 5 players moving on to other Power 5 schools, there are a handful of Group of 5 transfers who should make a splash — maybe even big ones — at Power 5 schools in the 2022 season.
Here are 12 of them, a "Dandy Dozen" if you will.
TCU OL Alan Ali, from SMU
The buzz:  Ali, a four-year starter for the Mustangs, followed coach Sonny Dykes to nearby TCU; in addition, Fort Worth is Ali's hometown (not that he was that far from home at SMU). Ali's versatility is noteworthy: He started at guard as a redshirt freshman in 2018, at center in 2019 and '20 and at center and tackle in 2021. He was a second-team All-AAC selection in '21 as a tackle, though he seems most likely to end up at center in 2022.
Ole Miss OT Mason Brooks, from Western Kentucky
The buzz: Brooks was a first-team All-Conference USA selection in 2021 as a junior. Brooks was a two-year starter at right tackle for the Hilltoppers and was an honorable mention All-C-USA selection in 2020. He gives the Rebels some options at front, as there are some moveable parts along the line, and it's likely Brooks becomes Ole Miss' right tackle.
Ole Miss LB Troy Brown, from Central Michigan
The buzz: Ole Miss hit it big with a transfer linebacker in 2021 — Maryland transfer Chance Campbell — and perhaps it happens again. Campbell led Ole Miss with 109 tackles, and Brown is a three-time first-team All-MAC selection. Brown had 199 tackles, 31.5 tackles for loss, four interceptions, 11 pass breakups and two forced fumbles over the past three seasons, and if he doesn't start for Ole Miss in 2022, something has gone wrong.
Arizona WR Jacob Cowing, from UTEP
The buzz: Arizona was 1-11 in 2021, but coach Jedd Fisch has brought in some talented transfers and signed some touted high school playmakers, so there is hope for the 2022 offense. Cowing, who is from the Phoenix area, was a first-team All-Conference USA selection in 2021, when he was ninth nationally in 2021 in receiving yards with 1,367; he had 69 receptions and averaged 19.81 yards per catch. That average was third nationally among the 100-plus players who had 50 receptions, behind only Virginia's Dontayvion Wicks (21.1) and Alabama's Jameson Williams (19.9). In his three-year UTEP career, Cowing had 141 catches for 2,608 yards (18.5 yards per reception) and 13 TDs.
Notre Dame K Blake Grupe, from Arkansas State
The buzz: Grupe is a one-time walk-on who was a second-team All-Sun Belt selection in 2021 and a first-teamer in 2019. He was 20-of-25 on field goals in 2021, with a long of 50; he was 6-of-9 from 40 and beyond. For his Arkansas State career, Grupe was 64-of-86 on field goals; he was 19-of-22 in 2019, including 6-of-9 from 40 and beyond, to earn all-league honors.
Oklahoma DT Jeffery Johnson, from Tulane
The buzz: The Sooners are losing a lot of talent up front, and while there are some holdovers who can play, Johnson should be an effective one-season "rental." His bulk — he played at 300 pounds with Tulane — will be appreciated. Johnson was a three-year starter for the Green Wave. He had 44 tackles this season, along with five tackles for loss. Johnson had 33 tackles and six TFL in 2020, when he also was a fulltime starter. He also started six games in 2019 as a sophomore after starting 11 times as a true freshman in 2018. In all, he had eight sacks and 15 tackles for loss at Tulane.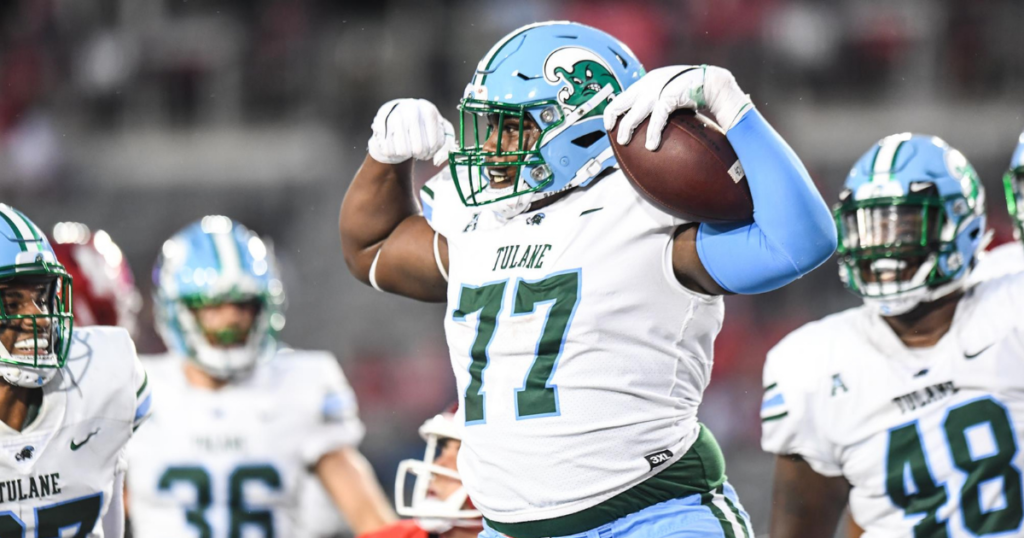 UCLA LB Darius Muasau, from Hawaii
The buzz: Muasau was a two-time first-team All-Mountain West Conference selection and should slide into a starting spot for the Bruins, who need linebackers. Muasau had 10 tackles in UCLA's win over Hawaii to open the 2021 season, so Bruins coaches have seen him up close and personal on the field. He was a spot starter as a true freshman in 2019, then a fulltime starter for the Rainbow Warriors the past two seasons. He was fifth in the league with 109 tackles in 2021 and led the conference with 104 tackles (in nine games) in 2020. Muasau also had 23.5 tackles for loss, 10 quarterback hurries and five forced fumbles the past two seasons.
Texas WR Isaiah Neyor, from Wyoming
The buzz: Neyor's was one of the most … well, interesting portal recruitments. He originally said he was going to Tennessee, then reversed field and ended up at Texas. Neyor is from the Dallas Metroplex, so in one sense he is going "home." Neyor was a second-team All-Mountain West selection in 2021 after catching 44 passes for 878 yards (19.95 yards per reception) and 12 TDs. The TD total is tied for seventh nationally. The yardage total is notable not just for the big-play aspect but that it was 42 percent of Wyoming's team total. Neyor was the only true receiving threat in a run-heavy offense (the Cowboys ran the ball on 65 percent of their plays from scrimmage), yet still managed to produce. He figures to be an important complementary piece to Xavier Worthy.
Baylor DT Jaxon Player, from Tulsa
The buzz: Player is a Waco, Texas, native who was a three-year starter and two-time All-AAC honoree for the Golden Hurricane. Player was a second-team selection in 2021, when he was second in the league with 15 tackles for loss. He was a first-team All-AAC pick in 2020 and a second-team selection this season, when he was second in the league with 15 tackles for loss. He had 32 TFL in his Tulsa career. At the least, he figures to be an important rotation piece for Baylor. At the best, he is a disruptive force like fellow DT Siaki Ika.
Penn State WR Mitchell Tinsley, from Western Kentucky
The buzz: Tinsley was one of the most productive receivers in the nation in 2021 in the Hilltoppers' pass-happy attack, with 87 receptions for 1,402 yards and 14 TDs. The receptions total was 16th nationally, while he was eighth in receiving yards and fifth in TD receptions. Penn State lost star WR Jahan Dotson to the NFL, and while Tinsley is not Dotson, his addition potentially gives the Nittany Lions a top-level trio along with holdovers Parker Washington and KeAndre Lambert-Smith.
Florida G O'Cyrus Torrence, from Louisiana
The buzz: Torrence was a three-year starter for the Ragin' Cajuns who was an All-Sun Belt Conference selection in 2021 and a second-team pick in 2020. He obviously is familiar with new coach Billy Napier's offense. On top of that, the Gators' offensive line was uneven the past few seasons, and getting a road grader like Torrence was important. His arrival should actually create legit competition at the other guard spot and at right tackle.
Arizona State RB Xazavian Valladay, from Wyoming
The buzz: Valladay was the second-leading rusher in Wyoming history (3,274 career yards) and a two-time 1,000-yard rusher. Valladay was a second-team All-Mountain West Conference selection in 2021 and a first-team All-MWC pick in 2019. He also is an effective receiver out of the backfield. He's joining a team that lost its top two running backs — Rachaad White was a senior who's off to the NFL and DeaMontre Trayanum is off to Ohio State to play linebacker. Valladay figures to share carries with Daniyel Ngata, but Valladay's experience will be vital. In addition, his receiving ability will be put to good use: White was Arizona State's second-leading receiver in 2021.
A FCS transfer to watch
Technically, he's not a Group of 5 transfer, so quarterback Cameron Ward doesn't fit our criteria. But there's no doubt he figures to be an important Power 5 newcomer.
Ward chose Washington State after moving on from FCS school Incarnate Word. Washington State hired Incarnate Ward coach Eric Morris as its new offensive coordinator, and Ward obviously has a history with Morris. Indeed, Washington State starting quarterback Jayden de Laura transferred to Arizona, so the quarterback job would seem to be Ward's with no questions asked.
Ward threw for 4,648 yards and 46 TDs this season for Incarnate Ward, which went 10-3 and lost in the second round of the FCS playoffs to top-seeded Sam Houston State. Ward threw 70 TD passes in 19 games with the Cardinals.
Washington State certainly wouldn't mind a repeat of what happened in 2021 at Western Kentucky with a quarterback moving in from a smaller FCS school in Texas. The Hilltoppers' Bailey Zappe — a transfer from Houston Baptist — set NCAA single-season records for passing yards (5,967) and passing TDs (62) in an offense similar to the one Washington State will use.