Ohio State lands four-star DeaMonte Trayanum from transfer portal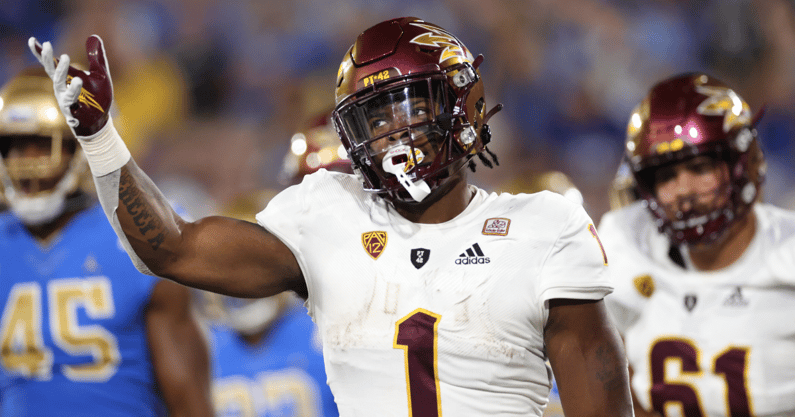 COLUMBUS — DeaMonte Trayanum wasn't ready for the Ohio State recruiting pitch the first time.
It certainly resonated with the former four-star prospect during the second go around.
The Akron native found some success at running back over the last two seasons at Arizona State. But Trayanum has warmed to the idea that his brightest future is on defense as a playmaking linebacker, right where the Buckeyes always envisioned him.
Now on the same page, the two are set to join forces with Trayanum officially picking Ohio State on Christmas ahead of an arrival in Columbus before New Year's Day.
"Just knowing where I'm at now, I think two years ago I was a little bit anxious," Trayanum told Lettermen Row. "I just wasn't ready to give the ball up. I wanted to stick to running back. But now when I really think about it, I feel like playing linebacker there or just playing defense there in general will really elevate me.
"I'll be able to take it and run with it and be able to really achieve my dreams in the NFL and then be successful at the next level after that."
Trayanum has already shown he can thrive with his impressive physical tools, and he left Arizona State having scored 10 touchdowns in just 13 games over his two years there.
He's ready to trade those stats for tackles with the Buckeyes, though, and he's got three years of eligibility still ahead of him. Trayanum will report to campus at roughly the same time new defensive coordinator Jim Knowles takes over, giving both of them a blank slate as the rebuilding of the Silver Bullets ramps up after the Rose Bowl.
"Ever since I entered my name into the transfer portal, it was just about finding a place that I can really be comfortable and know that environment," Trayanum said. "I didn't want to enter anything new or anywhere suspicious or whatnot — I just wanted to be comfortable wherever I was at.
"Once I set out my goals, what I wanted to do and how I wanted to fit somewhere, Ohio State checked all those boxes."
The last one for DeaMonte Trayanum and Ohio State was settling on the best position for him.
Now they've finally found the perfect fit.