Transfer portal breakdown: The key newcomer for each ACC Atlantic Division team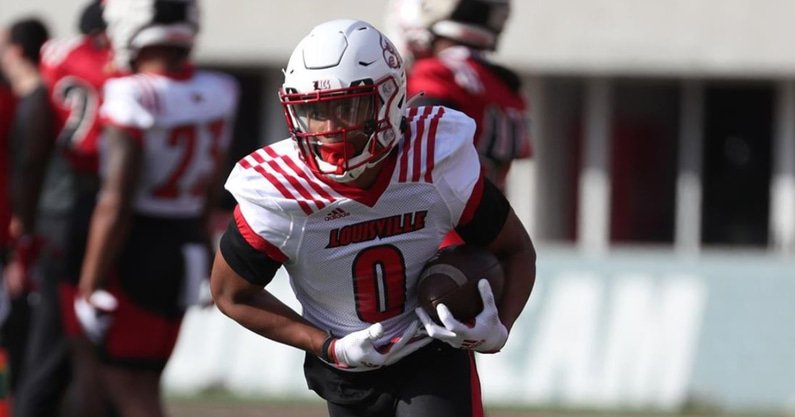 This is a slow period in the transfer portal, and the current portal lull is a good time to do a league-by-league re-examination of the transfer portal comings and goings. Today, we'll examine the key newcomer for each ACC Atlantic Division team. Wednesday, we'll look at how each ACC Atlantic team will replace its key departure.
And over the next two weeks, we'll continue the series with a look at the comings and goings in the ACC Coastal Division, division-by-division looks for the Big Ten and overall league looks at the Big 12 and Pac-12 (since it did away with divisions), as well as an overview of the Group of 5 leagues and independents.
We already have looked at the key incoming and outgoing transfers for SEC East teams, as well as the key incoming and outgoing transfers for each SEC West team.
Boston College
Player: TE George Takacs, from Notre Dame
The skinny: BC wasn't that active in the transfer portal, and Takacs (6 feet 6, 247 pounds) had just eight receptions in three seasons with the Irish. But there are a handful of reasons to think he easily can double that reception total this season alone. First, BC's new offensive coordinator is John McNulty, who had been Notre Dame's tight ends coach. Second, Takacs didn't have many pass-catching opportunities at Notre Dame because he was behind Michael Mayer, one of the nation's top two or three tight ends. Third, while Takacs mostly was a blocker for the Irish, he has reliable hands and is a good athlete. His blocking ability will be important, too, as BC has to rebuild its offensive line after losing four starters.
Clemson
Player: QB Hunter Johnson, from Northwestern
The skinny: Tigers coach Dabo Swinney famously isn't a fan of the transfer portal and Johnson is Clemson's only incoming transfer. Johnson (6-2, 215) is a former five-star recruit who hasn't come close to living up to the hype. He began his career at Clemson as part of the 2017 recruiting class and played in seven games backing up Kelly Bryant before moving on to Northwestern in 2018. Johnson sat out the '18 season in those pre-portal times, then started five times in 2019 but played poorly. He saw action in just two games in 2020. Johnson started the first three games last season but was pulled in the third game after his third interception and didn't play another snap all season. He has transferred back to Clemson and provides a veteran presence behind D.J. Uiagalelei and five-star true freshman Cade Klubnik.
Florida State
Player: EDGE Jared Verse, from Albany
The skinny: Verse (6-4, 247) might be the most important FCS-to-FBS transfer in college football this season. FSU struck gold in the transfer portal with EDGE Jermaine Johnson (11.5 sacks) in 2021, but he's off to the NFL as a first-round pick. If Verse doesn't produce as a pass rusher, the Seminoles are in trouble. Verse played only one year of FCS football, but that encompassed two seasons because Albany played both in the spring and fall in 2021. Verse played in 15 games and had 74 tackles, 13.5 sacks, 21.5 tackles for loss and 13 quarterback hurries for the Great Danes. He earned all sorts of All-America honors for his fall campaign and was one of the hottest EDGE transfers on the market.
Louisville
Player: WR Tyler Hudson, from Central Arkansas
The skinny: Hudson is another important FCS-to-FBS transfer, especially with Louisville losing WR Tyler Harrell to Alabama. Louisville lacked a difference-maker at wide receiver in 2021 (TE Marshon Ford was the leading receiver), and while that might be a big ask of Hudson (6-2, 195), he was an established standout at the FCS level. He was a three-year starter in a prolific passing attack for the Bears, with 167 receptions for 3,062 yards and 27 TDs in his career. That's 18.3 yards per catch. If Hudson provides Louisville with a legit (and consistent) deep threat, QB Malik Cunningham becomes even more dangerous.
NC State
Player: WR Darryl Jones, from Maryland
The skinny: Jones (6-3, 195) wasn't necessarily a big-time pickup from the transfer portal, but he does give standout QB Devin Leary another rotation weapon on the outside. Jones started seven games last season and 16 in his Terps career, with 23 receptions last season and 49 in his career. Jones should be a solid complementary target to holdovers Thayer Thomas and Devin Carter, while Porter Rooks and Julian Gray are younger receivers to watch.
Syracuse
Player: CB Alijah Clark, from Rutgers
The skinny: Clark (6-1, 184) was an On3 Consensus four-star prospect who was Rutgers' highest-ranked recruit in the 2021 class. He played in the first seven games last season, then missed the final six with a leg injury. He will join former Camden (N.J.) High teammate Duce Chestnut, who had a surprisingly strong freshman campaign in '21, in the Orange secondary. In Chestnut and fellow sophomore Garrett Williams, Syracuse had a strong corner duo as it was; Clark's addition now makes it a strong trio at the position. Indeed, the Orange secondary is the strength of the team.
Wake Forest
Player: DT Kobie Turner, from Richmond
The skinny: Another FCS-to-FBS transfer. Turner (6-3, 298) fills a need for a Wake Forest defensive line that too often was pushed around in 2021. If the Demon Deacons are to win the division title, they must get much tougher against the run; in nine ACC games last season, Wake allowed 4.99 yards per rush. Turner was a three-year starter at Richmond and a two-time first-team All-Colonial selection. He was the league's co-defensive player of the year for the 2021 spring season. In 37 career games, Turner had 158 tackles, 35.5 tackles for loss, 15 sacks and three forced fumbles. His brother, A.J., is a running back at South Carolina.