Ole Miss forward Jaemyn Brakefield to enter NCAA transfer portal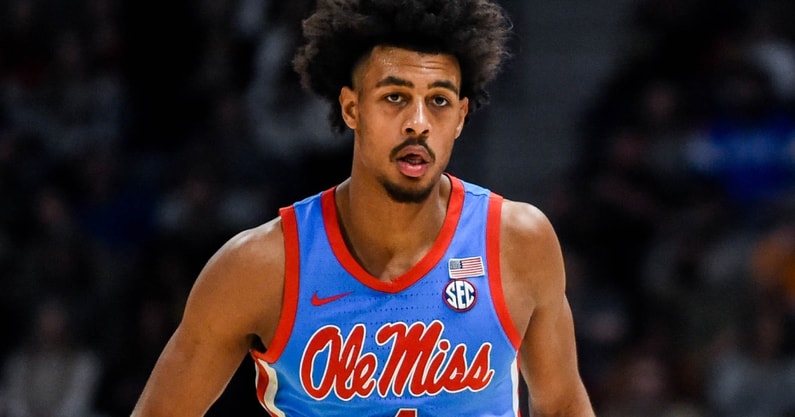 Ole Miss junior Jaemyn Brakefield plans to enter the NCAA transfer portal, he told On3.
The 6-foot-8, 220-pound forward originally from Jackson, Mississippi was a key player for the Rebels this season. He averaged 11.1 points, 5.7 rebounds, and 1.7 assists while shooting 53.7% from the field and 35.1% from three.
To keep up with the latest players on the move, check out On3's Transfer Portal wire. 
Brakefield has spent the last two seasons at Ole Miss but began his career at Duke. In his lone season with the Blue Devils, played in 22 games, averaging 3.5 points and 2.5 rebounds in 12.5 minutes per outing.
According to the On3 Industry Ranking, Brakefield was rated as a four-star recruit and ranked No. 31 overall in the class of 2020. He was also the No. 2 power forward.
Coming out of high school, the Mississippi native received offers from the likes of Michigan, Michigan State, UCLA, Florida State, Louisville, Auburn, Kansas, among others.
Brakefield transfer statement
Jaemyn Brakefield's statement to On3: "First, I'd like to thank God for all of the blessings bestowed over my family and my life. Without God's guidance, power, and grace I wouldn't be where I am today. God has pulled me through some of the toughest times, and continually strengthens me in my purpose.
"In light of the recent coaching changes made at Ole Miss, my family and have decided that it would be best to enter my name in the transfer portal. I'd be remised to say that the past two years spent in Oxford have allowed me to grow, and create countless relationships that I'II continue to hold close to my heart. In taking this next step, I'll continue to keep Ole Miss in close consideration as I explore other possibilities.
"This year has been filled with so many blessings, and opportunities. I'm truly grateful and excited for this upcoming year!"
Transfer portal background information
The NCAA Transfer Portal, which covers every NCAA sport at the Division I, II and III levels, is a private database with names of student-athletes who wish to transfer. It is not accessible to the public.
The process of entering the portal is done through a school's compliance office. Once a player provides written notification of an intent to transfer, the office enters the player's name in the database and everything is off and running. The compliance office has 48 hours to comply with the player's request and that request cannot be refused.
Once a player's name shows up in the portal, other schools can contact the player. Players can change their minds at any point and withdraw from the portal. However, once a player enters the portal, the current scholarship no longer has to be honored. In other words, if a player enters the portal but decides to stay, the school is not obligated to provide a scholarship anymore.
The database is a normal database, sortable by a variety of topics, including (of course) sport and name. A player's individual entry includes basic details such as contact info, whether the player was on scholarship and whether the player is transferring as a graduate student.
A player can ask that a "do not contact" tag be placed on the report. In those instances, the players don't want to be contacted by schools unless they've initiated the communication.
The portal has been around since Oct. 15, 2018 and the new calendar cycle within the portal begins each August. For example, the 2021-22 cycle started Aug. 1. During the 2020-21 cycle, 2,626 FBS football players entered the transfer portal (including walk-ons). That comes after 1,681 entered during the 2019-20 cycle and 1,709 during the abbreviated 2018-19 cycle. In comparison, 1,833 Division I basketball players entered the portal during the 2020-21 cycle after totals of 1,020 in 2019-20 and 1,063 in 2018-19.