Transfer portal breakdown: Projecting the 10 most impactful transfers in the SEC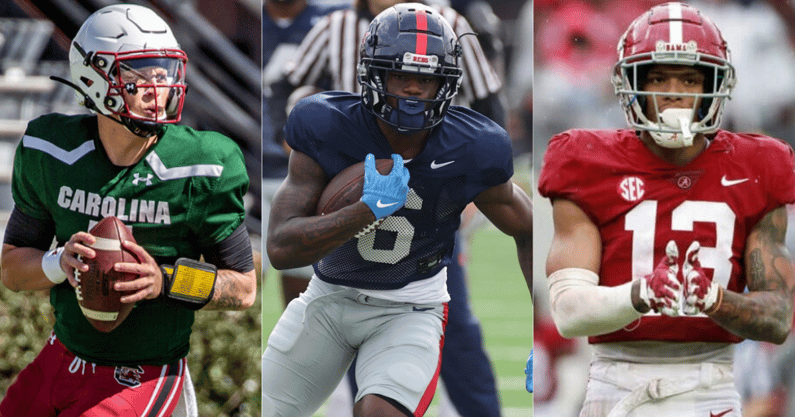 Let's dive back into the transfer portal pool on a league-by-league basis: Here's a projection of the 10 most impactful transfers in the SEC this season. (We already have looked at the most impactful ACC transfers.)
A few teams in the SEC, most notably LSU and Ole Miss, dipped heavily into the portal pool. Others, especially Alabama, were, well, more precision-like in their use. Regardless, every team except Georgia made a key transfer addition.
With these 10 transfers, it is not a measure just of sheer talent. Instead, the most important aspect is expected production. And it's fair to say that if these guys do not produce, their teams as a whole will suffer.
10. CB Jarrick Bernard-Converse, LSU
The particulars: Transfer from Oklahoma State
The skinny: LSU lost four starters from its secondary and the new coaching staff hit the transfer portal hard in an attempt to increase enrollment at "DBU." Jarrick Bernard-Converse is one of four corner transfers for the Tigers and is the best of the quartet. He was a first-team All-Big 12 selection in 2021 at Oklahoma State for one of the nation's best defenses; he should be both a physical and emotional leader for LSU. Bernard-Converse, from Shreveport (La.) Evangel Christian, led the Big 12 with 11 pass breakups and also had 51 tackles in 2021. He was a part-time starter in his first two seasons in Stillwater before becoming a fulltime starter in 2020, when he had seven pass breakups. In his four seasons with the Cowboys, Bernard-Converse had two interceptions and 24 pass breakups.
9. LB Drew Sanders, Arkansas
The particulars: Transfer from Alabama
The skinny: Defensive coordinator Barry Odom did yeoman work last season, his second with the Hogs, helping Arkansas shave almost 85 yards off its per-game average from 2020. Odom has not had an elite pass rusher in his two seasons in Fayetteville. Arkansas was 13th in the league last season with 25 sacks, a figure that ranked 80th nationally; just 13 of those sacks came in the Hogs' eight SEC games. Drew Sanders has the potential to be both the needed pass rusher and a solid run-stopper. He was an outside linebacker at Alabama, but expect him to line up at different spots for the Hogs. Sanders looked good this spring in Odom's defense, and Odom can use him off the edge or as an inside linebacker. Revving up the pass rush is a priority, and Sanders' work in that regard is going to be vital.
8. RB Montrell Johnson, Florida
The particulars: Transfer from Louisiana
The skinny: Florida lost its top two running backs and its three leading rushers (QB Emory Jones actually led the Gators in rushing). In addition, leading returning rusher Nay'Quan Wright is coming back from a broken ankle suffered in the regular-season finale and missed the install of the new offense during the spring. Montrell Johnson came with new coach Billy Napier from Louisiana and obviously is familiar with the offense. Johnson rushed for 838 yards and a team-leading 12 TDs in earning Sun Belt Conference Freshman of the Year honors last season. He shared time with the Ragin' Cajuns (Louisiana had three rushers with at least 600 yards in 2021) and will do so again with Florida. Worth noting: Johnson had more yards and TDs last season than the combined career totals for the other backs on Florida's roster.
7. CB Eli Ricks, Alabama
The particulars: Transfer from LSU
The skinny: Alabama surrendered a school-record 25 TD passes last season, when its cornerback play was spotty. Well, that shouldn't be an issue this season: Eli Ricks and holdover Kool-Aid McKinstry are expected to be perhaps the top corner tandem in the nation. Ricks earned some All-America honors as a true freshman at LSU in 2020, when he started seven games and had four picks, including two he returned for touchdowns. He started the first six games in 2021 before suffering a season-ending shoulder injury. Truth be told, he scuffled a bit last season before his injury. But his potential as a legit shutdown corner is impressive.
6. QB Jaxson Dart, Ole Miss
The particulars: Transfer from USC
The skinny: This ranking is as much a reflection of Ole Miss coach Lane Kiffin as it is of Jaxson Dart, who made three starts for USC last season as a true freshman. While Ole Miss has a new offensive coordinator in Charlie Weis Jr., it's still Kiffin's offense and he does a nice job tailoring things to accentuate the positive with his quarterbacks. Dart, who was the No. 3 quarterback for On3 in the 2021 class, certainly can wing it. He started the final three games of the '21 season for the Trojans and played in six games overall, throwing for 1,353 yards, with nine TDs. He had two 300-yard outings, including a 391-yard effort early in the season against Washington State after Kedon Slovis was injured in the first quarter. Dart showed off a good arm and mobility last season; at times, though, he also displayed questionable decision-making, which is why he also threw five interceptions. That's a bit alarming, but his gunslinger ways should fit nicely in Kiffin's offense. In addition, Dart should be able to take advantage of talented skill-position players, most notably RB Zach Evans (a transfer portal addition from TCU) and WR Jonathan Mingo.
CLICK HERE to subscribe for FREE to the On3 YouTube channel
5. WR Tayvion Robinson, Kentucky
The particulars: Transfer from Virginia Tech
The skinny: Barring some kind of otherworldly injury epidemic, Georgia is going to win the SEC East. But second place is there for the taking, and in Will Levis, Kentucky has a quarterback that numerous observers think will go in the first round of the 2023 NFL Draft. But what UK doesn't have is a proven go-to receiver. Last year, it was Wan'Dale Robinson, who was signed out of the transfer portal and had a school single-season-record 104 receptions. But he's now in the NFL. UK again went to the transfer portal for a receiver named "Robinson." Tayvion Robinson led Virginia Tech with 44 receptions last season, and given that UK's leading returning receiver had just 14 receptions, Robinson figures to be Levis' go-to guy. Tayvion isn't as good as Wan'Dale, but for UK to reach its potential, he must produce on the outside.
4. WR Jermaine Burton, Alabama
The particulars: Transfer from Georgia
The skinny: Alabama's leading returning wide receiver had 21 receptions last season; that's Traeshon Holden, who is best as a complementary receiver. That's why Alabama grabbed Jermaine Burton from the transfer portal. Burton had just 53 total receptions in his two seasons at Georgia. But he was a dangerous deep threat for the Bulldogs last season, averaging 19.1 yards on his 26 receptions; his five TD catches averaged 42.0 yards. That stat bodes well when considering what he can do in an offense that values the pass far more than Georgia's. Burton will be the Tide's No. 1 receiver; considering the Tide had two players with at least 79 catches last season, Burton should blow by his two-season total in Athens this fall. Fellow transfer Tyler Harrell (from Louisville) and holdovers Holden, JoJo Earle and Ja'Corey Brooks, among others, will serve as complementary targets for Bryce Young.
3. RB Zach Evans, Ole Miss
The skinny: Transfer from TCU
The skinny: Ole Miss coach Lane Kiffin likes to run the ball but lost his top four rushers from 2021. Thus, it's a great situation for Zach Evans, who is ultra-talented but not always locked in. Evans started off strong last season, rushing for 559 yards and averaging 8.1 yards per carry in TCU's first four games against FBS opponents. But he played in just one game after October 9, battling a foot injury and … well, no one really knows. He entered the transfer portal in November, and who better to manage a mercurial temperament than Kiffin. If Evans is healthy and fully invested, he could run wild for the Rebels. Evans has a big-time burst, can run between the tackles and has promising ability as a receiver, too. Ole Miss also picked up SMU transfer RB Ulysses Bentley IV, but Evans is the clear No. 1.
2. RB Jahmyr Gibbs, Alabama
The particulars: Transfer from Georgia Tech
The skinny: Here's another Alabama player who, like Burton, can be expected to vastly outperform his stats from his previous school. Jahmyr Gibbs rushed for a combined 1,206 yards and eight touchdowns, averaging 5.2 yards per carry, in two seasons at Georgia Tech. He should exceed both totals this season with the Tide. Gibbs will share carries, but he'll also get more carries than the other guys because, hey, he's the best back on the roster. He has good speed and is an excellent receiver (59 receptions in two seasons). His receiving ability is a skill that coordinator Bill O'Brien figures to use often. Coach Nick Saban was succinct when discussing Gibbs with reporters after the spring game: "Very good running back. Very good receiver. Very good third-down back. So a very good addition."
1. QB Spencer Rattler, South Carolina
The particulars: Transfer from Oklahoma
The skinny: We mentioned earlier that Georgia is going to win the SEC East but that the race for second place in the division is wide-open. South Carolina actually has a chance at finishing second if Spencer Rattler comes through. Last year at this time, Rattler was being hyped as perhaps the top Heisman contender and a potential No. 1 overall pick in the 2022 NFL Draft. Instead, he's looking to rebuild his career after entering the transfer portal. Second-year Gamecocks coach Shane Beamer has remade his offense this offseason. In addition to Rattler, South Carolina added Antwane Wells Jr. and Corey Rucker, wide receivers who transferred from James Madison and Arkansas State, respectively, and Austin Stogner, a tight end from Oklahoma. Rattler is the key, though. He has the arm talent and is mobile; he was the On3 Consensus No. 1 quarterback recruit in the 2019 class for a reason. Still, there are questions: He struggled in Lincoln Riley's quarterback-friendly offense, with his decision-making and accuracy costing him his starting job. Now he is working with Gamecocks OC Marcus Satterfield, who can raise his profile if he gets Rattler back on track.