Transfer portal notebook: Spencer Rattler, Will Levis finishing off disappointing seasons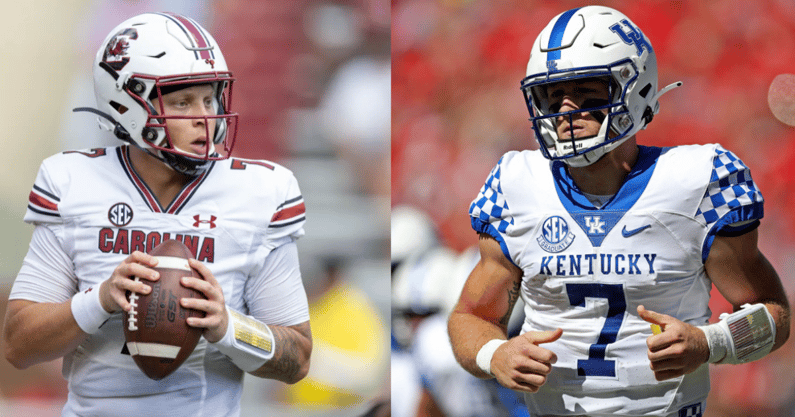 When the season began, there were two games this weekend that, because of the transfer portal, were expected to play a role in the SEC East race. It hasn't turned out that way.
Georgia, which is at Kentucky, already has clinched the title; Tennessee, which is at South Carolina, already has clinched second place. One reason for that is that two transfer quarterbacks – Kentucky's Will Levis and South Carolina's Spencer Rattler – haven't had the seasons that were expected. The Gamecocks and Wildcats were thought to be possibilities to finish second in the division. Instead, both are double-digit underdogs this week, and losses mean each would finish 3-5 in the SEC.
While Levis, who transferred from Penn State after the 2020 season, remains highly thought-of by NFL scouts, his on-field performance has been lacking this season. Granted, there are other factors at play, including a new offensive coordinator, nagging injuries and having to play without star running back Chris Rodriguez Jr. for the first month of the season.
Still, Levis has had a disappointing season; it's no surprise, then, that UK has been a disappointment, as well. In six games against SEC opponents (he missed the game against South Carolina with turf toe), Levis is 88-of-140 (62.9 percent) for 1,029 yards, seven TDs and six interceptions. Levis has thrown for 170 or fewer yards in three of those games, and 230 is the highest total against a conference foe. In 14 total games against SEC opponents in the past two seasons, Levis has thrown for 300 yards once – in a 2021 loss to Tennessee. And he has reached the 200-yard plateau just four times against a league foe.
Now comes a meeting with Georgia's stingy defense. He threw for 178 yards and two TDs in a 17-point loss to the Bulldogs last season.
As for Rattler, conventional wisdom seemed to be that he would revive his career in new surroundings. In 2021 at Oklahoma, he went from being hyped as a top Heisman contender and a potential No. 1 overall pick in the 2022 NFL Draft to sitting on the bench. South Carolina seemed like a good landing spot: He was familiar with coach Shane Beamer from Beamer's time at OU, there was solid skill-position talent and there was no one looking over his shoulder as a possible replacement. Instead, perhaps the focus should've been on him losing his starting job in a Lincoln Riley-coached offense – an offense that is extremely quarterback-friendly.
Rattler hasn't seemed to mesh all that well with Gamecocks offensive coordinator Marcus Satterfield. Despite Rattler and some other key transfers, the offense is barely better than it was in 2021, when South Carolina used three starting quarterbacks. Rattler has thrown for 200 yards once in seven SEC games; he threw for 377 against Arkansas in the SEC opener. He has five TDs and five interceptions in league play (and three TDs and four picks in three nonconference outings, against Charlotte, Georgia State and South Carolina State).
As with Levis at UK, Rattler is not the sole reason the offense has struggled; injuries and a shaky line certainly have contributed, and the lack of usage of some players (wide receiver Josh Vann and tight end Jaheim Bell, in particular) is … well, we'll be nice and say puzzling. Still, quarterbacks get an inordinate amount of credit when things go well, and they also bear the brunt of criticism when things fall apart.
Georgia is favored by 22.5 points against Kentucky; Tennessee is favored by 21.5 against South Carolina. Any hope for two of the season's biggest upsets rests on Levis and Rattler having huge games. That seems … well, we'll be nice and say unlikely.
From the SEC to sunny San Diego
San Diego State is in position to secure its 12th season with at least seven wins in the past 13 years (it didn't make it in the COVID season in 2020) thanks in part to a pass-catch duo that transferred from Mississippi State.
Quarterback Jalen Mayden and wide receiver Tyrell Shavers both headed west after that 2020 season. Neither did much at Mississippi State; Mayden played in three games in three seasons (2018-20), while Shavers played in four games in '20 and had nine receptions. Shavers began his career at Alabama in 2017, making one catch in three seasons before moving on to Mississippi State after the 2019 season. Their lackluster stats were disappointing relative to their recruiting rankings. Mayden was an On3 Consensus four-star recruit from the Dallas Metroplex in the 2018 class. Shavers was an On3 Consensus four-star recruit and a national top-100 prospect in the 2017 class; he also is from the Dallas Metroplex.
And truth be told, neither did all that much last season with the Aztecs. Shavers had 18 receptions, and Mayden played in one game as the fourth-string quarterback. This season has been different – even though Mayden began it as a safety.
Mayden was moved to safety during the spring and opened the season at the position, making eight tackles off the bench in a September 24 win over Toledo. But Mayden moved back to quarterback and has started the past five games after Braxton Burmeister (a Virginia Tech transfer) suffered a variety of injuries (shoulder, left eye, concussion), then was moved to receiver.
The Aztecs are 4-1 in Mayden's starts, including a big win last week when they rallied to beat San Jose State to move into a tie for second in the West Division of the Mountain West. Mayden has thrown for 1,253 yards and eight TDs in those five games for an offense that is predicated on the run. His favorite target has been Shavers, who has had 23 catches (he had seven in the first five games) for 412 yards and a TD with Mayden at quarterback. This week, they'll go against a solid New Mexico defense.
"I never thought I'd be back at quarterback. I fully bought into playing safety," Mayden told reporters earlier this month. "… As far as throwing and stuff like that, I thought I would be OK. I just didn't know if I would be able to readjust to the speed of playing offense."
As for falling way down the depth chart last season, moving to safety in the offseason, then moving back to quarterback and playing well? "I don't think that anybody can imagine that all of that was going to happen," Mayden said.
Transfers in the spotlight
Along with the Georgia-Kentucky and South Carolina-Tennessee matchups, there are some other interesting portal stories with this week's schedule. Here are four.
+ Fresno State QB Jake Haener vs. Nevada: Fresno State (6-4) can clinch a spot in the Mountain West title game with a win over the woebegone Wolf Pack (2-8). Haener missed four games with an ankle injury, but in the past three games – all wins – he is 86-of-108 (79.6 percent) for 1,034 yards, 10 TDs and two picks. In two career games against Nevada (and those were good Nevada teams), Haener has thrown for 741 yards and four touchdowns.
+ Oklahoma QB Dillon Gabriel vs. Oklahoma State: The season certainly hasn't gone as planned for Gabriel or the Sooners. OU (5-5) is guaranteed to finish with a losing conference record for the first time since 1998, the final season under John Blake. Gabriel has thrown for 2,217 yards, 16 TDs and four interceptions, with the first two numbers way under what was expected under OC Jeff Lebby. Oklahoma State's pass defense is nothing special, though, so maybe Gabriel reaches the 300-yard mark for just the third time this season.
+ The transfer quarterbacks in Oregon-Utah: Beyond the individual battle between Oregon QB Bo Nix and Utah counterpart Cameron Rising, this is a big one in the Pac-12 title race. Nix has been tearing up Pac-12 defenses; in seven league games, he has accounted for 28 touchdowns and is averaging 360.6 yards of total offense per game. Rising plays in a more conservative offense, and in league play, he has accounted for 17 TDs and is averaging 296.2 yards per game. Worth noting: In the Utes' biggest game thus far, Rising put up 475 yards of offense and accounted for five TDs in a 43-42 win over USC.
+ The transfer quarterbacks in Arizona-Washington State: This one matches Arizona's Jayden de Laura and Washington State's Cameron Ward. The big storyline: de Laura was Washington State's starter last season but moved on. De Laura is coming off perhaps the best game of his career in a huge upset of UCLA, which was a 19.5-point favorite. He was 22-of-28 for 315 yards and two touchdowns, scored on a 3-yard run and had a gigantic scramble to put Arizona in position for the game-winning TD. De Laura has thrown for 3,128 yards and 24 TDs. Ward, meanwhile, followed Eric Morris from FCS Incarnate Word to Washington State; Morris was UIW coach and now is the Cougars' OC. Ward hasn't been near as prolific as most envisioned, though he has thrown for 2,579 yards and 20 TDs. Washington State (6-4) already has clinched bowl eligibility; Arizona (4-6) must win out against WSU and Arizona State to do so.