Transfer Portal: Winners and Losers from the 2023 cycle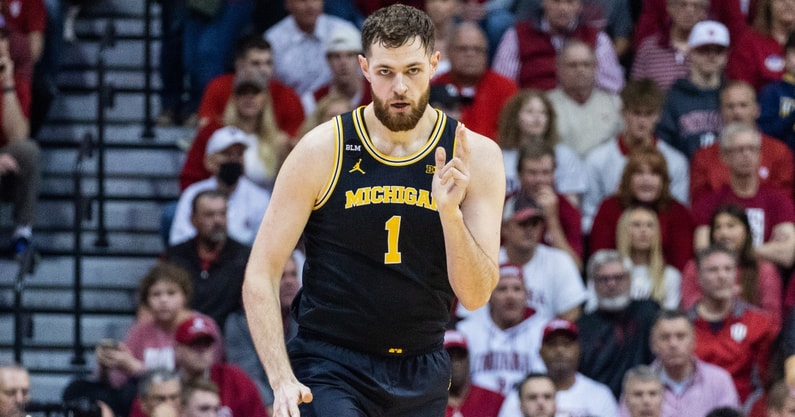 As of midnight on Thursday/Friday, the 60-day window for the men's college basketball transfer portal has closed. The ability for one-time, non-graduate transfers to submit their name into the portal opened on March 13. In that time, over 1,700 players entered their names.
Even with the portal closed, we will still some names trickling in. By rule, a player had to request their transfer by 11:59 PM on Thursday, not fill everything out. Sometimes this takes some time to process. Also, players who have graduated will continue to be able to enter without penalty.
On3 has a transfer portal home, which has all the latest news, player, and team rankings through each portal cycle. There, you will find the 2023 transfer portal team rankings. 
While there will still be movement and commitments, let's take a look at some of the big winners and losers of the 2023 transfer portal cycle.
Winners
Georgia
Transfer in (5): PF RJ Sunahara (18.9 points, 40.0% 3P at Nova Southeastern/D2), CG Noah Thomasson (19.5 points, 3.5 assists at Niagara), C Russel Tchewa (11.1 points, 8.6 rebounds at USF), PF Jalen Deloach (9.7 points, 6.9 rebounds at VCU), SF RJ Melendez (6.0 points at Illinois)
Along with a four-man high school class, head coach Mike White added five players from the transfer portal to flip the roster in year two. RJ Sunahara, a 6-foot-8 power forward, was the D2 National Player of the Year at national champion Nova Southeastern. Noah Thomassason will bring depth to the backcourt, able to play both positions. Russel Tchewa and Jalen Deloach are formidable post players who have a toughness and defensive presence. RJ Melendez is a former four-star recruit that could take a step with a new setting.
LSU
Transfers in (5): PG Jalen Cook (19.9 points, 4.9 assists at Tulane), Will Baker (13.6 points, 5.2 rebounds at Nevada), SG Carlos Stewart (15.2 points, 40.6% 3P at Santa Clara), SF Jordan Wright (10.6 points at Vanderbilt), C Hunter Dean (8.7 points, 6.1 rebounds at George Washington)
LSU was one of the worst teams in the SEC last season, the roster needed an overhaul, and that is just what head coach Matt McMahon has done. Not only was he able to overhaul the roster, four of the five transfers he brought in are all Louisiana natives. Point guard Jalen Cook started his career at LSU. He transferred to Tulane, where he was first-team All-American Conference for the past two seasons. Now the Walker, Louisiana native, is the No. 2 point guard in the transfer portal and is back with the Tigers.
Carlos Stewart was the No. 6 shooting guard in this cycle. The Baton Rouge, Louisiana native was first-team All-WCC this year after averaging 15.2 points and shooting 40.3 percent from three. Also from Baton Rouge and a former high school teammate of Carlos Stewart, Jordan Wright averaged 10.6 per game last season and has scored 1,182 career points at Vanderbilt. Will Baker is 6-foot-11 and a former top-50 recruit. He averaged 13.6 last season, and Hunter Dean, another Louisiana native, is veteran depth up front.
Kansas
Transfers in (3): SG Nicolas Timberlake (17.7 points, 41.6% 3P), PG Arterio Morris (4.6 points), C Hunter Dickinson (18.5 points, 9.0 rebounds)
Much of this ranking relies on the addition of Hunter Dickinson, the No. 1 player in the 2023 On3 Transfer Portal Rankings. Not only is the talent in place, along with the track record for Dickinson, but the fit is pretty seamless with what Bill Self has had success with in the past. Back-to-back first-team All-CAA performer Nicolas Timberlake will bring some sharp shooting to the Jayhawks. The 6-foot-4 shooting guard is a career 37.9 percent three-point shooter on 614 attempts. We will see if Self can get out of former McDonald's All-American Arterio Morris.
West Virginia
Transfers in (4): C Jesse Edwards (14.5 points, 10.3 rebounds, 2.7 blocks at Syracuse), PG Kerr Kriisa (9.9 points, 5.1 assists at Arizona), SG RaeQuan Battle (17.7 points at Montana State), SF Jose Perez (sat out)
Jesse Edwards was one of the most coveted centers in this transfer cycle. The 6-foot-11 grad transfer from the Netherlands was ACC All-Defense this season, finishing top two in the conference in rebounds (10.3) and blocks (2.7). RaeQuan Battle is a former top-100 recruit that started at Washington and spent the last two years at Montana State, where he was first-team All-Big Sky last season. Kerr Kriisa led the Pac-12 in assists (5.1) and threes made (83) last season. He plays with an undeniable fire. Jose Perez sat out last season as he could not get a transfer waiver from the NCAA.
Arkansas
Transfers in (5): CG Keyon Menifield, SG Tramon Mark, SG Khalif Battle, SF Jeremiah Davenport, CG El Ellis
Head coach Eric Musselman breeds a culture of competition. Bring in the best players we can, and let them all battle it out to see who plays. This five-man class is led by the No. 3 shooting guard from the portal Khalif Battle. The younger brother of former Syracuse star Tyus Battle averaged 17.9 points at Temple last season. Keyon Menifield (No. 5) and El Ellis (No. 7) were both top ten combo guards in this portal cycle. Tramon Mark started for Houston last season, averaging 10.1 points and 1.1 steals per game. Jeremiah Davenport is a 6-foot-7 forward that has made 205 career threes at Cincinnati.
Florida
Transfers in (4): C Micah Handlogten (7.6 points, 9.8 rebounds, 2.3 blocks at Marshall), PF EJ Jarvis (11.3 points, 1.5 blocks at Yale), CG Walter Clayton (16.8 points, 3.2 assists at Iona), C Tyrese Samuel (11.0 points at Seton Hall)
Micah Handlogten was one of the most intriguing players to enter the portal during this cycle. The 7-foot-1 freshman was the Sun Belt Rookie of the Year after finishing top 20 overall in D1 in rebounds (9.8) and blocked shots (2.3). Walter Clayton, a Lake Wales, Florida native, earned the MAAC Player of the Year award. He brings toughness to the guard position but also shot 43.1 percent from three and 95.3 percent from the free throw line. Tyrese Samuel is a 6-foot-10 grad transfer who has experienced success at the high major level. EJ Jarvis is a 6-foot-8 power forward who shot 40.6 percent from three and blocked 1.5 shots last season.
Texas
Players in (4): G Max Abmas (21.9 points at Oral Roberts), C Kadin Shedrick (6.2 points at Virginia), SG Chendall Weaver (9.5 points, 40.2% 3P at UT Arlington), PF/C Ze'Rick Onyema (7.1 points, 4.4 rebounds at UTEP)
The obvious piece of this class is Max Abmas, the grad transfer who will enter next season as the active career points leader. Abmas and his 2,561 career points will be asked to replace Marcus Carr's production. Abmas is a two-time Summit League Player of the Year winner. Kadin Shedrick is one of college basketball's premier rim protectors who has averaged 3.4 blocks per 40 minutes with a 10.6 block percentage for his career. Chendall Weaver has been a consistent perimeter threat in his career, and Ze'Rick Onyema is a nice depth piece up front.
UC Santa Barbara
Players in (3): PF Yohan Traore (2.1 points at Auburn), G Ben Shtolzberg (1.5 points at Creighton), C Zach Clemence (1.4 points at Kansas)
I am sure it is interesting seeing UC Santa Barbara on this list, but head coach Joe Pasternak was able to bring in three former high major players, who of which were top 100 guys coming out of high school. Yohan Traore is an active 6-foot-10 big man who moves well on defense and has a scoring touch. Zach Clemence won a national championship with Kansas. The 6-foot-10 center can step out and knock down a three and is a solid area rebounder. Ben Shtolzberg is a confident guard who can get a team into sets and score the ball.
To Be Determined
North Carolina
On paper, the Tar Heels lost their leading scorer, Caleb Love, and four former top-100 recruits, Puff Johnson, Dontrez Styles, Tyler Nickel, and D'Marco Dunn. Outside of Love, none of those players played more than 16.0 minutes per game, so there is an unknown. Some have suggested that Love leaving was addition by subtraction for this team, but who will replace his clutch-time buckets? Harrison Ingram helps to win, but can he go get a bucket? Jae'Lyn Withers's career has left many wanting more up to this point. Paxson Wojcik and Corman Ryan both bring experience and shooting. It will be determined if the four players brought in can equal the seven players lost.
Florida State
Statistically, last season was Leonard Hamilton's worst at Florida State. It was the first time since 1991-92 that he failed to reach 10 wins. And they lose two of their top three scorers off that team. Matthew Cleveland is an opportune scorer, and Caleb Mills had some boogie with his eyes locked toward the basket. There are still some players out there to be had.
Josh Nickelberry proved at LaSalle to be a scorer, much like Mills. The 6-foot-5 grad transfer averaged 10.9 points on 40.1 percent shooting from three last season. We will see if the NCAA grants Primo Spears a two-time waiver, as he is a 14.4 points and 4.2 assists per game guy for his career. Jamir Watkins is a 6-foot-7 forward who should fit right into Hamilton's system and style of play. While the was not much further down for this team to go, they brought in some talent and kept some talent. It is to be determined if this class could bring a chemistry upgrade that adds to a couple more wins.
Arizona State
It was a good run for Bobby Hurley last season, finishing 23-14 and 5th in the Pac-12 making it to the second round of the NCAA Tournament. Flip to the off-season, and the Sun Devils graduate their top scorer and lose five of their next seven to the portal. For starters, Hurley was able to keep starting point guard Frankie Collins and top perimeter reserve Jamiya Neal out of the portal.
He then added five players out of the transfer portal who bring intrigue. Kamari Lands is a former top-50 recruit who averaged nearly six points as a freshman at Louisville. Shawn Phillips, 7-foot-0, 250 pounds, is a former top-100 recruit. And Adam Miller, we will see if the NCAA grants him his two-time waiver; he is a former top-50 recruit and a career 10.0 points per game player. Posts Bryant Selebangue and Zane Meeks are experienced post players who have been very productive at their previous stops. Arizona State lost a lot, but they were also active in bringing in talented guys and guys who have had success.
Louisville
Kenny Payne needed a big injection of talent to this roster. The headliner is the addition of USC transfer Tre White. The former top-50 recruit averaged 9.0 points and 5.1 rebounds in 27.4 minutes last season. They also added Illinois transfer Skyy Clark (7.0 points, 2.1 assists). Clark started 12 of 13 games to mixed reviews last season. He left the team mid-season, and did not play the remainder of the year. While the Cardinals lost seven players in the portal, White is the best player of the bunch. It is still to be determined how close Clark can get to what El Ellis brought to the table. Last season, Louisville was one of the worst teams in high major basketball, there could be an addition by subtraction factor as well. Louisville also adds a four-man high school class that includes productive forward Kaleb Glenn, shot-blocking big Dennis Evans and high upside wing Trentyn Flowers. Lastly, the Cardinals bring in JUCO transfer Koron Davis who averaged 23.8 points last season. We will see.
Losers
*Remember there is still time, with hundreds of players will available in the portal.
Oklahoma State
Add (2): Javon Small, Mike Marsh
Lost (5): Avery Anderson, Kalib Boone, Moussa Cisse, Woody Newton, Tyreek Smith
While a possible backcourt of Javon Small, Bryce Thompson, and John-Michael Wright is very enticing, losing top three rebounders and shot blockers to the portal could make things tough.
Vanderbilt
Add (1): Evan Taylor
Lost (7): Tyrin Lawrence, Jordan Wright, Myles Stute, Malik Dia, Noah Shelby, Quentin Millora-Brown, Trey Thomas
It was an interesting off-season for Vanderbilt. Coming off the Commodores' first 20-win season since 2014-15 and most wins since 2011-12, they lost six of their top eight returning scorers to the portal. Leading scorer Liam Robbins was out of eligibility. Evan Taylor is a nice add, averaging 14.2 points and 6.5 rebounds on 43.0 percent from three at Lehigh last season, and there is some talk around former top-100 Notre Dame transfer Ven-Allen Lubin. Even so, losing seven of the top nine scorers never makes things easy.
Creighton
Add (3): Steven Ashworth, Isaac Traudt, Johnathan Lawson
Lost (6): Ryan Nembhard, Arthur Kaluma, John Christofilis, Shareef Mitchell, Ben Shtolzberg, Zander Yates
All three are good players, with Steven Ashworth and possibly Isaac Traudt being a very nice additions. However, losing Ryan Nembhard and Arthur Kaluma is tough to overcome.
Michigan
Add (3): CG Caleb Love, SG Nimari Burnett, Tray Jackson
Lost (3): C Hunter Dickinson, SF Gregg Glenn, SF Isaiah Barnes
Michigan is bringing in a fine class from the portal.
However, losing Hunter Dickinson was a major blow. He was a featured member of the team and his production will be tough to replace. Also, the way Dickinson left — very vocal and high profile. Caleb Love could soften the blow, but there are rumors floating about a possible de-commitment. Love has since come out to say rumors are unfounded..
Other teams who elevated their rosters through the portal
Penn State
IN (7): PG Ace Baldwin, SF Nick Kern, SF Zach Hicks, C Qudus Wahab, SF Puff Johnson, PF Leo O'Boyle, PG RayQuawndis Mitchell
OUT (5): C Kebba Njie, SF Evan Mahaffey, SG Dallion Johnson, SF Caleb Dorsey, CG Jameel Brown
Tennessee
IN (3): SF Dalton Knecht, SF Chris Ledlum, SG Jordan Gainey
OUT (3): SF Julian Phillips, PF Olivier Nkamhoua, CG BJ Edwards
Virginia
IN (4): SF Andrew Rohde, C Jordan Minor, PF Jacob Groves, PG Dante Harris
OUT (3): C Francisco Caffaro, PF Isaac Traudt, C Kadin Shedrick
NC State
IN (5): CG DJ Horne, CG Jayden Taylor, SF MJ Rice, PF Ben Middlebrooks, PF Mahamed Diarra
OUT (4): PF Jack Clark, C Ebenezer Dowuona, C Isaiah Miranda, PF Greg Gantt
California
IN (5): C Fardaws Aimaq, SF Jaylon Tyson, CG Jalen Cone, PG Mike Meadows, SF Keonte Kennedy
OUT (7): PG Joel Brown, SF Sam Alajiki, PF Kuany Kuany, C Lars Thiemann, CG Jarred Hyder, SG Marsalis Roberson
Clemson
IN (4): CG Joe Girard, PF Jack Clark, SG Jake Heidbreder, PF Bas Leyte
OUT (2): SF Chauncey Gibson, PF Ben Middlebrooks
Auburn
IN (2): SF Chaney Johnson, SG Denver Jones
OUT (3): PF Yohan Traore, SF Allen Flanigan, SF Chance Westry
SMU
IN (5): SG Denver Anglin, CG Chuck Harris, PF Tyreek Smith, CG BJ Edwards, SF Ja'Hiem Hudson
OUT (2): SF Stefan Todorovic, CG Jefferson Koulibaly