Transfer portal notebook: RB Austin Jones suddenly a vital player for USC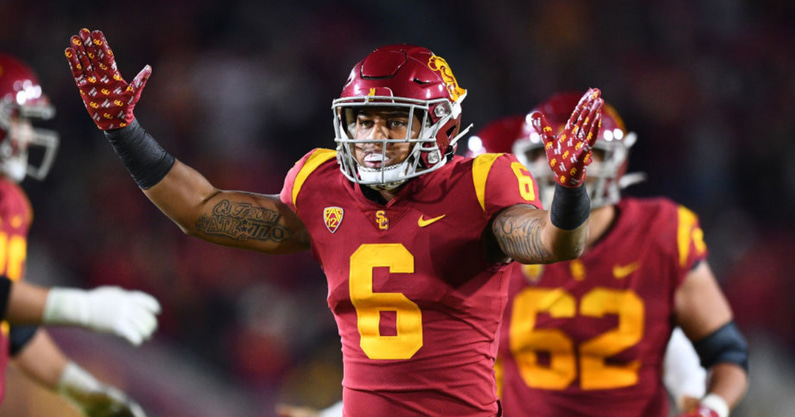 USC coach Lincoln Riley made excellent use of the transfer portal in building his first Trojans roster. For instance, he brought in the current Heisman frontrunner (Caleb Williams), last season's Biletnikoff Award winner (Jordan Addison) and his best defensive back (Mekhi Blackmon).
But forget those guys. The most important transfer the rest of the way is the second-best running back Riley brought in. With leading rusher Travis Dye – an Oregon transfer – out for the rest of the season with a knee injury, Stanford transfer Austin Jones now has to carry the rushing load.
Jones was a steady producer for three seasons and led Stanford in rushing in 2020. But Jones hasn't been a feature back since that 2020 season. His highest number of carries the past two seasons had been 16; he'd had double-digit carries just seven times in 22 games in that span.
But in last week's showdown with UCLA, Jones handled a heavy workload with aplomb, carrying 21 times for 120 yards and two TDs in a 45-42 victory. The 21 carries were the fourth-most in his four-season career, while the yardage total was his highest since December 12, 2020. Jones went into the game with 52 carries on the season, including just 23 in the past six games.
Dye also was a high-level receiver, and Jones did well in that department, too, with four receptions for 57 yards.
"There was no doubt that he was ready. … There's not one guy in that locker room surprised by what he did," Riley told reporters afterward about Jones.
The question now is whether Jones can keep it up against better defenses. USC clinched a spot in the Pac-12 title game with the victory over the Bruins. A College Football Playoff berth could be in the offing should the Trojans beat Notre Dame this week and either Oregon, Utah or maybe even Washington in the league championship game.
One aspect of Dye's injury that can't be overlooked: Depth at running back is an issue now. Backups Raleek Brown and Darwin Barlow (a transfer from TCU following the 2020 season) have a combined 49 carries. Williams obviously can hurt teams with his legs, but Jones has to show he can continue to carry the load.
Transfers in the spotlight
There are some interesting portal stories with this week's schedule. Here are five.
+ Illinois RB Chase Brown vs. Northwestern: Illinois has a rich tradition of running backs dating to Red Grange in the 1920s, and Brown could become the school's single-season rushing leader Saturday. Brown, who transferred from Western Michigan after the 2018 season, has rushed for a nation's-leading 1,582 yards; the school season record is 1,697 by Mikel LeShoure in 2010. A 116-yard day gets the job done for Brown – and Northwestern has the worst run defense in the Big Ten. (An aside about Grange: It's likely he would've approved of NIL. When his college eligibility expired, Grange was entertaining the notion of playing pro ball. Illini coach Bob Zuppke tried to dissuade him. Grange's reported response: "Zup, you coach for money. Why isn't it OK to play for money?")
+ James Madison QB Todd Centeio vs. Coastal Carolina: James Madison is in its first season in the FBS ranks, and a win Saturday gives the Dukes the East Division title. Alas, because it is in a transition period after moving up, JMU is ineligible for the league title game and a bowl. Regardless, a win over Sun Belt power Coastal Carolina would be noteworthy. Centeio began his career at Temple. He transferred to Colorado State after the 2020 season, then to JMU after the 2021 season. He has thrown for 2,410 yards and 21 TDs, and rushed for 373 yards and score. Centeio has to have a big game if JMU is to win.
+ North Carolina C Corey Gaynor vs. NC State DT Cory Durden: These guys are used to seeing each other in a rivalry game – Gaynor is a Miami transfer, while Durden transferred from Florida State. Durden has helped NCSU be especially stingy against the run (just 101.4 rushing yards per game allowed). While UNC throws the ball extremely well, its rushing attack is important. The Heels average 163.8 yards on the ground; in its two losses, UNC's average was 114.5.
+ The running backs in Florida-Florida State: The leading rushers for both arrived via the portal. It's Louisiana transfer Montrell Johnson Jr. for Florida and Oregon transfer Trey Benson for FSU. Benson has come on strong the past month, rushing for 482 yards and three TDs in the past four games. His emergence has coincided with FSU bludgeoning foes with its rushing attack. The Seminoles have rushed for 200 yards in six consecutive games, the first time that has happened since 1995. Johnson has had three 100-yard games this season, and Florida's success has been directly tied to its ground game. Florida has rushed for 200 yards in seven games and is 6-1 in those contests (the loss was to LSU). In addition, the Gators have scored 18 rushing TDs in their six wins and nine in their five losses.
+ The transfer quarterbacks in Washington-Washington State: Washington's Michael Penix Jr. transferred from Indiana and leads the nation in passing with 3,869 yards (second-most in a season in school history; Cody Pickett had 4,458 in 2002). Washington State's Cameron Ward hasn't been as prolific as expected, but still has thrown for 2,772 yards and 21 TDs. The Huskies (9-2) still have a slight chance of advancing to the Pac-12 title game. The Cougars (7-4) are going for just their 15th eight-win season in 104 years of football. Which quarterback plays the best? Both defenses are adequate, nothing more.