Clemson checked all the boxes for elite QB Christopher Vizzina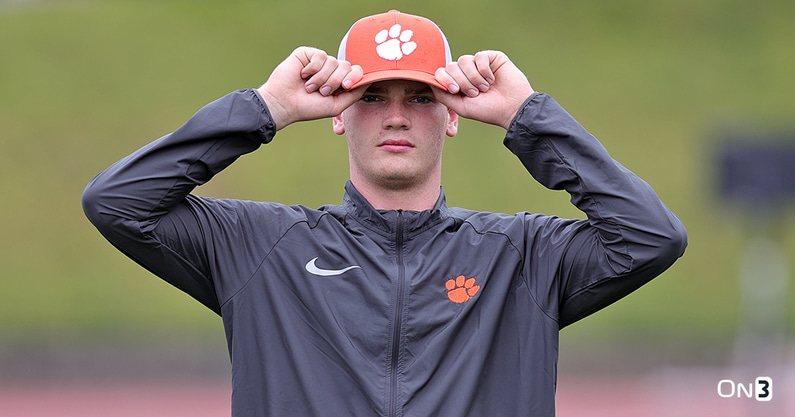 On November 20, Clemson offered Birmingham (Ala.) Briarwood Christian quarterback Christopher Vizzina. That offer changed his recruitment.
After adding the offer from the Tigers, the No. 40 prospect in the On3 Consensus started to compare each school to the ACC power. Vizzina had visited Clemson before, he knew about the culture Dabo Swinney had established, and that offer gave him a lot to think about.
The 6-foot-3, 194-pound program gave many programs a strong look, but he kept coming back to Clemson. Ole Miss was high on his list. Auburn, Georgia, Notre Dame, and Ohio State were up there as well. But Swinney's program has what Vizzina was looking for.
"The values I have match up perfectly with Clemson's," Vizzina told On3. "The culture, the things they are about off the field, the team rules, the environment, and the family-feel is all of what I was looking for.
"When I visited last Monday, coach Swinney asked me about what I didn't like about Clemson. I couldn't think of one thing. It is the right school for me."
Vizzina's commitment gives Clemson two commitments this cycle.
The culture at Clemson fits Vizzina
Prospect after prospect talks about the culture at Clemson. How it is different. What Swinney has created. The family vibe. Vizzina fit right in.
"Coach Swinney's personal bond with his players is different," Vizzina said. "He builds the culture within the program with the players he recruits. He is not about the transfer portal, he wants to be close with his players, and he is so consistent with what he believes, and how he does things."
Vizzina doesn't even have words to explain what he is walking into when he starts his career as a Tiger.
"I went all over the country to visit different schools, talk to different coaches, and give a lot of schools a real look, but nothing really compares to Clemson for me.
"What they do there is just different. Coach Swinney, coach Streeter, and the entire coaching staff are personal with each player. A lot of people use the term family, but with Clemson, it truly is a family.
"Clemson means what they are saying when talking family. I have been there to see it, hear it, and I can't even explain it, because it is just different. I just know it is a great place."
Clemson pulled ahead early and it is now official
After offering Vizzina five months ago, Clemson took the lead for the No. 5 quarterback in the country. New offers came in, and he continued to give other schools a look, but he knew it would be hard for a school to beat the Tigers.
After visiting Clemson twice last week, Vizzina made his commitment official.
"Early on, I felt Clemson was my top school," Vizzina said. "I never thought about committing, and I did not want to rush anything, but Clemson, in my mind, was on top.
"I didn't want to commit until I was 100% sure. After visiting last Monday, I knew it. I had a great talk with coach Swinney, then after talking with my family on the way home, I knew I was ready."
Vizzina made another trip up to Clemson on Saturday for the spring game. It was then that he let the staff know of his decision.
"Me, my family, coach Streeter, and coach Swinney were talking and I let them know about my decision. I love the culture, I love the coaches, the fan base is awesome, and I made official what I knew in the back of my mind for a long time.
"They were excited and it felt great to commit to Clemson."
It all started with a conversation with Todd Bates during his freshman year. Bates, who is now coaching at Oklahoma, was recruiting Vizzina's area for Clemson. Well before the offer was extended, the seed was planted, and Clemson showed him everything he and Bates talked about two years ago.
"Coach Bates explained what it is like at Clemson my freshman year and it was all true. The more I talked to Clemson, when I started taking visits there, and the more I learned, the more I saw that Clemson is different.
"I wasn't sure if they would offer or now because they do it differently, but once they thought highly enough of me to offer early, I knew it could be the school for me.
"I continued to build relationships, I did more research on Clemson, I saw in person how they do things, and the values they have are in line with mine. It is a great match and I am so excited about the opportunity."