JD PicKell details NC State's path to surpassing 6.5 wins in 2023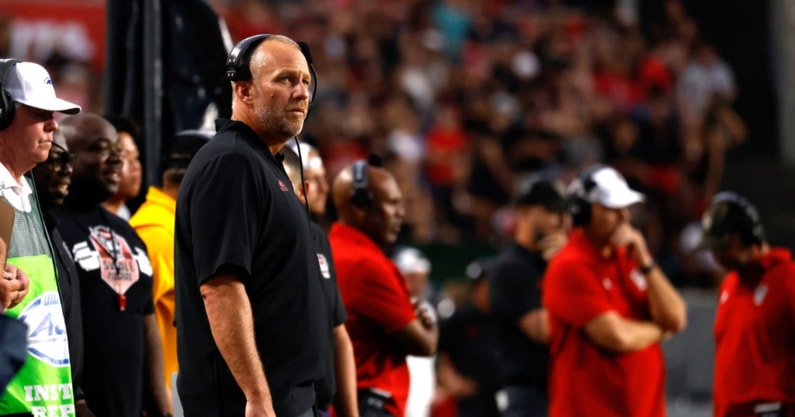 NC State hasn't finished a football season with less than eight wins since before the pandemic, so their 6.5 over/under number for the 2022 season projects a bit of a dip in performance from the Wolfpack. Is this drop in expectations warranted for a program that's going through a bit of a retooling? Allow On3's JD PicKell to break that down for you.
Over on the On3 YouTube channel, PicKell analyzed the path to seven wins for the Wolfpack and explained which matchups will be key for Dave Doeren's club getting over the hump of 6.5 wins in the regular season. Take a look at PicKell's commentary in this video right here or read what he had to say further below.
JD PicKell evaluates NC State over/under for 2023 football season
"Alright, NC State. Look, I told you they're a dark horse for me in the ACC. The over/under for them right now is 6.5 wins. NC State's a tricky one, because you got Brendan Armstrong now reunited with Robert Anae and they did phenomenal things last time they were together at Virginia. Remember, Brennan Armstrong is transferring to NC State and last time he was with Robert Anae…31 touchdowns, over 4,400 yards. Dude can deal the rock.
"So for NC State to piece this thing together, let's take a look at the old schedule. Take a look at the path to get to 6.5 wins. The way that I see it, I need five of the first seven if we're going to get this done. So I need…at UConn. You can drop the one in Notre Dame, that's tough. You can drop that one. I need VMI, I need at Virginia. Brennan Armstrong's old school. I need that one. You can drop Louisville. There's a lot of talk around Louisville and how good they might be, so we'll let you drop that one. But I need Marshall and I need the game at Duke. Okay, you can swap the loss with Louisville to the loss for Duke. I'm not saying there's gonna be a loss, I'm saying you can have those. Alright now we got to dig deep here.
"The back half of the schedule, I need you to muster all of your gusto, all of your strength, all of your pride that you got, Wolfpack Nation. In these last five games, I just need two. Alright, serious as can be right now, I need two. You got Clemson and Miami both at the crib. You're at Wake, you're at VA Tech and you have UNC at home to end the year. Can we get two of those? You tell me. I got five tries to get two of those, I think.
"So I'm circling the game at Wake. Who knows what Miami's gonna be. I'm circling the game at VA Tech. It's a rivalry game, it's North Carolina and Duke, man. NC State, they got a little bit of beef, no matter how serious or unserious it is, it's a rivalry game. When it comes to that game against Drake Maye, I'm not saying the robbery is not serious, I'm saying the Drake Maye joking about guys getting into UNC, all of that, put it behind us.
"The real matter of this is we're taking North Carolina State over 6.5 wins. Lock that one away. We like that one a whole heck of a lot. Pencil them in for seven or eight wins on the year."