Mickey Joseph believes Nebraska program is better now than when he found it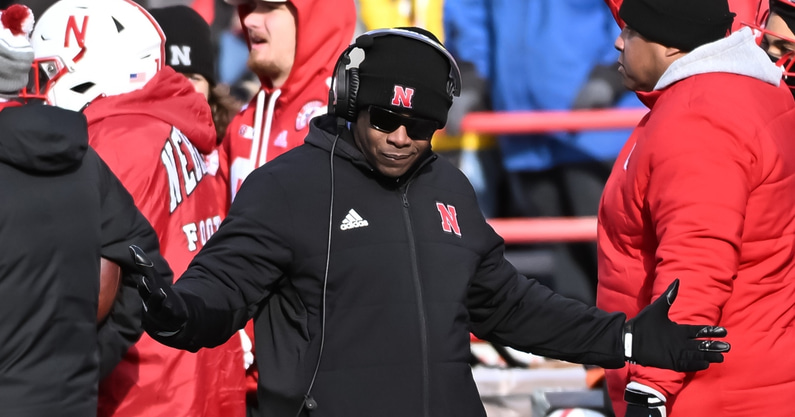 Mickey Joseph has done his best to keep the Nebraska Cornhuskers afloat during this turbulent 2022 season. And although some of the games have not gone the Cornhuskers' way, Joseph believes Nebraska is a program better now than when he found it.
"Well, I think they're better now than when I found them. I think there is a better team, a more confident team," said Joseph. "No, they haven't gotten the wins, but I think they're better people right now. They can see the growth in themselves, and I can see the growth in them. I think that they know that they can build something here; we're a couple of pieces away. Because we played some close games, and when we come back on Sundays, we identify what happened. so we know where a couple of pieces away that we need to get up in here to help us get over that hump."
Nebraska had some bright spots this season but could not overcome their offensive line troubles. Throughout the season, the Cornhuskers dealt with numerous injuries to their offensive front and even suspensions. That resulted in a lack of chemistry, which quarterback Casey Thompson paid the price for often. Still, Joseph has kept them in most of their matchups this season. And if they take what they've learned this season into the offseason, Nebraska will be in an even better position than they are now.
Joseph remains focused on Iowa as offseason decisions loom at Nebraska
Nebraska has a tough decision ahead of them this offseason as they deliberate who will lead the football program next season. Current interim head coach Mickey Joseph took over the reins after the university fired previous head coach Scott Frost after a home loss to Georgia Southern. And although a decision will come before the start of the offseason, Joseph is not worried about that. He remains focused on Nebraska's upcoming game against Iowa as offseason decisions loom over the program.
"Not right now," said Joseph when asked about pitching for players to stay in the program recently. "Not until this picture clears up a little bit. One thing I'm going to be able to control is getting this team ready to play Iowa. Now, after Iowa, we do have some decisions that will have to be made. But right now, I'm just gonna control what I can control."
Joseph does not appear as if he is going to allow this decision, whatever the university decides, to affect his plans. He is fully focused on picking up the win against the Hawkeyes, the top team in the Big Ten West this year. And his plans for what to do directly following the game, which he laid out a little later, aren't likey to change.