Marcus Freeman on the identity of the ACC: 'Extremely good quarterback play'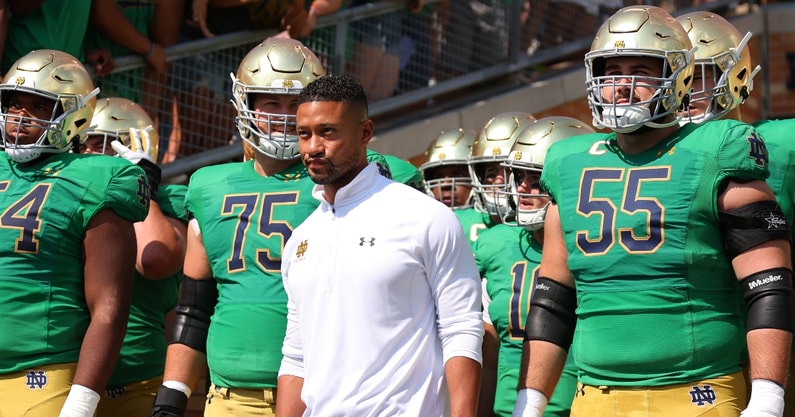 In his first year as the head coach at Notre Dame, Marcus Freeman is going through some growing pains. Part of that is that Freeman is a first-time head coach. Another part of that is that Notre Dame is unique among college football's blue blood programs for several reasons. One of those things is being independent of a conference.
While Notre Dame is independent in football, the school is in the ACC for other sports, like basketball and baseball. To be in the ACC, Notre Dame has an agreement with the conference to play at least five ACC teams through 2036. That's the length of the ACC's current media deal.
While speaking to the media, Marcus Freeman downplayed paying too much attention to what is happening in the ACC because of the independent schedule. He was then asked to comment on the identity of the ACC.
CLICK HERE to subscribe for FREE to the On3 YouTube channel
"I wish I could say it's just one thing, and as I evaluate, I see some explosive offenses and good defense. Obviously, Syracuse has a good defense. Watch Clemson, they've got a good defense. I watched the Syracuse-NC State game, which really was a battle on both sides of the ball, but it really was a defensive battle for a large part of that game," Marcus Freeman said.
"I see extremely good quarterback play. That's one thing that I do notice when I watch ACC games is there are some really good quarterbacks in this conference. So, it's good football. Well coached."
For his part, Marcus Freeman has never been an ACC coach. He's a Midwest guy, who worked in the Big Ten, MAC, and AAC prior to joining Notre Dame's staff in 2021 as the defensive coordinator.
Three of Notre Dame's next four games are against ACC opponents. That starts with Syracuse and Clemson, both of whom are ranked in the AP Top 25. After that, the Irish play Navy before getting Boston College.
Marcus Freeman on his visit with Jim Tressel
As a player, Marcus Freeman was a linebacker at Ohio State. His coach there was Jim Tressel. Now, as a first-year head coach, Freeman met with Tressel, getting advice from one of the great football mentors in his life.
"No, this was something that a month and a half or two months ago, he said he was on his way. He's going up to Chicago and wanted to stop by and see me and, [James] Laurinaitis; two of his former players. And it just so happened that it was a week that I might have needed somebody to kind of talk to. And it was great, it was," Marcus Freeman said.
"He came for maybe an hour but again, any amount of time you can spend with Jim Tressel, you're going to be better because of it. It was good for me; it was great for James to see him/ But no, it wasn't something that was set up just last week. It was something that he had planned to do for a couple of months."