JD PicKell breaks down Sam Hartman's effect on Notre Dame in 2023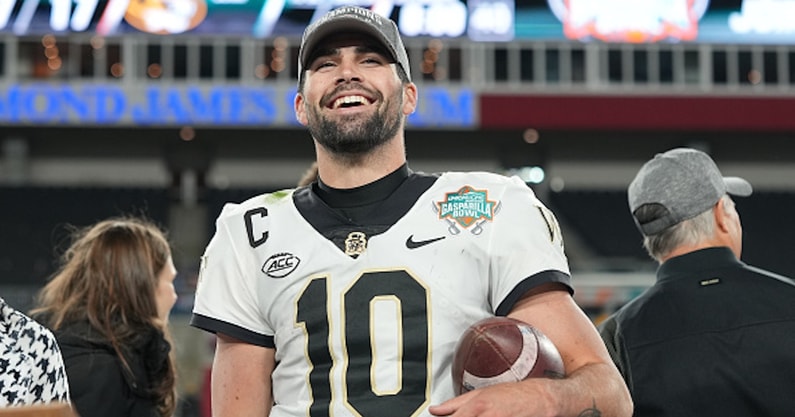 Sam Hartman transferred to Notre Dame and could have quite the effect on the Fighting Irish, according to On3's JD PicKell.
The former Wake Forest quarterback was the ACC's all-time leading in touchdown passes and was a coveted transfer during the most recent cycle. Notre Dame's Marcus Freeman landed one of the top quarterbacks in the nation and expectations soared for the 2023 season.
That's the kind of effect one player brought to the table and PicKell broke it down on The Hard Count.
"Sam Hartman made noise," PicKell said. "I'm talking like, turn down the jukebox kind of noise when he decided to take his talents from Wake Forest to Notre Dame. And the reality is with Sam Hartman deciding he wants to be a part of what Marcus Freeman is building. That's the biggest recruit of the entire Marcus Freeman era. I don't think it's really up for debate and adding him to this system is just a whole new element, a whole new fighting style for your team."
PicKell compared last year's offense to the potential new one, with the added Hartman effect on Notre Dame.
"Last year they ran right around 200 yards a game," PicKell said. "This coming season, the stable is coming back. It's fair to expect you'll be right around 150, probably north of 150 when all the dust settles in terms of running yards per game, okay, you'll be in that neighborhood. Defense. It's solid, you lose some pieces on the offensive line. We'll talk about that in a second. They've done well to retool via the transfer portal but you bring back a lot of guys on defense, the same defense that allowed 23 points a game last year, so you're pretty solid there. I'm looking at this, some saying okay, you already have the hard edge, smash mouth, blue collar kind of approach as a team. You already have that and you won nine games last year. You won nine games last year throwing for around 200 yards a game … 
"But unfortunately, your starting quarterback went down early in the season. And so you had to adjust how you played now after you won nine games last year with that formula. The formula where you only throw 200 yards a game and you play really tough up front. You add in a quarterback that is the ACC all time leader in passing touchdowns, I don't care that he's played for 100 years. I don't care that the ACC isn't the strongest conference. I don't care about the offense he was in at Wake Forest. You lead a conference all time with passing touchdowns, you got some game."
Hartman finished his Wake Forest career with 12,967 yards, 110 touchdowns, 41 interceptions and a 59.1% completion percentage.
The Sam Hartman effect on Notre Dame
"Now you add some finesse, now you add some explosiveness to your offense, on paper at least, it still has to translate, still has to match," PicKell said. "Heck, Sam Hartman still has to win the job which I believe he will do. But adding Sam Hartman to your football team allows you to fight more styles. It means now if we get into a shootout, we feel better about it because we got Sam Hartman on our team.
"Whereas before it was, we got to make this game gross. Let's go back and forth. Let's find a way to win, let's scratch and claw you still have that scratch and claw mentality. But adding a capable proven quarterback just makes you a more dangerous football team, you can win more ways. It's as simple as that. So it's good news for the Fighting Irish."
CLICK HERE to subscribe for FREE to the On3 YouTube channel
As a member of the Class of 2018, Hartman was a three-star prospect out of Mount Pleasant (S.C.) Oceanside Collegiate Academy, according to the On3 Consensus when he committed to Wake Forest. He was the No. 13 overall prospect in the state, the No. 54 quarterback in the class and the No. 766 overall prospect in the class.