LOOK: Lane Kiffin calls out Texas A&M, doubles down on Nick Saban's NIL recruiting claim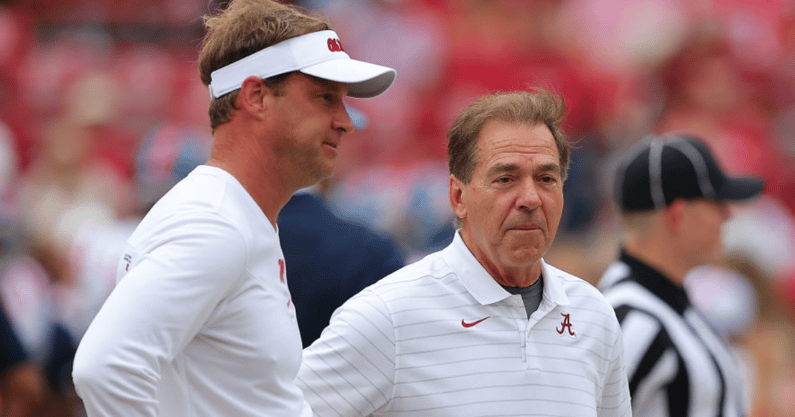 Ole Miss head coach Lane Kiffin is doubling down on his "Texas A&M buying players" claims from earlier this year after Nick Saban also spoke out about their recruiting tactics on Wednesday.
On Thursday, Kiffin tweeted a thinking emoji, tagging both the A&M and Alabama football accounts, and said, "The *goat* might ….." suggesting Saban is correct. He quote tweeted someone else's post that shows A&M's five-star count from before the NIL compared to the Aggies' historic 2022 class. From 2018-2021, Jimbo Fisher landed five five-star prospects. In 2022, after NIL passed, they signed seven in one class (nine per On3's Consensus rankings).
Soon after Saban's comments went viral, Kiffin quote tweeted his words with a GIF of Peyton Manning shooting finger guns.
Nick Saban on Texas A&M recruiting
Nick Saban stirred things up on Wednesday by mentioning how Alabama's recruiting class came in second to A&M's after the Aggies supposedly "bought every player."
"I know the consequence is going to be difficult for the people who are spending tons of money to get players," Saban said via AL.com. "You read about it, you know who they are. We were second in recruiting last year. A&M was first. A&M bought every player on their team. Made a deal for name, image and likeness.
"We didn't buy one player. Aight? But I don't know if we're going to be able to sustain that in the future, because more and more people are doing it. It's tough."
Saban has been one of the most vocal opponents of the direction college football recruiting has moved since Name, Image and Likeness deals were allowed by the NCAA. While Saban maintains that he approves of the system as it enables players to make money on their work, he continues to disapprove of colleges using money as a recruiting tool.
On3's Austin Brezina contributed to this report.