Luke Altmyer shares how his relationship with Lane Kiffin has matured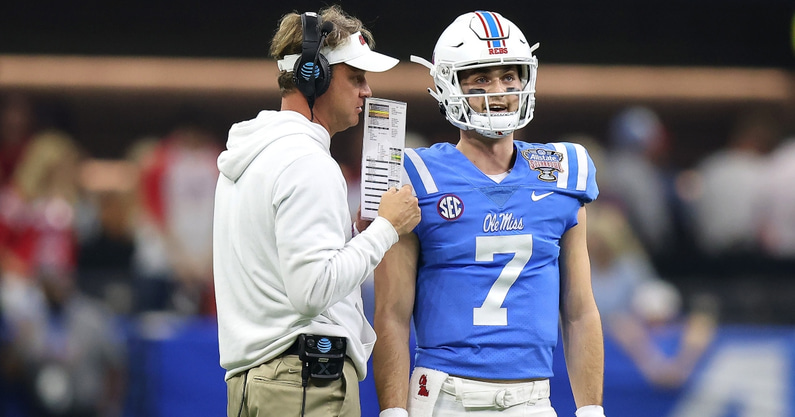 Ole Miss quarterback Luke Altmyer is entering his second season in the Rebels program, and he is now fighting for the team's starting quarterback job. Altmyer is competing with USC transfer Jaxson Dart for the Ole Miss quarterback position, with former starting quarterback Matt Corral now in the NFL. As he enters the second year of his collegiate career, Altmyer has seen a change in his relationship with Ole Miss head coach Lane Kiffin.
Last year, a lot of Kiffin's attention was on Corral, as he was the clear-cut starting quarterback. But now, with Altmyer vying for that starting position, he has gotten a lot more one-on-one time with Kiffin.
"Obviously with Matt being gone, there was so much one-on-one time with him and Matt and obviously not a whole lot with me," Altmyer said. "With him being gone and a new chapter being turned, there's a lot more time with him. Just being around him, within him sitting in meetings every day, giving coaching points, it was great.
"But like I said, it's just about getting more confident, more comfortable with the people you do it with every day. And that can be coaches, players, trainers/ It's just about me being more confident and more comfortable."
Kiffin on Altmyer, Dart after Ole Miss' spring game
Altmyer was a four-star recruit and the 26th-rated quarterback in the 2021 class, according to the On3 Consensus, a complete and equally weighted industry-generated average. He is competing with another four-star in Dart, although Dart was rated as a national top 50 prospect and the seventh-rated quarterback.
In the recent Ole Miss spring game, Kiffin liked what he saw from Altmyer.
"Jaxson made some mistakes early and Luke seemed to play really consistent and not force things," Kiffin said.
As a freshman last season, Altmyer saw limited action at Ole Miss for the majority of the season. In the regular season, he attempted just nine passes with five of them coming in a late October contest. But when Ole Miss faced off against Baylor in the Sugar Bowl and with Corral injured, Altmyer was thrust into action.
Ole Miss ultimately lost 21-7 to Baylor, and Altmyer had mixed results. On the day, he completed 15 of his 28 pass attempts, throwing for 174 yards, one touchdown, and two interceptions. He was also sacked seven times.