5-star Walter Nolen headlines quality list of visitors for Tennessee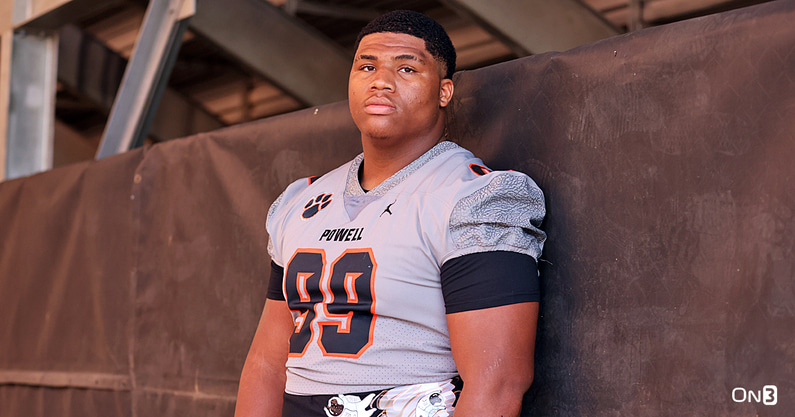 It's only fitting that Ole Miss and Tennessee – one of the biggest games of the weekend in college football – will attract a visit from one of the top recruits in the country.
Powell (Tenn.) High five-star defensive lineman Walter Nolen is confirmed for his visit to Knoxville this weekend. He'll be there to watch the Volunteers take on the Rebels.
It's one of the most anticipated matchups of the weekend, and Nolen will be there with a good group of visitors.
On3's Chad Simmons talked with Nolen last week about his visit schedule and this scheduled unofficial visit to Tennessee. Nolen will be joined by his brother, 2025 offensive lineman Warren Nolen. He already has major offers including from UT. In fact, the Vols were his first offer. Other members of the Nolen family will also be there.
"On visits is when I get the best feel for the players, the coaches, the atmosphere, and I will learn a lot," Nolen said.
Saturday's visit will be an unofficial one for Nolen. He is still working on scheduling an official visit to Rocky Top. However, Texas A&M is considered the favorite for Nolen's commitment.
Blue-chip underclass QBs on way to Tennessee
Fort Mill (S.C.) Catawba Ridge sophomore quarterback Jadyn Davis will be in Knoxville on Saturday to watch Tennessee host 13th ranked Ole Miss. Davis is one of the nation's top recruits in the Class of 2024.
The Volunteers are one of the 10 programs that have already offered the 6-foot, 185-pound sophomore. Additionally, Davis was on campus back on July 28. Tennessee offered Davis back on May 24.
He talked with On3's Jeremy Johnson about what he expects to see while in Knoxville.
Tennessee will also host consensus four-star junior quarterback Marcel Reed of Nashville (Tenn.) Montgomery Bell Academy on an unofficial visit this weekend.
Reed has received offers from 15 schools, including Alabama, Georgia, Florida, Texas A&M, Ole Miss, Kentucky, Miami, Louisville, Vanderbilt and Indiana.