Bru McCoy reveals reason he chose Tennessee as transfer destination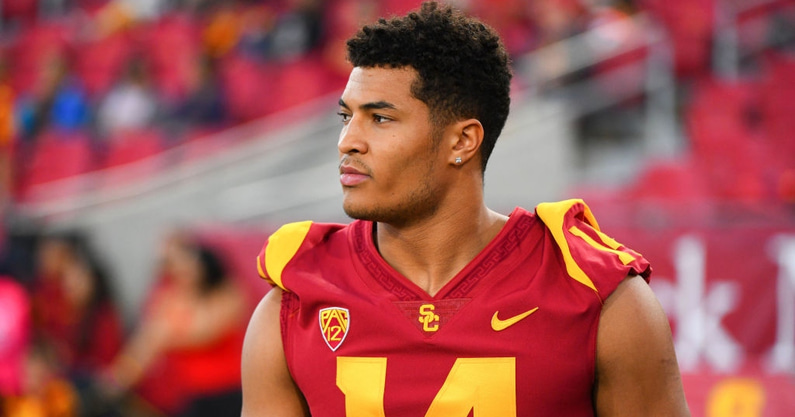 After choosing the Tennessee Volunteers as his transfer destination, former USC receiver Bru McCoy spoke about what led to his decision. McCoy praised the Tennessee program as being "cutting-edge" in player management, and said his ultimate goal for the upcoming season is to win the SEC.
Bru McCoy on why he chose Tennessee
"Honestly, I've seen a lot of schools back through the recruiting process in high school," said McCoy on Tuesday. "This place definitely, effortlessly sold itself. Nobody was here trying to be a salesman about anything. They were just saying here's what we have to offer. That, in and of itself, I got to look. I got to see the practices, the way the coaches interact with the players, the meetings. They're doing things the right way here. They're taking care of the players the right way. They're taking care of the off-the-field — the everything you could want out of the school.
"And then they push you at the same time. As much as they have to offer, they're gonna demand just as much, if not more. I think that they're on the cutting edge of what collegiate athletics is gonna become. And a lot of people are gonna follow suit with how Tennessee has been handling business here."
McCoy was then asked what his goals were as he enters the 2022-23 season with Tennessee, and he explained that his goals will come with success as a team.
"I want to win the SEC. I want to win a national title. I wanna help pour as much as I possibly can into this team that I have to offer. It's not about individual accomplishments. Things like that come with team success. I just look forward to putting my energy and effort and then letting everything else take care of itself."
McCoy did not feature for the Trojans last season but did play in six games in 2020. He made 21 receptions for 236 yards and two touchdowns. After dealing with some off-the-field issues and USC going through a coaching change, the wide receiver decided to enter the transfer portal.
McCoy and his off-the-field issues stem from an arrest on suspicion of felony partner intimate violence with injury. After the Los Angeles County district attorney's office reviewed his case, it ultimately concluded that there was insufficient evidence, and McCoy did not face any charges related to the incident.
Coming out of high school, McCoy was a five-star prospect according to the On3 Consensus, a complete and equally weighted industry-generated average that utilizes all four major recruiting services. He ranked as the No. 3 wide receiver in the country and the No. 2 player in his home state of California.
On3's Griffin McVeigh contributed to this article.