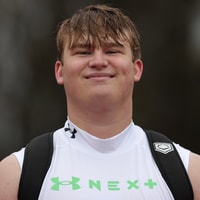 Claim This Profile
Alabama Crimson Tide
Recruiting Class of 2023
Natl.
94
OT
7
AL
11
H.S. Scouting Summary
Tackle prospect with an elite frame who can bend, move and strike at a high level. Has a prototype build for an offensive tackle. Verified at 6-foot-7, 302 pounds with close to a 7-foot wing-span at Under Armour's Atlanta camp prior to his senior season. Plays with strong balance and body control for his size. Shows excellent spatial awareness in pass pro and initiates contact consistently with his length. Has surprisingly good bend and hips for his size, allowing him to gain leverage with ease and bolstering his ability to anchor once engaged. Shows some encouraging physicality and willingness to mix it up with defensive linemen on Friday nights. Will only continue to improve once he is in a collegiate strength and conditioning program that will help him develop more explosiveness and functional power. Significantly filled out his frame over the course of his junior season.
Reminds Us Of
Mike McGlinchey
2018 Draft: Rnd 1 Pick 9
Wilkin Formby's huge, sturdy frame and reliable play at offensive tackle reminds us of Mike McGlinchey. Both check in at over 6-foot-7 - Formby is a little more physically developed at the same stage, while McGlinchey added weight after enrolling at Notre Dame. Both paly with a strong base and anchor for a taller tackle.
Sophomore Season Highlights
Highlights
Up Next
Sophomore Season Highlights
Highlights
SOPHOMORE SEASON HIGHLIGHTS
2021 JUNIOR SEASON HIGHLIGHT
Highlights
2021 JUNIOR SEASON HIGHLIGHT