College Football Playoff Top 25: First CFP rankings revealed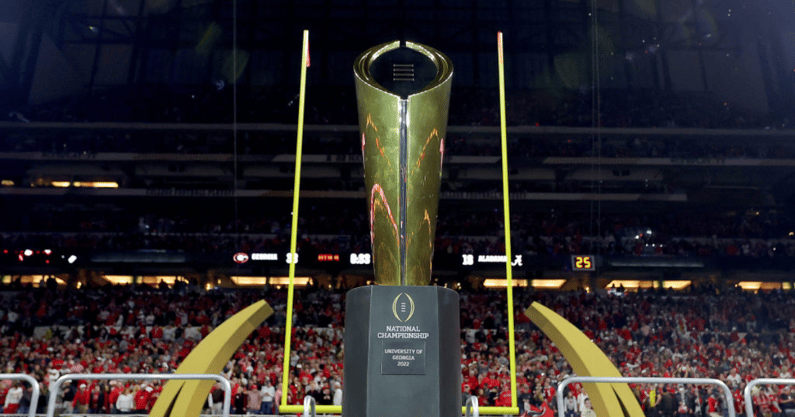 The College Football Playoff Selection Committee revealed its first 2022 poll ahead of some blockbuster Week 10 matchups which could provide a major shake-up already. The committee used the first nine weeks of the season to rank the top contenders for the four-team playoff and those with a chance at the New Year's Six bowls during ESPN's Tuesday night reveal show.
The CFP Selection Committee provides a new Top 25 based on the latest results and ongoing power struggles between key storyline builders. As the season winds down, the committee looks at each data point for evenly matched teams and weighs the value of certain wins and losses.
After winning the national championship last season, Kirby Smart has Georgia back on top of the sport with a new-look roster. Ahead of the Bulldogs is one of college football's most surprising stories in Tennessee, whose high-powered offense is led by coach Josh Heupel and quarterback Hendon Hooker. Ohio State and Michigan look to be on top of the Big Ten once again and could see their seasons come down the rivalry game between the two like last year.
CLICK HERE to subscribe for FREE to the On3 YouTube channel
Tennessee, Ohio State, Georgia and Clemson make up the new-look top-four, with Michigan and Alabama on the outside looking in. The six undefeated teams entering Week 10 are Clemson, Georgia, Michigan, Ohio State, TCU and Tennessee. After an exciting start to the season with plenty surprises, take a look at the initial 2022 CFP Top 25 rankings.
Week 10 CFP Rankings
1. Tennessee (8-0)
2. Ohio State (8-0)
3. Georgia (8-0)
4. Clemson (8-0)
5. Michigan (8-0)
6. Alabama (7-1)
7. TCU (8-0)
8. Oregon (7-1)
9. USC (7-1)
10. LSU (6-2)
11. Ole Miss (8-1)
12. UCLA (7-1)
13. Kansas State (6-2)
14. Utah (6-2)
15. Penn State (6-2)
16. Illinois (7-1)
17. North Carolina (7-1)
18. Oklahoma State (6-2)
19. Tulane (7-1)
20. Syracuse (6-2)
21. Wake Forest (6-2)
22. NC State (6-2)
23. Oregon State (6-2)
24. Texas (5-3)
25. UCF (6-2)