2023 SEC win totals: Analyzing schedule projections from Georgia to Vanderbilt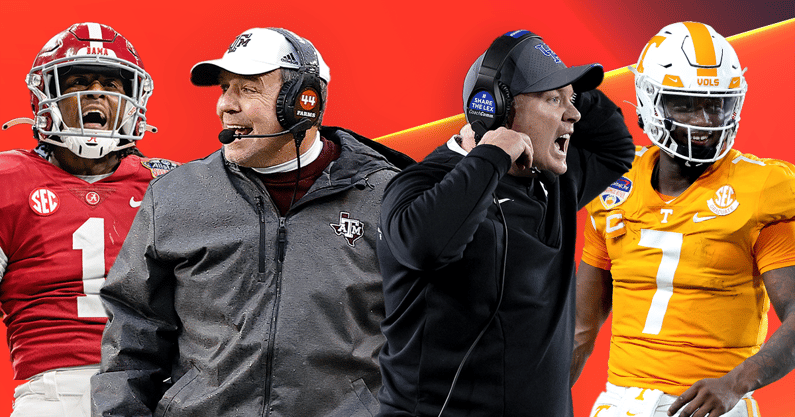 The 2023 college football season is still several months away, but sports books everywhere have begun to release over/under win total projections for the fall. 
After Power Ranking each P5 conference last week, this week we'll look at the win total numbers released by DraftKings Sportsbook, analyzing projections for all 14 SEC teams
Only Georgia and Alabama are expected to win double-digit games this fall, while Florida and Vandy are the lone schools projected to fall short of making a bowl game. 
So with the latest information post-spring, here's a little Too High? Too Low? Just Right? with the SEC projections. 
The books can't drop a 12 here, so this number can only be too high or just right. With Georgia's bakery schedule — it's cupcake city until a road game at Tennessee in November — and perhaps the deepest and best roster in America, the Bulldogs should cruise to at least 11 wins.
Will a team with a new quarterback slip up once and fail to go undefeated for the third consecutive regular season? Maybe. But I wouldn't bet on it. 
I get it, the books don't want to hang an even number, but Alabama's win total is slightly inflated, to me. Nick Saban very likely has a 10-win team because he always does.
But with legitimate concerns at quarterback and a schedule that includes Texas, LSU and Tennessee — three Top 10 teams, albeit all coming to Tuscaloosa — plus the rest of the SEC West slate, there are plenty of opportunities for Alabama to fall just short of the 11-win mark in the regular season this fall.
The Vols are looking to have back-to-back double-digit win seasons for the first time in 25 years. Their non-conference schedule does include an interesting home tilt with UTSA, but otherwise, it's mostly cake. 
If you pencil in losses at Alabama and vs. Georgia — neither of which are guaranteed with Josh Heupel returning a solid team — Tennessee would need to sweep the board (with a home game vs. Texas A&M, late November trip to Missouri) — to win 10 games. For a defense that still must answer some questions this fall, that makes a 9.5 number perfect. 
LSU should have a win total equal or slightly higher than Alabama. The Tigers also play a Top-15 team early in the season (FSU in Orlando). And while they do go to Tuscaloosa this season, they have just four true road games on the slate — including winnable games at both Mississippi schools and Missouri. 
The Tigers won nine regular-season games a year ago, and that was despite losing their opener against FSU, getting blown out by Tennessee and then laying an egg in the finale vs. Texas A&M.
Brian Kelly has a better team in Year 3 with a softer schedule. This number is slightly short. 
According to ESPN's FPI, the Rebels play the hardest schedule in the nation this fall. Lane Kiffin's team zoomed to a 7-0 start a year ago, and then crated facing a brutal backloaded slate. That won't be an issue this year, though, as Tulane, the reigning AAC Champs, Alabama and LSU are all in the first month of the season — the first two being on the road. Ole Miss also plays at Auburn, which will draw all sorts of drama because of Kiffin's flirtation with the Tigers' opening this offseason, and at Georgia. The Egg Bowl is also a road game. 
Once again, Ole Miss has done really well in the transfer portal, but it won't be afforded a month for a new team to coalesce, and the schedule never lets up the rest of the fall, either. 
Sam Pittman's program is looking for a rebound season after taking a slight step back in 2023. The Hogs' fourth-year coach got back to the basics this spring by emphasizing blocking and talking with an overhauled coaching staff. 
The Hogs return dual-threat quarterback KJ Jefferson and one of the best tailbacks in the SEC in Rocket Sanders, and they have seven home games in 2023 — plus a neutral site showdown with Texas A&M. 
But it's no sure bet that the Hogs sweep their home board. Alabama, LSU and Ole Miss are on the road. Arkansas could certainly win at Florida, but that's no gimmie. If anything, this number might be a tad too high. 
If you're confident an offensive renaissance is coming to College Station, then this number is too short. If you believe the Aggies' defense should be better with a group of former 5- and 4-star prospects who are a year older in the system, then this number is too low. If you follow many traditional power rankings, this number is too short.
But what has Jimbo Fisher done in any non-COVID season to give anyone confidence that Texas A&M is a guaranteed eight or nine-win team? 
While Miami isn't projected to be a top-flight ACC foe in 2023, they do face the Hurricanes in Coral Gables. They go to Tennessee, LSU and Ole Miss. Arkansas is a neutral site game. Texas A&M has all the talent to be a nine-win team, but this number sits well short of that because the program has proven time and again it rarely lives up to its expectations — much less exceed them. 
Shane Beamer's program is chalked with momentum right now, but in the first month of the season the Gamecocks play three Top 25 teams — none at home. They open with North Carolina in Charlotte and then have road tilts against Top 10 foes Georgia and Tennessee. 
South Carolina also plays at Texas A&M in late October and closes the season by hosting Clemson. The 'Cocks have easily hit their win-total over in each of Beamer's first two seasons, but this number feels just right. I think they'll go bowling. They could win seven games. This is a strong number. 
We're at a point with Kentucky where a Mark Stoops' coached team should not have a win total south of seven most seasons. The Wildcats had the worst offense in the SEC last season, lost to Vandy and South Carolina, and yet still won seven regular season games.
Tell me why that won't happen again in 2023? Liam Coen is back at OC, and Devin Leary projects to be a quite suitable replacement for Will Levis at QB. The 'Cats will be favored in all five games in September, and while they draw Alabama from the West, they have seven home games and won three straight games at Louisville in the last six years. 
Is it even a guarantee that the Tigers are a bowl team this fall? I think they probably are, and Eli Drinkwitz certainly needs them to be to ensure he remains the team's head coach in 2024, but they have a brutal schedule in 2023. 
The Tigers host Big 12 champs Kansas State in September and they also have a trap game matchup with Memphis the following weekend. They draw LSU this year, and play Georgia (in Athens), Tennessee, Florida and at Arkansas to end the year. 
This prediction could look foolish. Perhaps the number is actually right where it should be, but the Bulldogs have eight home games in 2023 — six of which they'll likely be favorites or coin-flip 'dogs. LSU and Alabama come to Starkville. 
There's no Georgia or Tennessee on the schedule, as first-year head coach Zach Arnett draws South Carolina and Kentucky this season. 
Like all these SEC West schools, Mississippi State has a hard schedule, but its win total should be set at 7 or 7.5 with the league's most veteran starting QB Will Rogers. 
Before Hugh Freeze mastered the transfer portal and continued to land impact starters at quarterback, receiver and defensive end, the Tigers being a bowl team looked unlikely before the spring. 
But Auburn's roster has been completely remade. From Payton Thorne at QB, to a retooled front-seven, to multiple starters at OL and receiver. Overall, around half of the starting 22 will be newcomers from the portal. 
The Tigers' non-conference schedule is laughable (UMass, Cal, Samford and New Mexico), so it really only needs three wins to make this number look silly. And then you remember the rest of their SEC schedule. Sure, Georgia and Alabama play at Jordan-Hare Stadium, but both are still likely losses. They have road games at Texas A&M, LSU and Arkansas — all West foes with higher win totals. 
Most everyone probably did a double-take even seeing Florida's win total that low, but this is the reality of Billy Napier's situation Year 2 in Gainesville. 
And yet, I think the number is a tad too low. The Gators rank No. 18 in FPI, which again is a flawed metric, but that's still quite notable for a team expected to miss a bowl game in 2023. UF's schedule is really tough — non-conference games against Utah and FSU plus Georgia, LSU and Tennessee are on the schedule — but I think Florida could definitely go 5-1 at home this season, so needing just another single road win (best potentials include UK, South Carolina or Mizzou) has me thinking the total is a tad short. 
Clark Lea had Vanderbilt hitting its over before the end of September last season, and I could totally foresee a similar situation playing out again this fall. The 'Dores play six games before October 1, including a Week 0 rematch with Hawaii. 
While the non-conference slate is a bit tricky otherwise (road games vs. UNLV and Wake Forest), they do have both Kentucky and Mizzou at home the first month. This team can win four games in 2023.