Paul Finebaum explains why ACC teams would have difficult time joining Big Ten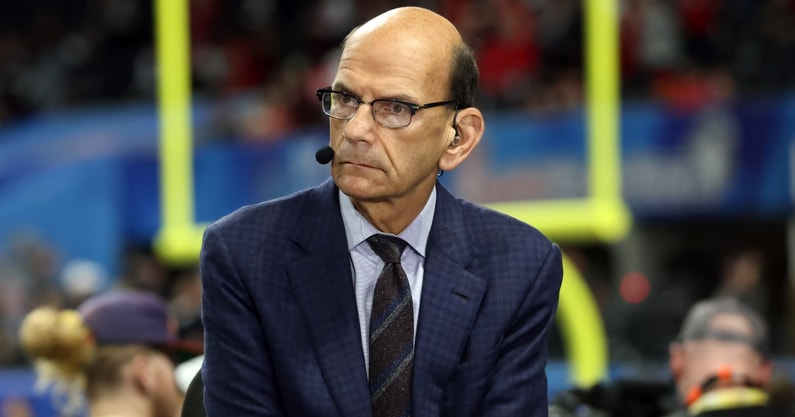 Conference realignment and expansion has become one of the most prominent talking points in college athletics with schools such as USC and UCLA joining the Big Ten and Texas and Oklahoma joining the SEC starting in 2024. The Big 12 has even added UCF, Houston, BYU, and Cincinnati into their fold this year in anticipation of Oklahoma and Texas parting ways with the conference.
And at ACC meetings last week, it was reported that several schools in the Atlantic Coast Conference have been exploring how unbreakable their deal with the conference through their Grant of Rights. This has many wondering which ACC programs could potentially jump ship and join a new conference in the future, including analyst Greg McElroy.
On the 'McElroy and Cubelic in the Morning' show, McElroy said he's willing to bet that North Carolina, Virginia, Clemson, and Florida State would be more inclined to join the Big Ten than the SEC in the future, and asked ESPN host Paul Finebaum if he'd heard any of the same.
"I just did from you, so that's the first time," Finebaum said. "And I don't think any of these arguments are completely faulty Greg, I just think, I guess because I think it's so unrealistic, I find the debate somewhat superfluous because I just don't think it's going to happen."
The ACC's willingness to part ways with some of their top programs does seem a little far-fetched, especially as the conference already faces challenges regarding their own revenue distribution amongst its existing teams already and the large gap between their revenue and that of the SEC and Big Ten conferences.
But Finebaum does believe there's one way that we could potentially see some ACC schools on the move.
"There's only one way I think the ACC schools become available and that's just a complete implosion, it almost has to be self-induced," Finebaum said. "And I don't even know how to answer the television component, but that's really where it all lies is this long-term contract with ESPN."
The ACC signed a 20-year deal and rights extension through 2035-36 with ESPN in 2016, which now pales in comparison to the newly signed media deals from the SEC and Big 10 conferences. ACC commissioner Jim Phillips and the conference are looking for new ways to bridge a reported $30 million revenue gap, and parting ways with teams likely won't do the trick.
But Phillips and the ACC may have to fight off potential suitors moving forward, particularly with schools like Miami and Florida State who will likely become top targets for other conferences looking to spread their footprint to the state of Florida.
"Why would ESPN be willing to let anybody out of that agreement to help further another league?" Finebaum asked. "I get the attractiveness of Florida, that's nothing new to world geography, but I don't see it happening."