Arch Manning: The latest recruiting intel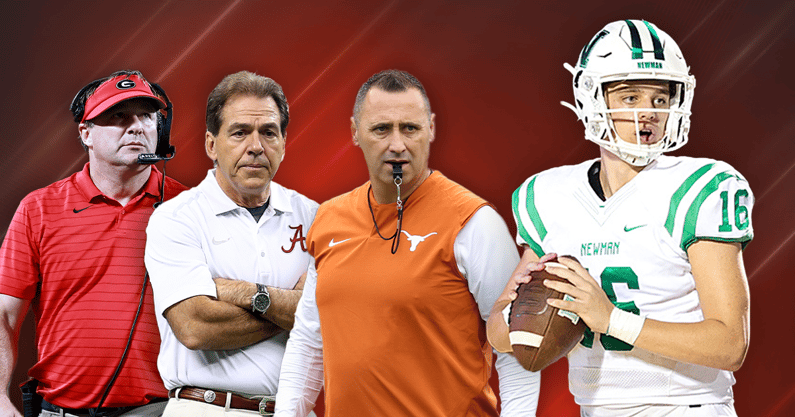 No recruitment has captured the football public's attention in the past decade like Arch Manning's.
Manning, from New Orleans Isidore Newman, is the nation's top overall prospect and top-ranked quarterback with a brand that already is worth more than $2.1 million in the NIL market. Manning is also the scion of one of America's top sporting families.
In many ways, he's football royalty.
That's why fans – no matter who you root for – are gobbling up every morsel of information and reacting to the twists and turns as he makes his way toward a college decision.
But part of what makes Arch Manning's recruitment so compelling is that there is a sense of secrecy. Unlike other recruits that share recruiting news immediately on social media, Manning's recruitment lives in a vacuum and interviews are few and far between.
Hearsay, message board gossip and viral out-of-context Instagram videos are more prevalent than facts about where things stand.
That's why On3 has turned to multiple insiders – reporters and college coaches close to Manning's recruitment – to get a barometer of where things actually stand as we head into the pivotal spring and summer months on the recruiting calendar.
We have granted anonymity to the sources so they can speak freely about Arch Manning's recruitment.
Arch Manning's top group clearly is Bama, UGA, Texas
If you've been following Arch Manning's recruitment at all, it shouldn't come as a surprise to hear that multiple insiders and college sources agree that the Texas Longhorns, Georgia Bulldogs and Alabama Crimson Tide are the teams to beat.
"I would say it's 33%, 33% and 33%," one coaching contact close to Manning's recruitment said. "We've got as good of a shot as anybody."
Manning made much-publicized visits to all three schools in March and April. In addition, the On3 Recruiting Prediction Machine favors the Crimson Tide (34.9%), Longhorns (30.7%) and Bulldogs (28.7%). He surprised many when he showed up on an unofficial visit last weekend at Virginia. But most believe UVA is an outsider in this race.
"There has been no eliminating of teams," one source told On3. "There's been no 'This is my top six, top five, four, three, two or one.' There are no top schools. No one has been eliminated. But it's becoming clear that Georgia, Texas and Alabama – the three schools he just returned to again – are the schools he's mulling over. And he's expected to eventually choose from one of these three schools."
Another insider told On3 you can see that Texas, Georgia and Alabama are on top because of how they've approached other quarterback targets.
"It's a telling sign that Texas, Georgia and Alabama don't have another quarterback commitment," that source said. "They're all obviously still in the race for Manning. We could get some hints on where things are going with Manning's recruitment if one of those three schools takes a quarterback commitment from somebody else. But for now, all three schools like where they stand with him."
Texas 'checks a lot of boxes'
The insiders believe Texas has a really strong résumé in the race to land Arch Manning. It's a résumé that stretches beyond the gridiron. One source said Manning is looking for the perfect college-life experience and that Austin "checks a lot of boxes" from that standpoint.
"It's a combination of both life in Austin and his affection for Steve Sarkisian," a college coaching source said. "Not only does he like Austin, he loves Sark. He loves (Texas quarterback coach A.J.) Milwee. Those are probably the two best overall relationships he has in his recruitment."
The Longhorns also knocked it out of the park on his visit in late March. During the trip, Manning woke up with the team during spring practices and got a real feel of what it was like to be a Longhorns player.
He's also built strong relationships with a lot of the Longhorns' top targets, such as the nation's No. 2 running back, Rueben Owens. Plus, he's close with guys like quarterback Hudson Card and others already on the roster.
A lot of pieces in place at Georgia
Georgia currently is third in the On3 Recruiting Prediction Machine, but multiple sources believe the Dawgs very much are in this race. In fact, three contacts in the coaching industry told On3 they believe Manning will end up in Athens.
"(Offensive coordinator) Todd Monken has done a fantastic job at Georgia," a contact said. "They're coming off a national championship and look like they're entering a whole new chapter of dominance."
Insiders say Manning loves Athens and how the community revolves around the Bulldogs' football program. He is a fan of Georgia's offense. Plus, he knows the loaded defense will keep the Dawgs in the game on those days when the offense might be struggling.
"I think there's a lot of pieces in place with Georgia," one source said. "From Arch's perspective, he's looking at a Georgia offense that has NFL offensive linemen, NFL running backs and NFL-quality receivers.
"He has a very strong relationship with Kirby Smart, who has not only been recruiting him for a good amount of time but in January he went to his basketball games. Since then, he has been taking a lead role in his recruitment."
Alabama is Alabama
It's not hard to see what the draw is for the Crimson Tide with Manning. The Tide has been the most dominant program in the country since Nick Saban took over. Plus, Alabama's ability to send players to the next level is unrivaled.
In addition, Saban has taken over as the lead recruiter for Manning, which speaks volumes about how important a target is for the Crimson Tide. But there are other positives that are big selling points for Manning.
"(Defensive coordinator) Pete Golding is a Louisiana guy that has strong ties at Newman, throughout the state and has a great reputation," an insider said. "Plus, Bill O'Brien ended up staying at Alabama. There is consistency at offensive coordinator, which is something he is aware of. The stability of Golding recruiting him and O'Brien as the coordinator helps Alabama.
"Arch is also looking at the receiving corps, and you have guys like Aaron Anderson, Shazz Preston and Kendrick Law all coming in as part of the 2022 class. And those are three of the best players from Louisiana that Arch knows well."
All that, combined with Saban leading the recruitment, makes it appear Alabama is all in on Manning.
"He's No. 1 Alabama's board," another contact said. "Alabama is comfortable waiting as long as they need to until Arch says 'no.' So, that might say a lot."
Are Florida, LSU in it for Arch Manning?
On3's Sam Spiegelman reported earlier this spring that Florida and LSU could be potential visit destinations for Manning. But contacts close to both programs say the Gators and Tigers have to be considered down the list at this point.
"LSU's not in it right now," one insider said. "The big thing to watch is that Newman is going to send quite a few kids to LSU just from an overall student body perspective.
"Does he want to be at home? Does he want to go to college with a bunch of classmates from high school? Does he want to be in what would probably be a very comfortable setting from a college life perspective? That's something to factor in. But I would say there's no smoke between Arch and LSU."
It's a similar story in Gainesville.
"With Arch, there's interest there," a Florida contact said. "But there's a long way to go. I'd hate to say they're a long shot, but that's really where it is until they get him on campus. Nothing has been scheduled yet. They're still hoping to get it set, but nothing's been set."
When will Arch Manning commit?
Trying to determine when Manning will make his decision also is difficult. The goal of the Manning family has been to go through the recruiting process the right way. They wanted to take initial visits, follow that up with game-day trips, get closer to a final choice with spring trips and finally make a commitment before he started his senior year.
But after his visits to Georgia, Texas and Alabama, things are very much up in the air. And it's clear the family isn't going to hurry just to stick to an original timeline.
"The sense that I got is that he is legitimately considering all three of those schools," an insider said. "He is torn. He can see himself at each of those three schools. But to comfortably commit, I don't think he's ready to do that as of now.
"Does that change by August? Maybe. But from what I understand, Arch has told people in his camp that he might need longer to make this decision."
That might be especially true if he ends up leaning to the Longhorns.
"Texas lost to Kansas last year," the source said. "I think that's where maybe the hesitation to commit before the season comes from.
"With Alabama and Georgia, you can almost pencil them into the SEC championship game. With Texas, if he does elect to wait, I think that would be one of the reasons: 'Let's see what Texas looks like this year under Sark in year two.' But in no way are they going to rush this."