What makes Arch Manning a unique prospect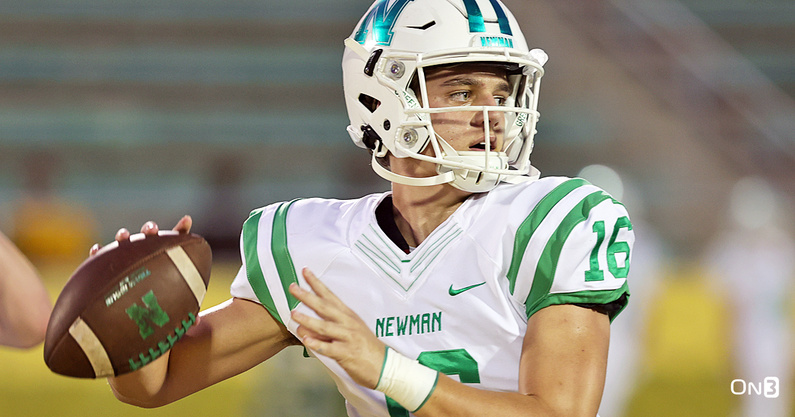 The On3 Consensus' No. 1 prospect Arch Manning made huge news on Wednesday, announcing his commitment to Texas. Georgia and Alabama were considered the other primary contenders.
The New Orleans Isidore Newman standout has been the No. 1 prospect in the 2023 On300 since the initial ranking last summer.
A Five-Star Plus+ prospect who is the heir to one of football's top families, Manning has become one of the most high profile recruits in recent memory. His recruitment has drawn mainstream attention unlike anything we've seen from a high school football prospect in years.
As a result, there tends to be wide array of opinions on not just Manning's recruitment, but his ability as a player. With that in mind, let's cut through the noise and get into what makes Arch Manning such a touted prospect and a huge get for Texas and Steve Sarkisian.
Special release and throwing motion
Simply put, Arch Manning has one of the quickest and purest releases I've seen from a high school quarterback. His throwing motion is concise with no moving parts. The ball consistently comes out quick. In-person, it's easy to not notice the release unless you're watching it explicitly. It's that fast. 
It can be difficult for quarterbacks to overhaul their motion. Private coaching only goes so far. At the end of the day, you throw how you're hardwired to throw. Most top quarterbacks in the NFL get the ball out very quickly. Arch Manning projects very well in that regard.
Our first close look at Manning's release came when he camped at Clemson last summer. He continued to show the unique arm talent throughout his junior season, in spring practice and while playing 7-on-7 with his high school team. The replicable release allows for high-level ball location. We regularly see Manning stick the football into tight windows, making throws that should translate to the next level.
Playmaking ability in and out of structure
Arch Manning's special throwing motion combines with a playmaking ability both in and out of structure.
A quarterback's ultimate success is decided by how they play from within a pocket. Manning shows well on that front. He navigates the pocket, stepping up and firing as the walls are closing in.
Manning has the movement skills and foot quickness to make second-reaction plays. He's comfortable improvising outside the pocket and has the field vision to locate wide receivers who may appear to be out of the play. Manning's quick release allows for him to stick the ball on receivers from off-platform.
The new Texas commit has also shown the ability to pick up yards with his legs. We saw him break of a number of long runs as a junior, including a touchdown in a nationally-televised game against a talented Tampa Berkeley Prep squad.
The arm talent also allows for some difficult second reaction plays out of structure. 
Physical development and polish
Upon seeing Arch Manning in person last summer, I immediately took note of his size. He was well over 6-foot-3 and north 200 pounds — adding several inches and over 40 pounds since popping up on the recruiting radar as a freshman. He's continued to add size and checks in at around 6-foot-4, 220 pounds.
There's no question Manning is bigger in person than you'd expect. He's further along physically than most other top 2023 quarterbacks.
Manning is able to move very well at his size. He makes easy work of footwork drills and has a refined technical polish to his game, which should not come as a huge surprise given his family's background.
Fit at Texas
Arch Manning is the second straight Five-Star Plus+ quarterback to join Texas after Quinn Ewers transferred in from Ohio State in January. We view Manning as having a well-rounded skill set that would fit most offensive systems. With that said, he does look to be an ideal fit for Steve Sarkisian's scheme.
Manning's quick operating speed and ability to play from within structure jive with what Sarkisian likes to do on offense. The lightning-quick release allows for the ability to quickly take advantage of mismatches that Sarkisian will work to exploit. The ability to make off-schedule plays presents a Get Out of Jail Free card for when things go awry.
Texas signed the nation's top offensive line class in the 2022 cycle, so Manning should be well-protected during his time on the 40 Acres. Sarkisian and staff have worked to add skill talent around the offense, both through high school recruiting and the transfer portal. Manning's commitment is sure to attract some more talented targets.
Moving forward
The most meaningful evaluation points for Arch Manning and the other top 2023 quarterbacks still remain. We're expected to see Manning and the majority of the cycle's top quarterbacks throw at camps over the next week. It's a deep and talented quarterback group and the rankings are anything but settled.
What we see on the camp circuit will set the table for the pivotal senior season. It will be interesting to see how Manning and his top-ranked peers progress in their final prep campaigns. For as talented as the group is, there is still considerable room to grow as players. Manning does not play top competition on a weekly basis and we'd like to see him be more productively dominant over the course of a season. The same can be said for others, as well.
Regardless, Manning's status as a bona fide blue-chip prospect and five-star quarterback has been well-earned to this point. He's a unique recruit with a unique skill set and worthy of acclaim on the merit of his abilities.