Big risers in updated Class of 2023 On300 rankings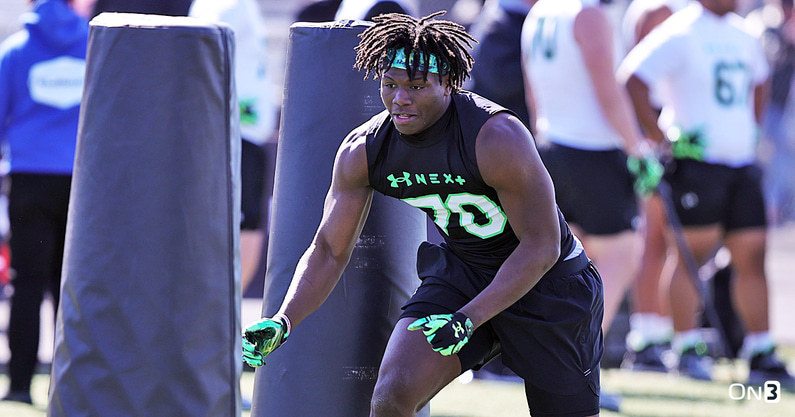 The most recent update of the On300 for the class of 2023 features a number of big risers. The headliner is the continued ascension of Show-Me State EDGE Adepoju Adebawore after a standout camp performance one week ago. When taking a deeper dive into prospects that have impressed this spring, many EDGE rushers and defensive linemen have risen in the rankings. More than half of the biggest risers play on the defensive front.
EDGE Adepoju Adebawore
North Kansas City (Mo.) High
On300 ranking: No. 20
The Skinny: Adepoju Adebawore made a big move from No. 50 to No. 20 in the latest ranking. The 6-foot-4, 227-pounder turned heads last weekend at a camp in Kansas City, ripping off a 4.39-second laser shuttle and a 7.35-second laser L-cone drill. Add in an 84-inch wingspan and 10-inch hands and Adebawore is a high-end EDGE prospect. The testing and camp performance confirmed what we saw on junior tape. Oklahoma is working hard to win another Kansas City area national recruitment with Missouri, Georgia, Miami, Northwestern, Kansas and others in pursuit.
DL T.J. Searcy
Thomaston (Ga.) Upson-Lee
On300 ranking: No. 49
The Skinny: T.J. Searcy, a Peach State defensive line prospect, made a 44-spot jump in the latest rankings. The 6-foot-6, 243-pounder is another that has turned in a very impressive camp performance this spring in addition to his 83-inch wingspan and 10-inch hands. He plays in a position very similar to Travon Walker when he was at Upson-Lee High. Searcy has plenty of power in his lower body with high-end reactive quickness for his size. He also displays impressive contact power. Florida State, South Carolina and Tennessee are working to beat out national champion Georgia.
EDGE Dashawn Womack
Baltimore (Md.) St. Francis Academy
On300 ranking: No. 58
The Skinny: Dashawn Womack, the latest national recruit out of the Baltimore area power St. Francis Academy, made an eye-opening jump of 146 spots in the updated On300 after a standout Under Armour Next Camp performance. Womack checked in at nearly 6-foot-5 and 250-pounds and posted another sub-4.5-second laser shuttle. He has continued to fill out physically with a wingspan increase of over 2 inches in the last year.
DL Jordan Renaud
Tyler (Texas) Legacy
On300 ranking: No. 69
The Skinny: Jordan Renaud ascends to No. 69 from No. 148 in our latest rankings release. Renaud was tremendous at the Under Armour Next Camp in Dallas with a display of power and quickness. His blend of power, quickness, agility and flexibility in a 6-foot-4, 245-pound frame ha made him a top target for Oklahoma, Alabama, Miami, Florida State and others. UA Next Camp Series defensive line instructor Nathan O'Neal gushed about Renaud. "He's an explosive kid that is zero to 60 in one step," O'Neal said. "His explosion power transfer is absolutely insane. Then at the same time his ability to be twitchy and turn a corner rushing from the edge. He literally ran over a kid rushing from the edge. The kid's upside is tremendous."
CB Robert Stafford
Melbourne (Fla.) Eau Gallie
On300 ranking: No. 87
The Skinny: Robert Stafford, the Space Coast playmaker, moves up 58 spots after confirming impressive junior tape in the camp setting. The 5-foot-11, 175-pounder popped with a 4.55-second laser 40 and a 4.28-second laser shuttle in early April. The testing numbers have gotten better with each year, and the tape supports a prospect ascending. Stafford caught 42 passes for more than 600 yards as a junior, along with picking off a pass on defense. The Florida Gators were the favorite growing up but are getting serious competition from Georgia, Miami and Florida State.
OT Caleb Lomu
Gilbert (Ariz.) Highlands
On300 ranking: No. 95
The Skinny: Caleb Lomu makes the jump to No. 95 from No. 222 with a terrific pair of feet that were on full display at Under Armour Next Camp in Los Angeles. He also showed high-end agility with an eye-opening 4.52-second laser shuttle. Add in an 81-inch wingspan on a near 6-foot-5 frame, and Lomu is one of the top line prospects in the country. The tape confirms the movement skills, and also adds to the equation a physical player that always looks to hit. California, Utah, Arizona and a number of others are in full pursuit.
ATH Malachi Coleman
Lincoln (Neb.) Lincoln East
On300 ranking: No. 159
The Skinny: The 6-foot-5, 185-pound Malachi Coleman makes more than a 100-spot jump to No. 159 from No. 296. One of the more intriguing prospects in the class, Coleman posted more than 500 receiving yards and 57 tackles with 7.5 sacks as a junior. Not many players line up at outside wide receiver and turn around and play in a three-point stance at defensive end on the high school level. Coleman is blessed with long arms, quick feet, tremendous hand-eye coordination, and he has the ability to run and close. He has also posted an 11.29-second 100-meter dash time, and a nearly 46-foot triple jump. Coleman is a "must get" recruit for the Nebraska Cornhuskers.
WR Joshua Manning
Lee's Summit (Mo.) High
On300 ranking: No. 163
The Skinny: Joshua Manning makes the 109-spot move up from No. 272 with a standout junior campaign. Manning hauled in 69 passes for 900 yards and 11 touchdowns as a junior. He added nearly 300 yards in returns as well. The tape shows a receiver with quick initial movement skills, and the ability to track the ball in the air. The quick feet create instant separation out of cuts. One area Manning can continue to improve is consistently snatching the ball out of the air with arms extended. He can be too much of a body catcher at times. Arkansas, Kansas, Kansas State, Iowa State, Missouri, Iowa and Nebraska are all battling for the four-star from Missouri.
EDGE Adonijah Green
Ellenwood (Ga.) Cedar Grove
On300 ranking: No. 173
The Skinny: Adonijah Green, a Louisville commitment with 23 offers, makes the jump to No. 173 from No. 265. The nearly 6-foot-6, 206-pounder with an ideal frame sports an otherworldly 85-inch wingspan. The frame is yet to even begin to develop, which makes for an even higher upside for us. Green shows good initial movement skills despite a high pad level. He has the length to cause problems initially for an offensive tackle when he fires off the ball low and quick. He plays in a four-man front primarily but shows the ability to play standing up when called upon.
EDGE Dylan Gooden
Olney (Md.) Good Counsel
On300 ranking: No. 207
The Skinny: Dylan Gooden, the son of former MLB pitcher Dwight Gooden, moves to No. 207 from 286. The nearly 6-foot-5 EDGE prospect has a frame full of room for growth with high-end agility. Gooden has reactive quickness with the foot quickness to instantly change direction and pursue the ball. While he has to add bulk weight and a lot of strength, he plays with physicality. Gooden has 20 offers, including 16 Power 5's. He has been on the campus of Penn State this year.