Biggest risers in the updated 2023 On300 rankings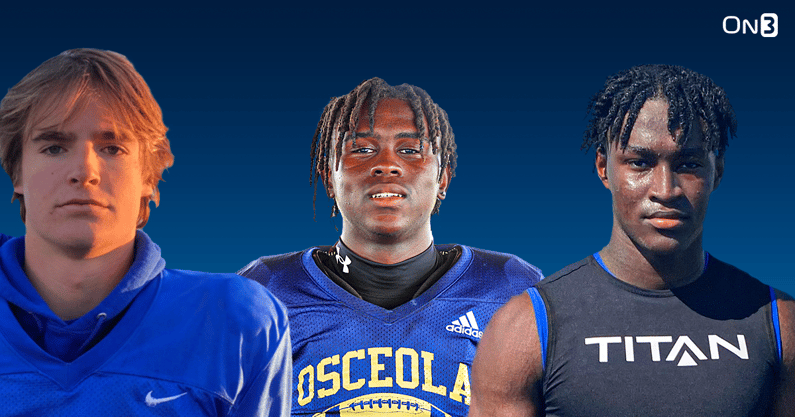 The most recent update of the 2023 On300 features numerous players who moved up in the rankings. When taking a deep dive into prospects that have impressed during their senior seasons, there were a handful of notable EDGE defenders, cornerbacks and even quarterbacks making notable climbs at premium positions. That group includes USC commit Braylan Shelby, Texas commit Colton Vasek, and Michigan State commit Andrew Depaepe.
Here's more on those latest risers:
EDGE Braylan Shelby — USC commit
Braylan Shelby, EDGE, Friendswood (Texas): The dynamic USC commit has been prolific as a stand-up rusher for Friendwood as a senior. Playing largely as an off-ball linebacker, Shelby has been fantastic at quickly diagnosing plays and causing chaos. He's been out stuffing the run flashes in a big way pressuring the quarterbacks and tacking in space. The future Trojan has piled up the defensive statistics throughout the fall as he climbed 55 spots in the new update.
QB Brady Drogosh — Cincinnati commit
Brady Drogosh, QB, Warren (Mich.): Cinncinati's QB commit has been posting impressive stats on a weekly basis for Warren (Mich.) De La Salle Collegiate, which resulted in a massive rise more than 200 spots in the updated On300. Drogosh has been fantastic not only throwing the rock, but as a runner, too. The Bearcats commit can make outside the pocket and off-schedule, and boasts some of the highest upsides at the position in this class with the ability to score from anywhere on the field.
OT Wilkin Formby — Alabama commit
Wilkin Formby, OT, Tuscaloosa (Ala.) Northridge: The 6-foot-7, 300-pound Formby is one of the major risers at offensive tackle in the new On300. Formby, an Alabama commit, is up more than 30 spots. Playing left and right tackle for Northridge, Formby has been stellar in pass protection using his length and power seamlessly to dominate in the trenches. Formby has position versatility to play anywhere along the offensive line and is one of the highest-floor prospects up front in this cycle.
CB Jaylon Braxton — Arkansas commit
Jaylon Braxton, CB, Frisco (Texas) Lone Star: Talented Dallas-area DB Braxton has been an absolute force on the back end of the Lone Star defense defending many high-octane passing attacks. The longtime Arkansas commit has been a playmaker on both sides of the ball with several impressive highlights as a receiver flashing breakaway speed in the open field. Braxton has enjoyed a statement senior campaign with multiple interceptions. He is outstanding at recognizing plays and jumping routes and is one of the hardest-hitting corners in the country. Braxton ascended more than 100 spots in this update.
WR Nathan Leacock — Tennessee commit
Nathan Leacock, WR, Raleigh (N.C.) Millbrook: Tennessee's offense has been one of the biggest storylines in college football this season, and reinforcements are certainly on the clock. Leacock has been a force on the perimeter for Raleigh (N.C.) Millbrook is a deep threat as a long-strider with a massive catch radius. The future Vol has been equally as dangerous running routes in the middle of the field and in space with his 6-foot-3, 200-pound frame. Leacock is up almost 80 spots.
EDGE Colton Vasek — Texas commit
Colton Vasek, EDGE, Austin (Texas) Westlake: Vasek recently flipped his commitment from Oklahoma to Texas, where his dad played along the defensive line in the 1990s, and it represented a massive victory for the future of the Longhorns defense. Vasek came on late during Westlake's title run in 2021 and hasn't slowed down since. As a senior, he's piled up multiple sacks off the edge and has emerged as one of the most disruptive EDGE defenders in all the country. The Texas pledge moved up almost 70 spots in this update.
CB Ja'Keem Jackson — Florida commit
Ja'Keem Jackson, CB, Kissimmee (Fla.) Osceola: The Florida commit has been a do-it-all defender on the back end of the Osceola defense as a senior. The versatile defensive back has been sharp playing multiple positions and covering at a high level with multiple pass breakups as a senior. He's been adept at taking away the deep ball and also making open-field tackles. Jackson has been sharp in coverage on the outside and over the middle of the field, as the Gators commit moved up 18 spots inside the top 100.
ATH Vicari Swain — South Carolina commit
Vicari Swain, ATH, Carrollton (Ga.) Central: Swain climbed up 100 spots in the updated On300 as the Peach State product has been a difference-maker on both sides of the ball throughout the season. Swain plays receiver, defensive back and returns kicks for Central, and has been sensational in each phase. At 6-foot-1 and 190 pounds, he's a difficult runner to tackle in space, Swain also shows off speed by covering a ton of ground at defensive back with awe-inspiring several interceptions and as well as stretching the field and extending plays on offense.
RB Kedrick Reescano
Kedrick Reescano, RB, New Caney (Texas): One of the nation's best uncommitted backs in the country recently reopened his recruitment after being pledged to the Spartans for nearly a year. The 5-foot-11, 190-pounder from Houston runs with tremendous balance and easily runs through contact with enough speed to race away from a crowd. Reescano has battled injury for part of his senior season, but the production hasn't waned. He's been the driving force of this offense as a three-down back and playmaker out of the backfield, and up almost 40 spots in this update. Ole Miss leads the way for Reescano on On3's Recruiting Prediction Machine.
EDGE Andrew Depaepe — Michigan State commit
Andrew Depaepe, EDGE, Bettenfort (Iowa) Pleasant Valley: Talented Michigan State EDGE commit Depaepe climbed more than 90 spots in the updated On300 as he continues to terrorize opposing defenses as a senior in the Mid-West. Even when Depaepe can't muster a sack, he has been relentless in pursuit and consistently used his outstanding first-step quickness and length to alter plays. The Michigan State commit plays with a hand down in the dirt and a stand-up rusher, and the results are the same nonetheless.