Brett Yormark says Big 12 is 'focused' on expansion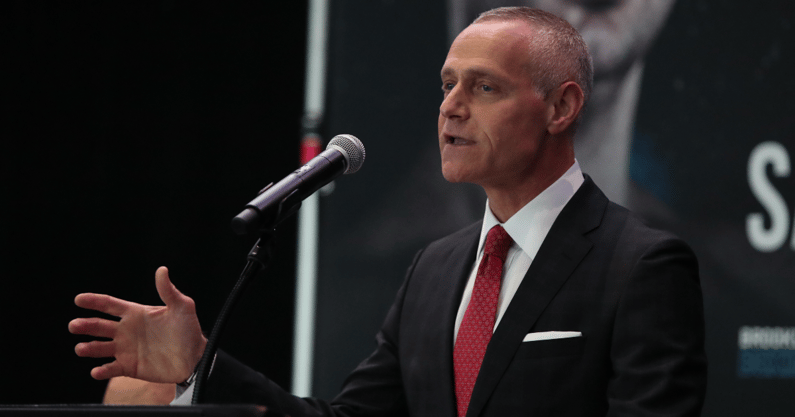 Big 12 commissioner Brett Yormark left no question about where he stands on further conference expansion. While speaking in a Wednesday press conference, Yormark said the league is "focused" on adding new members.
The Big 12 is already set to bring in four schools — BYU, Cincinnati, Houston and UCF — in July. And with Oklahoma and Texas set to leave for the SEC in 2024, it seems the Big 12 won't stop there.
"The third priority for me has been to explore expansion for all the right reasons," Yormark said. "As I've said before, it's gotta be additive. It's gotta be accretive. But we are focused on it. We're exploring every and all possibility. I say that while also saying that I love the composition and the makeup of this conference going forward.
"I love the four new schools that are coming in in July (and) the continuing eight. I think we're in a great place. But if there's a chance to get better, it's incumbent on me as the commissioner to explore those possibilities. And that's exactly what I'm doing."
The Athletic reported last week that the Big 12 has been in "recent contact" with Pac-12 schools Arizona, Arizona State, Colorado and Utah about potential conference expansion. Yormark has not been shy about his interest in looking to the Pac-12, which recently lost USC and UCLA to the Big Ten, since taking over in August of 2022.
Many believe what happens with the Pac-12's TV deal will ultimately decide whether schools jump ship. The Big 12 recently completed a new TV deal with ESPN and FOX that is worth $2.28 billion ($31.5 million per school) and ends in 2030-31.
In addition to the Pac-12, Yormark has also expressed interest in adding Gonzaga. He has reportedly met with Zags athletic director Chris Standiford twice, with The Athletic reported the two sides are in "deep discussions."
Adding Gonzaga would bolster what is already one of the strongest basketball conferences in the country. The Big 12 could get as many as eight schools in the NCAA Tournament this season, and with Houston already on the way, is only set to get stronger.
Still, Yormark admitted there are "other things I'm focused on right now" than adding Gonzaga. It seems before he moves forward with the Bulldogs, he would likely more clarity on the situation with the Pac-12. Either way, don't expect the Big 12 to slow down any time soon when it comes to conference expansion.