California college athletes would take in revenue in proposed bill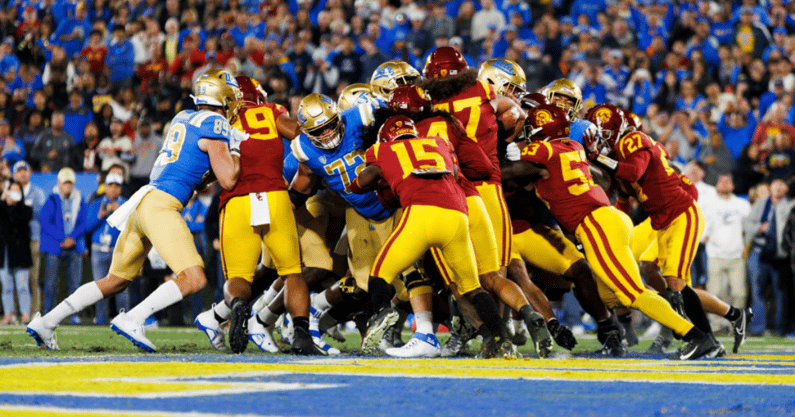 California forced the NCAA and the nation to evolve in 2019 when state legislators enacted the Fair Pay to Play Act.
Similar steps are being taken again in the state, with revenue sharing on the agenda.
On Thursday, California Assemblymember Chris Holden introduced the College Athlete Protection Act, which would require institutions that fund major college sports to pay as much as $25,000 annually to athletes. This would come along with the cost of covering six-year guaranteed athletic scholarships and post-college medical expenses.
A Democrat from Pasadena, Holden is a former San Diego State basketball player. Payment amounts would be based on how much revenue the athletic programs earn on an annual basis. A portion of the pay would be tied to graduation. However, the bill would not classify athletes as employees of their universities, a battle the NCAA continues to fight for.
And to make sure institutions are held accountable, Assembly Bill 252 calls for the suspension of athletic directors for at least three years if roster spots are cut, scholarships reduced or programs discontinued. AB252 would preserve all programs – not just ones producing revenue – and ensure Title IX compliance.
"It's no shock that college athletes experience injuries on the field, on the court or in the game/match," Holden said in a statement to Sports Illustrated. "What is shocking is the lack of protections helping athletes when they are down, or too afraid to say anything because of the repercussions, loss of scholarships and ultimately loss of a promising career. This ends now with AB252."
Holden previously introduced the College Athlete Civil Rights Act of 2019, which was signed into state law. The bill required universities to document and inform athletes of their rights and prohibited retaliation against players who reported abuse or violations.
All of this comes amidst the NCAA pleading with the United States Congress to enact legislation regulating name, image and likeness while protecting college athletics' governing body from state laws. The NCAA has not made a single move to penalize an athletic program or university since the inception of NIL in July 2021.
At last week's NCAA Convention in San Antonio, Mass. Gov. Charlie Baker was officially introduced as the governing body's next president. Picking a career politician was a strategic move by the NCAA in hopes of finding momentum on Capitol Hill.
Revenue sharing is not a new topic, but it has started to gain traction in college sports as television contracts continue to rise. The Big Ten's new contract, announced this summer, could earn the conference more than $7 billion over seven years.
If this was enacted, athletes would be directly paid for their activity. Pay-to-play is currently prohibited by NCAA bylaws. Yet, NIL has only made recruiting inducements even more popular. There have been reported $8 million financial packages. Alabama head coach Nick Saban called out Texas A&M and Jimbo Fisher for "buying every player" in the 2022 recruiting class using NIL deals.
If the College Athlete Protection Act was passed in California, it would take effect in January 2024 – the same year USC and UCLA are slated to join the Big Ten.