Coaching Carousel Rumblings: Brent Key loses the interim tag at Georgia Tech, coordinator changes across the country and what's next at Liberty?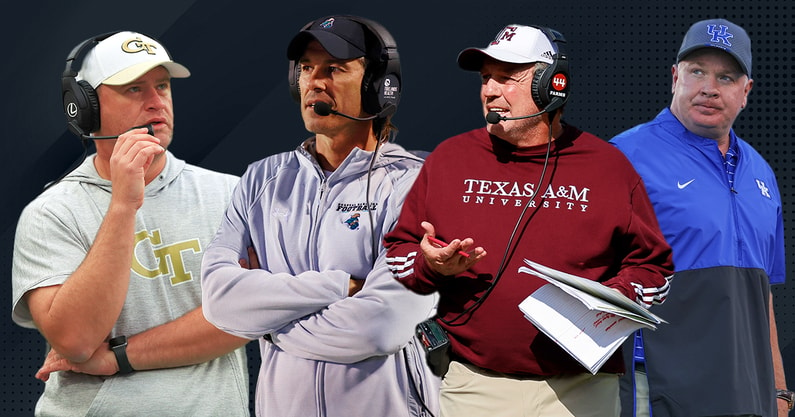 Brent Key became the lone interim head coach to get promoted in the 2022 cycle, becoming the permanent leader at his alma mater Georgia Tech. 
Key more than earned the job Tuesday, leading the Yellow Jackets to a 4-4 finish following the pathetic Geoff Collins tenure.
It sounds simple — and almost stupidly silly to need to acknowledge — but by focusing on football — like practice, player development and details — Key instantly changed the attitude and focus within the program. 
Unconcerned with branding, the former Bees offensive lineman won more ACC games (four) in his short audition for the job than Collins did in any single season in Atlanta. 
Under Key, Georgia Tech won at Pitt, a then Top 25 team, and stunned No. 13 North Carolina on the road, ending the Tar Heels' longshot College Football Playoff hopes. Ga. Tech also beat Duke, a team that finished 8-4 in 2022. 
Still, it was no formality that Key was going to lose the interim tag despite how Georgia Tech finished the season. 
New AD J Batt, who came from Alabama, flirted with Tulane's Willie Fritz, who many coaching insiders labelled a recently as Monday as the frontrunner for the job, and Alabama OC Bill O'Brien, who was on staff at Ga. Tech when Key was a player. 
According to both CBS Sports and The Athletic, Fritz was in negotiations with the Yellow Jackets, only to back out due to issues of money guarantees in the contract and timing (his team plays in the AAC Championship Game this week). 
The move to give Key a chance makes sense, though, as he's likely a cheaper option but someone the players already respect and have rallied behind. With Key back, Georgia Tech is unlikely to see half the roster enter the transfer portal.
"I am so proud and grateful to be the head coach at my alma mater, Georgia Tech," Key said in a release. 
"I can't thank President Cabrera, J and everyone that had a hand in the search enough for the faith that they have in me to lead our program. Like I've said many times over the past two months, I love this team, and I couldn't be more excited to be their head coach. We will work unbelievably hard to make our fans, alumni and former players very proud of this program."
WHERE MIGHT LIBERTY TURN?
With Hugh Freeze off to Auburn, Liberty becomes a wild card opening in the 2022 carousel. 
The Flames are a well-established winning program, with Freeze going 34-15 over four seasons, but they're about to undergo a major transition leaving FBS Independence for C-USA next season. 
They have plenty of money to spend — Freeze recently agreed to an extension and raise that was set to pay him $5 million annually — and top-flight facilities (better than even some Power 5 programs), but the evangelical school is hardly for everyone. 
Much like BYU, religion is part of the foundation of the football program at Liberty. 
One big potential target for the Flames is Coastal Carolina head coach Jamey Chadwell, who is 31-5 the last three years with the Chanticleers.
Chadwell is a hot candidate at USF, too, but he started his head coaching career at North Greenville, a Baptist school that was very upfront about its "Christian-centered" environment. 
He would be an extremely strong hire by the Flames, who can absolutely pay more than USF — but C-USA would be a step-down from both the Sun Belt (Coastal Carolina) and AAC (USF). Fellow Sun-Belt head coach Curt Cignetti of James Madison is also a name to monitor, per Football Scoop. 
Liberty AD Ian McCaw could also dip into his Baylor ties and give Arkansas OC Kendal Briles his first head-coaching shot. 
RECAPPING ALL THE EARLY COORDINATOR CHANGES
The coordinator carousel started this week, too, as Texas A&M fired offensive coordinator Darrell Dickey with like a six-word statement.
Time will tell how much the move actually means for the Aggies, though, as Dickey was the OC in name-only, serving strictly as Jimbo Fisher's game-planner with no play-calling responsibilities. 
Will Fisher stubbornly refuse to give that up? Or will Texas A&M change its archaic offensive scheme, bringing in a fresh voice who will call plays?
At Nebraska, Matt Rhule made his first significant hire in his task with turning around the Cornhuskers' program, poaching South Carolina offensive coordinator Marcus Satterfield to the same position. Satterfield reunites with Rhule, who he worked for at Temple and Baylor. 
It's been an interesting last month for Satterfield, who was nearly run out of Columbia due to his stagnating offenses, only to turn around and drop 63 and 31 points in pair of Top 10 upsets.
Elsewhere in the SEC, Mark Stoops began his offensive staff overhaul, canning Kentucky running backs coach John Settle, as well as first-year OC Rich Scangarello. 
I'm curious where Stoops might turn after dipping into the NFL the last two years to hire Liam Coen, who was a real success with the Wildcats in 2021 before returning to the Los Angeles Rams, and Scangarello. 
Essentially running the same scheme just with a different play-caller in 2022, Kentucky badly regressed offensively, finishing last in the SEC in scoring (22.1 points per game, down from 32.3 in 2021), total yards per game and second-worst in yards per play (5.43). 
Finally, Northwestern announced a trio of staff moves Tuesday, notably including second-year DC Jim O'Neil. 
Pat Fitzgerald replaced longtime DC Mike Hankwitz, who retired following the 2020 season after 13 years with the Wildcats, with O'Neil, but the results have been far from the typical Northwestern standards. 
After leading the Big Ten in scoring defense in Hankwitz's final season (15.8 points per game allowed), the Wildcats have ranked 12th in the conference the last two seasons, allowing 29 points per game.
MORE COACHING CAROUSEL MOVEMENT, SCUTTLE
While a couple Group of 5 jobs came open Monday (UNLV,Western Michigan), interestingly, Memphis will not be in the market for a new head coach this cycle. After consecutive 6-6 seasons, Ryan Silverfield entered Black Sunday firmly on the hot season but was retained for a fourth season. … A couple early names to watch at UNLV, which is a hard job (just a single bowl appearance since 2000) despite its location and recent multi-million facility upgrades, include USC defensive backs coach Donte Williams and Washington State DC Brian Ward. But word is the Rebels hope to land someone with head coaching experience, which is why Gary Patterson, Kentucky linebackers coach Mike Stoops, who was 41-50 in eight years at Arizona and has strong ties to UNLV's AD, Bronco Mendenhall and Oklahoma State DC Derek Mason are all potential candidates, per The Athletic. …  We're still keeping an eye on things at West Virginia, as there could be a final decision on Neal Brown — who did lead the Mountaineers to a pair of wins in their final three games — soon with the school hiring North Texas AD Wren Baker to the same position Wednesday. The latest reporting has Brown likely coming back in 2023.