ESPN analysts break down Penn State, Notre Dame backstopping contenders in new College Football Playoff rankings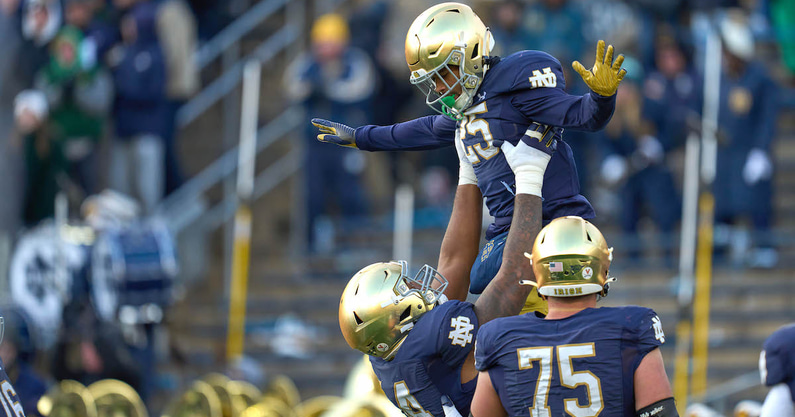 If they both win out, what happened against No. 15 Notre Dame and No. 11 Penn State, respectively, won't matter a ton for USC and especially Ohio State. A 12-1 Pac 12 champ and undefeated Big Ten champ would both have emphatic cases to make the College Football Playoff, given their places in the latest CFP rankings.
But things could always get interesting and that's where the Irish and Nittany Lions come in to play. Ohio State — still No. 2 — could potentially make the playoff at 11-1 with a loss to Michigan on the back of a pair of Top 15 wins against Notre Dame and Penn State; USC — now No. 5 — hosts Notre Dame in the season finale and a win cements the Trojans among the top batch of teams, though a loss would likely cost them a chance to contend in the College Football Playoff.
"Yeah I think Notre Dame is interesting to more teams than just where you look at USC playing them this week, Ohio State also," ESPN's Joey Galloway said. "In the event that Ohio State loses to Michigan this upcoming weekend, Notre Dame is that team that they played early in the season, got a win. Their resume might matter if we start getting in to these conversations about a team still have a chance to get in without playing for a conference championship."
CLICK HERE to subscribe for FREE to the On3 YouTube channel
The case is similar for USC, with a conference championship and wins over Notre Dame and UCLA covering up for the loss at Utah by one point.
In both cases, the Irish are a bit of a backstop for College Football Playoff resumes. The Buckeyes have the added benefit of holding a road win over Penn State.
That combination of wins — in the opener against the Irish and coming from behind in Happy Valley — would be a good alternate argument for Ohio State in the case that they're not undefeated conference champions.
It was also noted that Michigan holds a win over Penn State and could get a similar bump for trouncing the Nittany Lions in stacking up against other one-loss teams. But a weak non-conference schedule and lack of other good wins means the Wolverines don't have nearly as strong of a one-loss case for the College Football Playoff as, for instance, USC.
"Penn State, here, Kirk, at No. 11 — not saying they're in striking distance of the playoff, but them being in this spot relative to the other two-loss teams just sets up for the possibility that if there's chaos — say USC loses to Notre Dame, the chalk flies in the SEC championship game — can a one-loss Michigan and/or Ohio State still be in the Top 4 with Penn State being there at No. 11? Still a really good win that both of those teams have," ESPN's Greg McElroy said.
It might not come into play, but a two- and three-loss team could end up being huge players that the College Football Playoff field hinges on.