ESPN ranks the Top 25 college football quarterbacks of the 2000s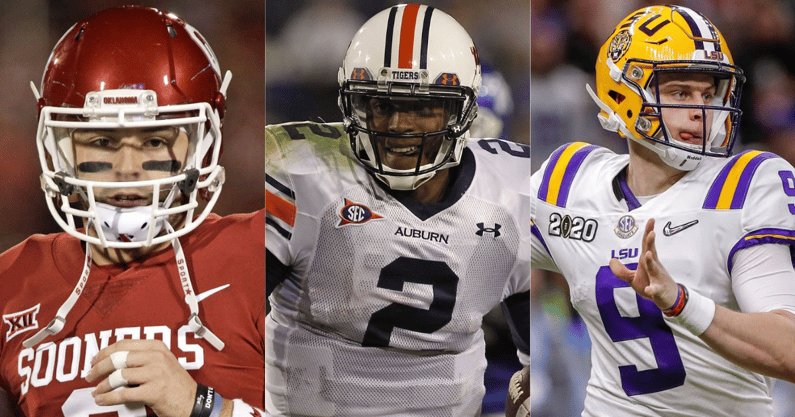 Quarterback remains the most vital position in order to succeed in football. That statement remains true at the college level and, based on a new ranking at ESPN, you can see how that position has evolved just in the last few seasons.
ESPN's Bill Connelly recently released an article that ranked the Top-75 QBs since the turn of the century. Atop the ranking was Oklahoma QB Baker Mayfield as, to Connelly, his career as a whole outweighed the special single seasons that some of the others behind him had.
ESPN's Top-25 Quarterbacks of the 2000s
Baker Mayfield – Oklahoma Sooners/Texas Tech Red Raiders
Cam Newton – Auburn Tigers
Vince Young – Texas Longhorns
Joe Burrow – LSU Tigers/Ohio State Buckeyes
Deshaun Watson – Clemson Tigers
Kyler Murray – Oklahoma Sooners/Texas A&M Aggies
Lamar Jackson – Louisville Cardinals
Marcus Mariota – Oregon Ducks
Robert Griffin III – Baylor Bears
Trevor Lawrence – Clemson Tigers
Colt McCoy – Texas Longhorns
Johnny Manziel – Texas A&M Aggies
Kellen Moore – Boise State Broncos
Sam Bradford – Oklahoma Sooners
Jameis Winston – Florida State Seminoles
Matt Leinart – USC Trojans
Andrew Luck – Stanford Cardinals
Bryce Young – Alabama Crimson Tide
CJ Stroud – Ohio State Buckeyes
Tua Tagovailoa – Alabama Crimson Tide
Phillip Rivers – NC State Wolfpack
Carson Palmer – USC Trojans
Case Keenum – Houston Cougars
Jalen Hurts – Alabama Crimson Tide/Oklahoma Sooners
CLICK HERE for the entire ESPN Top-75 QBs of the 2000s
The list overall features some superstar names of players that succeeded collegiately and went on to more success in the NFL. Of the Top-25, you have 14 Heisman winners, 10 No. 1 picks in their respective NFL Drafts, and 10 winners of various national championships over the past two decades.
Even so, Oklahoma comes out of the ranking as the biggest winner. You start with Mayfield at the top spot considering he threw for over 14,000 passing yards and 131 touchdowns over his career with the Sooners as well as the Red Raiders. However, Murray also made the Top-10, Bradford made the Top-15, and Hurts just made the Top-25 for the Sooners as well. It says a lot about the program to have that many selections, especially considering three of them transferred in to Norman.
Then, after that, you have to look at it from the aspect of the new wave. Of these two dozen names, over half of them have come over the last 10 years. If you extend that date to 15 years, meaning 2008, and you get all but four of these names coming in the last decade and a half. That speaks volumes about where the position has progressed and, in turn, where it could up in another decade.
More than a few quarterbacks come into college and make their marks during their careers. Still, over the last 22 years, ESPN has designated these 75, and specifically this set of 25, as the best that college football has had to offer during that span.