Flip Watch: 5 elite prospects being pursued heavily by other programs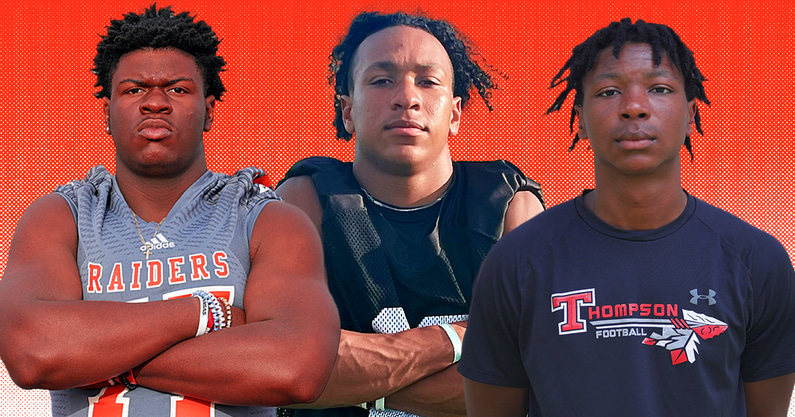 The closer we get to the Early Signing Period, the more recruitments are going to heat up. That includes both uncommitted prospects and those already pledged elsewhere, with programs around the country trying to make big flips in the next few months. Since the last Flip Watch, five-star Tampa (Fla.) Berkeley Prep EDGE Keon Keeley announced his decommitment from Notre Dame, but his recruitment still remains very much open.
A new crop of prospects are being courted by other programs though, with each of the five below either having taken or planning to take visits to others schools. Based on the latest intel in the On3 network, we're breaking down which recruits are being coveted the most by other programs.
5-star S Peyton Bowen
One of the downsides of identifying and landing elite recruits early in a cycle is then trying to hold onto them when others come calling. That's been made painfully apparent to Notre Dame and Marcus Freeman, first with Keeley and now with Peyton Bowen. The Denton (Texas) Guyer star safety remains committed to the Irish, but hasn't been shy about taking other visits — namely to Texas A&M and Oklahoma.
He saw the Sooners last weekend and is expected to be in College Station on Saturday when the Aggies welcome Miami to town. Those two have made him a major priority, and Freeman and Co. will be battling them until the ink hits paper on signing day.
5-star S Tony Mitchell
As of now, Tony Mitchell is part of what could go down as one of the best defensive back classes in recent memory at Alabama. He is one of three five-stars committed, with Five-Star Plus+ cornerback Cormani McClain still on the board.
But he hasn't completely shut things down yet. Mitchell visited Auburn last weekend and will now head to Texas A&M on Saturday for what should be an absolutely loaded recruiting day for Jimbo Fisher and Co. According to the latest intel from On3's Chad Simmons, A&M is the most likely threat to Alabama, though he still remains locked in with the Crimson Tide.
4-star WR Jalen Brown
LSU (somewhat surprisingly) won out for elite Miami (Fla.) Gulliver Prep wide receiver Jalen Brown in July, securing his commitment over the likes of Texas A&M, LSU and Georgia. But those schools haven't given up on him, and Brown's plan all along was to take official visits this fall while he was committed to the Tigers. He'll do so for the first time this weekend, joining Mitchell and Bowen at Texas A&M.
According to Simmons' sources, the commitment to LSU is still "strong," but Brown plans to dot all the i's and cross all the t's before he signs in either December or February.
4-star IOL Roderick Kearney
The hulking 6-foot-4, 300-pound Roderick Kearney was one of the prizes of Mike Norvell's 2023 recruiting class at Florida State, and he still is — at least for the time being. Kearney was back at Florida over the weekend when the Gators hosted Kentucky, his second trip to Gainesville in as many weeks.
The On3 Recruiting Prediction Machine (RPM) heavily favors a flip to Florida, but Kearney still remains in the Seminoles' class at this time. Georgia is another school looking to get in the mix, according to Simmons.
4-star DL John Walker
Billy Napier and Co. aren't just looking to flip commits from one in-state rival; they're equal opportunity poachers. Kissimmee (Fla.) Osceola four-star defensive lineman John Walker spurned the Gators for UCF over the summer, but Florida has far from given up on him. Like Kearney, he has been at both of UF's first two home contests, and he told GatorsOnline that he could return again this weekend.
An official visit to Gainesville is also locked in for Oct. 15, which is when the Gators welcome LSU — and a large number of expected unofficial and official visitors — to the Swamp.