Flip Watch: 5 elite recruits being courted by other programs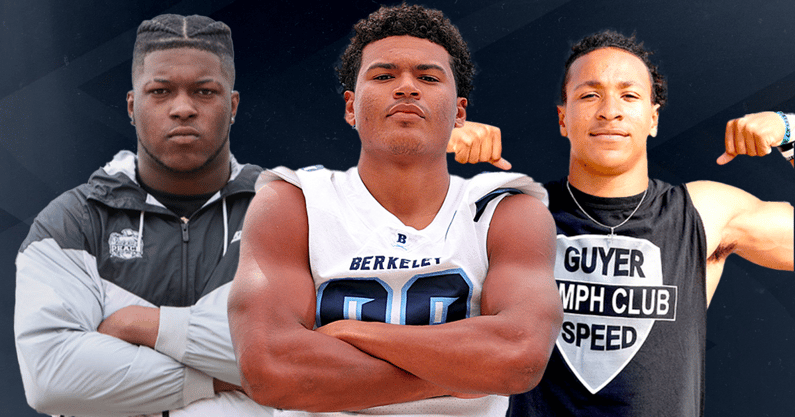 Nothing says college football is around the corner quite like the Flip Watch. With programs, both high school and college, beginning their fall camp schedules soon, college coaches made their final in-person push before the recruiting dead period over the weekend.
A number of elite prospects took advantage of the opportunity to make unofficial visits to one or more campuses, including a few who are already committed to other programs. The results of that have already played out in a few cases, with four-star Tampa (Fla.) Wharton cornerback Dijon Johnson decommitting from Ohio State after a visit to Florida, four-star Nebraska pledge Ashley Williams back off that after returning to Auburn, and top-10 tight end Ty Lockwood switching his commitment from Ohio State to Alabama earlier today.
Based on the latest intel in the On3 network, here are five coveted prospects to keep a close eye on as decommitment season and the Flip Watch begin to heat up.
5-star EDGE Keon Keeley
Multiple programs have made a run at Tampa (Fla.) Catholic EDGE Keon Keeley since his commitment to Notre Dame last summer. Among them: Florida, Ohio State and Alabama. But none seemed to gain significant traction until recently, when the Crimson Tide got him on campus for an unofficial visit over the weekend.
Keeley was photographed grilling on the field at Bryant-Denny Stadium, and according to his mother, he "likes everything about Alabama." The On3 Recruiting Prediction Machine has swung slightly in the Crimson Tide's favor since, giving them a 30.3 percent chance of flipping his commitment. For now, he remains pledged to the Fighting Irish, who have been aware of his plans to see others schools even after he committed.
The Keeleys plan to take more visits after the recruiting dead period ends, with "a couple of Florida schools" as the likely destination, according to Keeley's mom. A decommitment or flip isn't likely to happen soon, but few prospects will be watched more closely over the next few months.
4-star S Peyton Bowen
Between Keeley and four-star safety commit Peyton Bowen, Notre Dame is going to have a tense few months on its hands as the Early Signing Period approaches. The 6-foot, 185-pounder of Denton (Tex.) Guyer gave his commitment to the Irish publicly on Jan. 1. But rumors of him looking around have been floating around for some time, legitimized by the fact that he has visited Texas A&M and Oklahoma multiple times since his commitment.
The latest intel, after visits over the weekend to Norman and College Station, suggests those two schools are making a very serious run to flip him. According to On3's Sam Spiegelman, "The expectation from well-placed sources familiar with Bowen's recruitment is that this decision will ultimately boil down to these regional powers and that the elite Texas safety could take a step back from his current pledge either before or early on during his senior year."
Both programs have prioritized the Dallas Fort-Worth area, and Oklahoma in particular has done well there. The Sooners also have an ace in the hole, with five-star quarterback commit Jackson Arnold being Bowen's high school teammate. For now, he remains in the Irish class, but the momentum isn't in Marcus Freeman's favor.
4-star LB Suntarine Perkins
Raleigh (Miss.) linebacker Suntarine Perkins was the first commitment for Lane Kiffin and Co. in the 2023 cycle all the way back in November. At the time, he chose the Rebels over offers from Arkansas, Mississippi State, Florida State, South Carolina.
In January, Alabama pulled the trigger on an offer and caught Perkins' attention. The Tide got him on campus in March and defensive coordinator Pete Golding has been chipping away since then. Three weeks ago, the On3 RPM shifted heavily toward Alabama, with a pair of expert predictions from Alabama insider Joseph Hastings and Spiegelman coming in.
The Rebels did get Perkins back on campus over the weekend, with sources telling OM Spirit's Zach Berry that Kiffin and Co. feel good about their chances to keep him in the fold. This is yet another one that doesn't appear to be imminent but is very much one to watch.
4-star OT Bo Hughley
The state of Georgia hasn't exactly been kind to its flagship football program after winning the national championship. The Bulldogs are currently 0-fer with the Peach State's top five prospects, including recent misses with five-star safety Caleb Downs and four-star running back Justice Haynes.
And now they're in a heated battle with Auburn to hold onto their top-ranked commit from inside the borders. Fairburn (Ga.) Langston Hughes offensive tackle Bo Hughley was one of Kirby Smart's first commitments this cycle, but the Tigers have made him a major priority over the past few months. That includes getting him on campus in June for an official visit and again over the weekend.
AuburnLive insider Keith Niebuhr placed a flip prediction in their favor, but nothing appears to be imminent, according to On3 Director of Recruiting Chad Simmons.
"Nothing is going to be official for the top-10 offensive tackle until December," Simmons wrote earlier Tuesday. "This can change at any time, but based on two sources very close to this, I am hearing a flip or any type of change is not imminent for Hughley."
5-star QB Malachi Nelson
Five-Star Plus+ quarterback Malachi Nelson was Lincoln Riley's first commitment when he left Oklahoma for USC late last fall. The decision to follow the coach he'd committed to in Norman back to his home state was a no-brainer. The Trojans built an early case for the No. 1 class in the country, but have seen their momentum on the trail dissipate in recent months.
In what can only be considered a major surprise, Nelson visited Texas A&M over the weekend, his first trip to any school other than USC since his commitment. That news sent a shockwave from College Station all the way back to L.A. Right now, according to WeAreSC's Scott Schrader, the concern about Nelson's commitment status isn't major. But if more visits, whether to Texas A&M or other schools, begin to materialize, the questions will only get louder.
"Whether or not USC is the best situation as a football player isn't in question, but there are other issues at hand," Schrader wrote on Monday. "Do I think there's anything to freak out about as a result of the A&M visit on July 29? No, I do not. But I'd get increasingly concerned if visits to other schools happen down the road."