Early senior season evaluations drive updated 2022 On300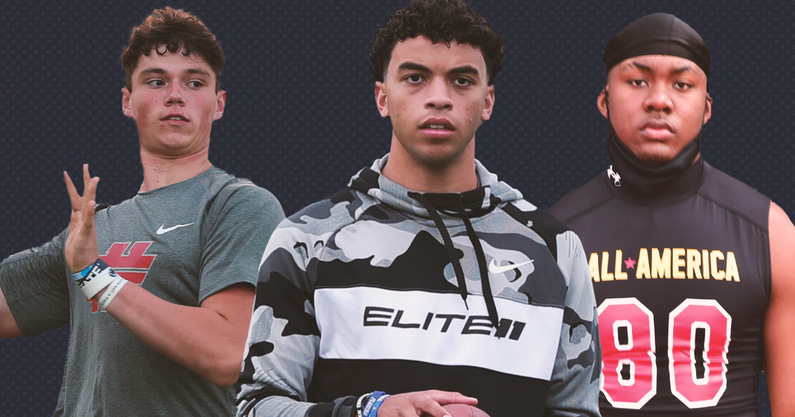 On3 has updated its football prospect rankings for the 2022 recruiting cycle. The On300 is updated on a regular schedule over the course of the year. The senior season is a pivotal evaluation point for most football prospects and key in our rankings. Some prospects are halfway through the regular season, allowing for plenty of evaluation opportunities.
Our goal is to assess a prospect's long-term potential in college football, as manifested by the NFL Draft. We currently have 20 prospects rated as five-stars and will finish with 32 five-stars every cycle. 
Let's get into some of the storylines surrounding this update.
Five-star movement
The top three of EDGE Marvin Jones, Jr., Florida State athlete commit Travis Hunter and defensive lineman Gabriel Brownlow-Dindy remains unchanged.
The first tweak comes with wide receiver Evan Stewart moving up to No. 4 in the On300. The Frisco (Texas) Liberty playmaker has performed like the best wide receiver prospect in the nation this fall, making jaw-dropping plays at a regular rate. Stewart is among the better receiver prospects we've seen in several cycles.
USC defensive line commit Mykel Williams also moves up and rounds out the top five. The 6-foot-5, 260-pounder has turned in strong play as a senior, using his length and athleticism to make plays off the edge. The Columbus (Ga.) Hardaway product is an active high school player who has considerable physical gifts with a rare frame.
Linebacker Harold Perkins jumps one spot up to No. 8. The Houston area prospect has looked like an elite linebacker prospect this fall, making some dynamic individual plays on both sides of the ball.
We also have a new five-star, with Alabama EDGE commit Jeremiah Alexander checking in at No. 18 overall. Alexander is a dominant high school player. We recently watched the 6-foot-2, 235-pounder put on a show in a game that pitted two of the state's best teams. He's a high energy, strong and smart player on the edge. Alexander has 43 tackles, 18 tackles for loss and six sacks in just six games, despite many being blowouts.
Knocking on the five-star door
A few prospects have made the move to the precipice of five-star status within the On300.
Penn State quarterback commit Drew Allar checks in at No. 21, the highest four-star. The 6-foot-5, 220-pounder entered the season most known for his considerable arm talent. He's putting those traits to use thus far, turning in a strong senior campaign while leading his Medina (Ohio) High team to an undefeated start. Allar is among the more productive 2022 quarterbacks this fall.
SMU wide receiver commit Jordan Hudson (No. 22) is one of a few receivers in Texas off to a white hot start. The Garland High standout has caught 32 passes for 569 yards and 10 touchdowns in just four games. One out of every 3.2 catches is going for a touchdown. Hudson is a smooth receiver with outstanding ball skills. He's winning downfield and in the red zone at a high clip.
Allar's fellow Penn State commit Nicholas Singleton has separated himself as the top running back to this point, in our opinion. The Reading (Pa.) Governor Mifflin star checks in at No. 24 overall. Singleton is having a huge senior season thus far rushing for 1,016 yards and 22 touchdowns on just 78 carries. He's averaging 13 yards per carry. The 5-foot-11, 210-pounder combines track speed (10.89 second 100m time) with a thick frame, high-end burst and physical running style.
We were higher than most on Clemson commit Toriano Pride in the initial On300, ranking the East St. Louis (Ill.) cornerback No. 67. That was not high enough. Pride has been dominant thus far and has put together arguably the best cornerback video we've seen from the senior seasons thus far. The 5-foot-11, 185-pounder flashes top-end feet and ability to redirect in coverage. He's in receivers' hip pockets and does an outstanding job of staying attached throughout the route. Pride has very strong athletic markers and also has considerable length in addition to his stellar play thus far.
QB race still wide open
The reclassification of former top quarterback Quinn Ewers further opened the race for the top signal caller in the 2022 cycle. Things still remain relatively unresolved. Eight quarterbacks dot the top 100 with Allar (No. 21), Clemson commit Cade Klubnik (No. 29), Alabama commit Ty Simpson (No. 41) and Texas A&M commit Conner Weigman (No. 50) in the top half.
Florida commit Nick Evers moves up nearly 100 spots to No. 58 after showing some on-field strides to go with his quick release and notable arm talent. Evers is followed by USC commit Devin Brown at No. 63 and LSU commit Walker Howard at No. 66. Brown is enjoying a strong senior season at powerhouse Corner Canyon in Utah. Howard is carrying an inexperienced supporting cast to some wins. Georgia commit Gunner Stockton has been a known commodity in the Peach State for years and rounds out the top 100 at No. 99.
Former Cal commit Justyn Martin is a riser within the On300 and checks in at No. 132. The Inglewood (Calif.) passer has shown some progress over the past year and is seeing his recruitment heat up.
For more on the senior seasons of On300 quarterbacks, click here.
New entrants into the On300
As with any update, we have a number of prospects who made their On300 debuts. Seventeen prospects in total are new to the ranking:
No. 79: IOL Tristan Wilson, Lebanon (Mo.) High- Missouri commit
No. 106: IOL Patrick Kutas, Memphis Christian Brothers – Arkansas commit
No. 147: S Davison Igbinosun, Union (N.J.) High – Rutgers commit
No. 172: LB Abdul Carter, Glenside (Pa.) La Salle – Penn State commit
No. 179: RB Ajay Allen, Monroe (La.) Neville – TCU commit
No. 202: EDGE Jared Badie, Oswego (Ill.) East – Illinois commit
No. 207: LB Jalen Woods, Bellflower (Calif.) St. John Bosco –UCLA commit
No. 210: WR Chas Nimrod, Bentonville (Ark.) – Tennessee commit
No. 214: WR Mekhi Fox, Pasadena (Calif.) – UCLA commit
No. 232: S Phillip Dunnam, Miami North Miami Beach – Indiana commit
No. 240: WR Anthony Ivey, Lancaster (Pa.) Manheim Township – Penn State commit
No. 249: CB Xavion Brice, Arlington (Texas) Seguin – Oklahoma commit
No. 264: S Croix Stewart, Benicia (Calif.) – UCLA commit
No. 272: WR Ja'Marion Wayne, Ballwin (Mo.) West – Missouri commit
No. 281: DL Gracen Halton, San Diego St. Augustine – Oregon commit
No. 282: LB Aaron Alexander, Belleville (Mich.) – Michigan commit
No. 287: LB Tevarua Tafiti, Honolulu Punahou – Stanford commit
For more on the new entrants, click here.
Commit leaderboard
Unsurprisingly, many blue-blood programs hold commitments from a significant of the prospects in the On300.
Notre Dame leads the way with 13 commits. Alabama, Ohio State and Texas are next up with 12 apiece. The Crimson Tide could add to that total later today with top 50 offensive tackle Elijah Pritchett set to announce his decision.
Clemson, Penn State and Texas A&M are up next with 11 commits each. The Tigers have the most commits within the top 100 with seven. Alabama is close behind with six.