Unveiling the final 2022 On300 rankings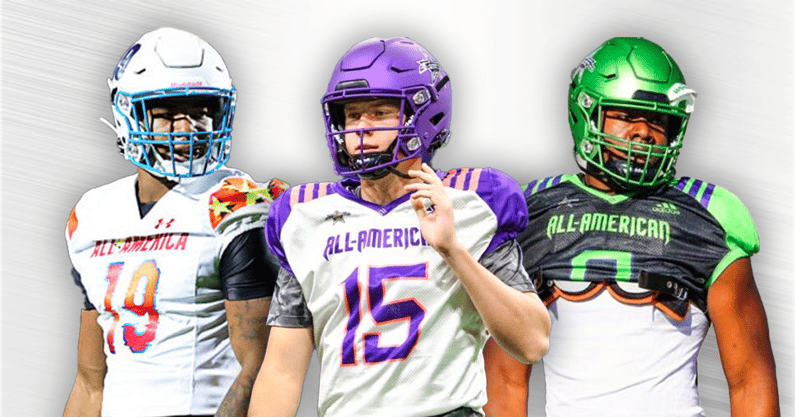 On3 has released its football prospect rankings for the 2022 cycle. This rankings release marks the final update and is heavily informed by continued senior season evaluations and national all-star games that featured nearly 200 of the nation's top prospects.
We heavily prioritize the senior season in our evaluation process as it has proven to be among the more predictive evaluation points over the course of a high school prospect's development. The month since the season ended allowed for time to sift through each position group and dive into the senior campaigns. In-person all-star evaluations both in regional and national games also prove highly instructive and have a track record of being strong indicators. After two weeks on the road at the Under Armour All-America Game and the All-American Bowl, we feel good about our grip on this cycle.
Our goal is to assess a prospect's long-term potential in college football, as manifested by the NFL Draft. We work towards finishing with 32 five-stars every cycle. That group is manifested and minted in this final release.
Let's get into some of the storylines surrounding the final 2022 On300.
The tight race for No. 1
It's not always the case, but the hottest debate in this cycle revolved around the topic of the No. 1 prospect. We ultimately narrowed things down to Ohio State quarterback signee Devin Brown, Georgia defensive line signee Mykel Williams and Alabama EDGE signee Jihaad Campbell.

Brown edged out Penn State signee Drew Allar as the top quarterback primarily due to his projectable athleticism and movement skills.

Williams jumped into the No. 1 conversation with an utterly dominant week at the All-American Bowl to cap off a strong high school career and overall resume.

Campbell has been a steady riser and put together a standout week at the Under Armour All-America Game in addition to putting some outstanding versatility and effort level on video as a senior.
Ultimately we landed on Devin Brown as the No. 1 prospect with the feeling that he has the highest ceiling as a quarterback.
Read more about the debate around the No. 1 prospect here.
Rounding out the top group
The top three and Drew Allar (No. 7) are joined by four more prospects with 99 ratings.
Ohio State athlete signee Sonny Styles (No. 4). Styles was initially a 2023 prospect before re-classifying and signed with the Buckeyes as a 2022 prospect in December. The 6-foot-4, 220-pounder is a unique prospect with elite athleticism at his size. He has the cover skills of a deep safety but ultimately projects as a front seven defender.

Read more about Sonny Styles' unique skills here
Texas A&M signee Walter Nolen (No. 5) rises after a strong senior season at Powell (Tenn.) High and a top performer level showing at the Under Armour All-America Game. Nolen looked to be in good shape in Orlando and was a disruptive presence on the interior.
Texas signee Kelvin Banks (No. 6) ranks as the top offensive lineman. The offensive tackle is a fluid, nimble mover with length and functional strength. We saw Banks continue to progress and improve as a senior.
Travis Hunter (No. 8) has long been tabbed as one of the nation's top prospects and perhaps the top high school football player. The Jackson State signee has transcendent ball skills and is capable of starring at either wide receiver or cornerback, though we view him as more natural fit on offense due to said ball skills.
New Five-stars
Fifteen prospects added their fifth star in this final update.
Devin Brown (No. 1) and Alabama signee Ty Simpson (No. 30) are the two new quarterback entries. Simpson was the third-ranked quarterback coming into the final update. We didn't get to see the Crimson Tide signee on the all-star circuit, as he enrolled early in Tuscaloosa for College Football Playoff practices. With that said, we felt Simpson was the clear No. 3 option at the position given his strong senior season and high-end playmaking ability from behind center.
It's a strong cycle at wide receiver in our estimation and the top two prospects at the position are new five-stars. Missouri signee Luther Burden (No. 9) has been an undeniable riser over the course of the season. Burden had a fantastic senior season at East St. Louis High. He's one of the top threats after the catch regardless of position and scored on nearly 10 returns as a senior. We saw his versatile skill set on display at the Under Armour All-America Game, where he had the best week among a loaded group of receivers.
it may be a surprise to some, but we landed on TCU signee Jordan Hudson (No. 15) as the No. 2 receiver in the cycle. Hudson has some of the most natural receiver skills in the class. The 6-foot-1, 190-pounder had a great senior season, hauling in 22 touchdowns and was a standout at Under Armour after arriving towards the end of the week. Hudson is a silky smooth route-runner with the ability to toggle speeds mid-route and has arguably the strongest hands among the receiver group.

Jihaad Campbell (No. 3) is joined by several new five-star EDGE prospects. From a sheer talent perspective, Tennessee signee James Pearce (No. 11) may be the top pass rusher and perhaps prospect in the cycle. The Charlotte Chambers product has been a revelation in 2021 and has an elite combination of speed, bend and finishing ability behind the line. Penn State signee Dani Dennis-Sutton (No. 20) was a top performer on the edge at the All-American Bowl, showing speed-to-power and a high effort level. Ohio State signee Kenyatta Jackson Jr. (No. 23) had a fantastic senior season and was named Florida's Gatorade Player of the Year while leading his team to a state title.

It's a down year along the offensive line but Alabama signee Tyler Booker (No. 14) definitely stood out on the all-star circuit. Booker is highly technical and uses burly strength to neutralize defensive linemen. The IMG Academy product has positional versatility as a tackle or guard. Notre Dame signee Aamil Wagner (No. 29) has a developmental body type at 6-foot-6, 260-pounds but has some of the better athletic upside and play strength of all offensive tackles nationally.
We found Booker's fellow Alabama signee Amari Niblack (No. 27) to be the most versatile tight end prospect in the cycle. Niblack is a three-level threat as a route-runner, contested catch ball-winner and runner after the catch.
Notre Dame signee Jaylen Sneed (No. 26) and Utah signee Lander Barton (No. 28) put an exclamation point on two very strong resumes with great all-star showings. Sneed is a twitched-up space linebacker prospect with top notch athleticism to go with a motor that runs hot. Barton is a NFL legacy who has outstanding size at 6-foot-4.5 220-pounds, a strong production and athletic profile to go with a fantastic showing at the All-American Bowl.

Jacoby Mathews (No. 19) lands as the top safety prospect. The unsigned prospect from Ponchatoula (La.) has shown high-end instincts and playmaking ability on both sides of the ball. Michigan signee Will Johnson (No. 31) is a new addition following a strong week at the Under Armour All-America Game. The 6-foot-2, 190-pounder made more plays on the ball than any other cornerback in Orlando.
Breaking down the quarterbacks
Brown, Allar and Simpson are joined by five more quarterbacks in the top 100.

Purdue signee Brady Allen (No. 39) rises to the No. 4 quarterback in the final ranking. The 6-foot-5, 215-pounder has high-end physical tools with one of the better arms in the cycle to go with quick feet. Allen had a prolific high school career throwing for over 11,000 yards. He was named Indiana's Mr. Football as senior after throwing for over 4,200 yards and 58 touchdowns while leading his school to a state title.

Texas A&M signee Conner Weigman (No. 47), Clemson signee Cade Klubnik (No. 60) and Oklahoma signee Nick Evers (No. 77) represent what was a strong quarterback cycle in the Lone Star State. Weigman is a top two-sport athlete (baseball) and has some innate playmaking ability. Klubnik is one of the more accurate and efficient quarterbacks in the cycle. He's highly competitive and led powerhouse Austin Westlake to back-to-back state titles as a two-year starter. Evers has the quickest release in the cycle. He did not play at a top high school program, but we view his arm talent and movement skills as very projectable to the next level.

LSU signee Walker Howard (No. 98) rounds out the group of top 100 quarterbacks. The Lafayette (La.) St. Thomas More product had a bit of a disjointed senior season while dealing with roster turnover and an injury. Still, we liked the competitiveness Howard showed in leading his team to several tight wins.
New entrants into the final On300
No. 86 EDGE Trevion Williams, Crystal Springs (Miss.) High – Mississippi State signee
No. 129 EDGE Ethan Burke, Austin (Texas) Westlake – Texas signee
No. 153 TE Daequan Wright, Perry (Ga.) High – Unsigned (Virginia Tech commit)
No. 165 WR Caleb Douglas, Missouri City (Texas) Fort Bend Hightower – Unsigned
No. 167 DL Trevon McAlpine, Saraland (Ala.) High – Texas Tech signee
No. 170 RB Omarion Hampton, Clayton (N.C.) Cleveland – North Carolina signee
No. 176 DL Marquis Gracial, St. Charles (Mo.) High – Missouri signee
No. 177 LB Avery Sledge, Brooklyn (Miss.) Forrest County Agricultural – Mississippi State signee
No. 183 EDGE Keyshawn Burgos, Chesterfield (Va.) Matoaca – Virginia Tech signee
No. 184 DL Caden Curry, Greenwood (Ind.) Center Grove – Ohio State signee
No. 201 IOL Davis Dotson, Tulsa (Okla.) Berryhill – Unsigned
No. 202 EDGE Justice Finkley, Trussville (Ala.) Hewitt-Trussville – Texas signee
No. 204 RB George Pettaway, Suffolk (Va.) Nansemond-Suffolk Academy – North Carolina signee
No. 220 LB Tobi Osunsanmi, Wichita (Kan.) East – Kansas State signee
No. 226 OT Matthew McCoy, St. Augustine (Fla.) Creekside – Unsigned
No. 238 IOL Braelin Moore, Bethlehem (Pa.) Freedom – Virginia Tech signee
No. 239 EDGE Keaten Wade, Spring Hill (Tenn.) Summit – Kentucky signee
No. 241 QB Holden Geriner, Savannah (Ga.) Benedictine – Auburn signee
No. 244 TE Colston Loveland, Gooding (Idaho) High – Michigan signee
No. 250 LB Aidan Vaughn, Walled Lake (Mich.) Walled Lake Western – Wisconsin signee
No. 253 S Jocelyn Malaska, Bethany (Okla.) High – Utah signee
No. 255 CB Jaden Harris, Atlanta Riverwood – Miami signee
No. 261 WR Donovan Brown, Gaithersburg (Md.) Quince Orchard – Syracuse signee
No. 269 LB Malaki Hamrick, Shelby (N.C.) High – North Carolina signee
No. 272 CB Kyron Chambers, Dallas South Oak Cliff – TCU signee
No. 274 CB Olando Trader, Jackson (Mich.) High – Iowa signee
No. 275 WR Chris Reed, Apopka (Fla.) Wekiva – Utah signee
No. 278 CB Oliver Bridges, Potomac (Md.) The Bullis School – Cincinnati signee
No. 280 LB Moses Walker, Brooklyn (N.Y.) Erasmus Hall – Rutgers signee
No. 282 EDGE Zion Young, Atlanta Westlake – Michigan State signee
No. 284 CB J.Q. Hardaway, Phenix City (Ala.) Central – Cincinnati signee
No. 290 DL Aaron Bryant, Southaven (Miss.) High – Texas signee
No. 292 IOL Xavier Chaplin, Seabrook (S.C.) Whale Branch – Unsigned (Virginia Tech commit)
No. 293 S Kye Stokes, Seffner (Fla.) Armwood – Ohio State signee
No. 294 IOL Armand Membou, Lees Summit (Mo.) Lee's Summit North – Missouri signee
No. 295 LB Jaishawn Barham, Baltimore St. Frances – Maryland signee
No. 300 WR Tyler Morris, Bolingbrook (Ill.) Nazareth Academy – Michigan signee