Greg McElroy explains how Brian Kelly, Lincoln Riley, Dan Mullen prove coaching windows are shifting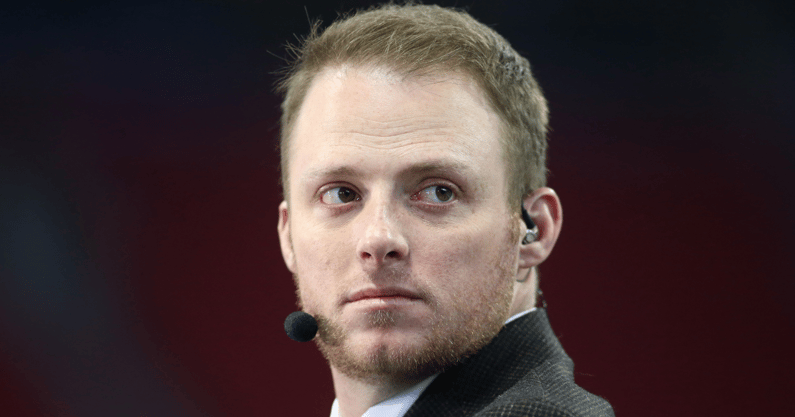 ESPN analyst Greg McElroy predicts that the average career length of college football coaches will get shorter. Thanks to a variety of factors including rising salaries and a more demanding offseason schedule, the former Alabama QB believes coaches will be less inclined to stay at one place for as long as they have in the past.
On the Always College Football podcast, McElroy pointed to Georgia coach Kirby Smart, who signed a 10-year contract worth $112.5 million ahead of last season. He also used the moves of Brian Kelly from Notre Dame to LSU and Lincoln Riley from Oklahoma to USC to make the point that coaches aren't afraid to leave one top program for another.
"We know that these coaches are making money like they've never made before," he said. "When these coaches — let's say Kirby Smart for example. He's on top of the college football world right now. Has won back-to-back national championships. Has been rewarded with a very lucrative nine-figure deal to be the head coach of the Georgia Bulldogs. Kirby Smart's in his late 40s. If he were coaching back in 2002 when he was making probably $900,000, would have to coach for 30 years. The longevity of these coaches, I think, is shrinking considerably.
"That's why I think guys like Brian Kelly leave Notre Dame for a fresh start at LSU. We've seen guys like Lincoln Riley leave for a fresh start at USC. The longevity that these coaches have at one particular place is shrinking. Not just because things get stale, but because they're making so much money. 'Why am I grinding like crazy to continue to do this when I've already made more money than I could ever spend in one lifetime?' As a result, the coaches are going to turnover more significantly. Gone are the days when you have a head coach that's at a place for 30 years."
McElroy admitted there are still some older coaches who will go against the grain. Most notably, Nick Saban and Mack Brown, both of whom are in their early 70s, have enjoyed coaching careers of 30-plus years with no signs of stopping.
However, the ESPN analyst also brought up Dan Mullen as an example of a coach who has stepped away from the game. Mullen coached at Mississippi State from 2009-17 and then at Florida from 2018-21. He was fired following the 2021 season and made the decision to join ESPN as an analyst rather than looking for another coaching job.
"There might be rare examples of a guy who wants to coach deep into his 70s," McElroy said. "We've seen examples of that. Mack Brown couldn't get enough of it and wanted to come back. Nick Saban's in his early 70s and has shown no signs of slowing down, at least at this point. But I think those are the only anomalies. Matt Luke, formerly the head coach at Ole Miss (and) most recently the offensive line coach of the Georgia Bulldogs, got a really nice settlement from Ole Miss when he was let go. Went to Georgia, coached for a couple years, won a national championship and said, 'you know what, guys? I'm good. I don't think I wanna do this anymore.'
"Dan Mullen got paid handsomely to shut it down and Florida and decided, 'this grind that you're experiencing as a head coach, I'm not really sure I'm cut out for it as much as I once was.' So the AD is gonna be the guy that's stable. The AD is gonna be the guy that's there."
Greg McElroy explains how offseason schedule is more hectic than ever for college football coaches
The rise of the transfer portal and NIL have made things even busier for college football coaches. While they used to have some off-time after spring practice, the introduction of the spring transfer window has forced them to go through a second wave of recruiting.
"The calendar that these coaches are having to live within is unlike that of anything that they have experienced before," he said. "These guys used to get all of June off. They used to get all of July off. Now, they're hosting recruits all throughout June. They're on the road recruiting all throughout the end of May. I just don't see it being realistic where you hire a guy and you keep him for the better part of two decades. So if your AD is there for a significant period of time, he might actually have to participate in multiple head coaching searches."
McElroy even made the comparison of college football's offseason schedule to that of the NFL. We've seen coaches such as Michigan's Jim Harbaugh flirt with the idea of leaving for the pros in recent seasons, and the ESPN analyst believes the offseason calendar could be a contributing factor.
"You can talk to anybody that's been in the current game versus the way it was back in the day," he said. "Everybody and their brother's trying to get to the NFL. Why is that? Because when you coach in the NFL, the calendar that you have to abide by is absolutely nothing compared to the calendar you currently have to live with in college football."