Greg McElroy says SEC's 8-game format would rely on perceived strength of conference, not strength of schedule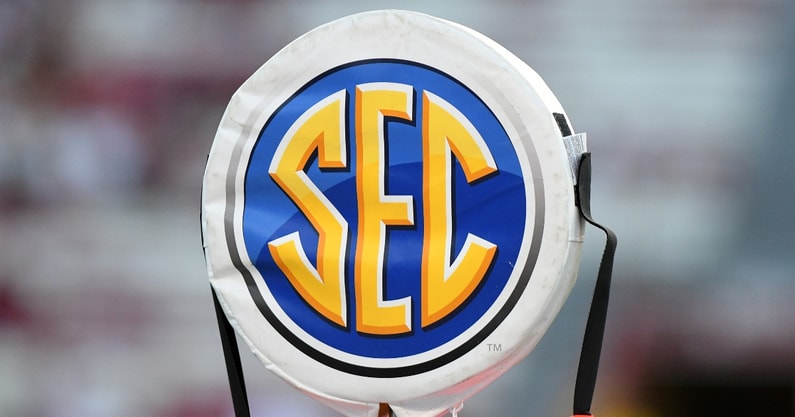 The conversation around the SEC's eight or nine-game conference schedule model has been a large one. It went up a notch again on Thursday evening with the report that the league would be remaining with their eight-game look through the 2024 season.
There are likely several reasons at play that led to that. However, in Greg McElroy's opinion, the one that matters a ton is the perception of strength of schedule. In an episode of 'Always College Football', McElroy said that the subjectivity of that topic has programs worried about how people perceive them. With that in mind, he says the SEC knows they've had success in making postseason arguments with only eight games before and, for the foreseeable future, they believe that can still happen with an expanded playoff.
"The strength of schedule argument is a subjective argument. There will be a level of subjectivity that we always will deal with," McElroy said. "I don't care if we have 100 teams in the College Football Playoff. The 33 teams that are left out are going to be really ticked off and they're going to say they're better than the teams that got in. It doesn't matter how big the gap goes. Everybody can't play each other, not everyone can play the same schedule. So there will be a level of subjectivity."
"But, more often than not, the way people decide who's better is based on wins and losses," continued McElroy. "I think that the fear for the SEC teams? They think there's a strong possibility that they would say a 10-2 SEC team with a 7-1 conference schedule? That didn't get into the conference championship game? Maybe lost a nail-biter in the non-conference against another playoff contender? Whatever. They think that that record at 10-2 will be able to go toe-to-toe against another conference's runner up that's maybe 11-1. Or 11-2 because they lost a game in the regular season then lost a game in the conference championship game."
It doesn't matter if you're an expert or a common fan when it comes to college football. Most people know what the SEC has to offer on the field. In the end, that's an awareness that McElroy believes the SEC is aiming to protect.
The eight-game look isn't necessarily something that he himself agrees with. Still, considering what has worked for them in the past, McElroy says, for now, the SEC isn't going to risk playing another conference game and will continue to rely on their earned perception of great teams, coaches, and players to get their foot in the door when it comes to the postseason.
"I think the SEC has been given the benefit of the doubt in the past," said McElroy. "And I think because, if it ain't broke don't fix it, they're probably looking at it and saying we'll probably get the benefit of the doubt again in the future because of the quality of the league and the amount of great players and great teams in the league as well."