Daily briefing: On Bedlam ending, the ACC moving and the season getting interesting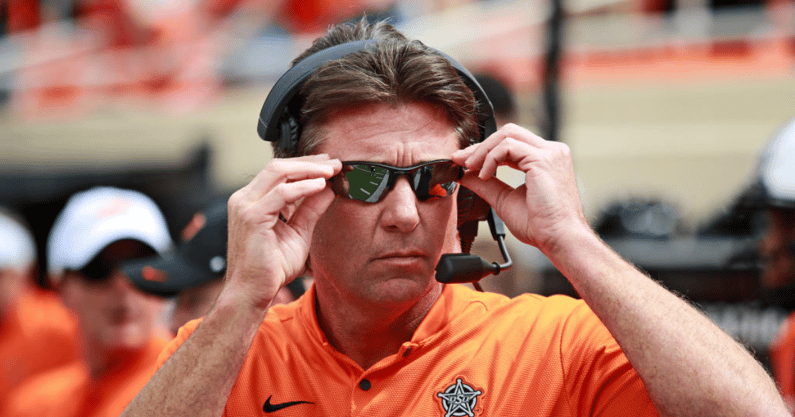 Ivan Maisel's "Daily Briefing" for On3:
Emotion certainly a part of why Bedlam ending
You can convince me that there are some logistical reasons for Bedlam coming to an end. The Big 12 plays nine conference games a year, and Oklahoma State already has future non-conference games against some big names: Alabama, Arizona State, Arkansas, Colorado, Nebraska, Oregon. But Oklahoma State athletic director Chad Weiberg can't be serious when he says the decision to end the rivalry is not based on emotion. Really? Your biggest rival turned its back on you and decides to leave for the SEC, but your decision to end the rivalry is not emotional? Anyone buying that? Coach Mike Gundy suggested everyone acknowledge that Oklahoma followed the money to the SEC and be done with it. I don't blame Oklahoma State for feeling hurt, but nothing is stopping them from scheduling a rivalry no one wants to end.
ACC leaving its history behind
The ACC is moving its office from Greensboro to Charlotte, one more red flag in a parade of them indicating that the league has outgrown its roots. That may sound simplistic in an era when the Big Ten is expanding from coast to coast and Georgia-Oklahoma is a conference game, not a Supreme Court case. But the league's allegiance to Greensboro hearkened to an earlier time, when the ACC thought of basketball first. Greensboro Coliseum has held twice as many ACC Basketball Tournaments as any other city. Charlotte has become a major American city. The ACC Network operates out of there. So does the ACC Football Championship Game. The network and football are higher priorities to the ACC than basketball. They just are. Leaving Greensboro behind is leaving the league's history behind. Growth beats tradition one more time.
Meat-and-potatoes part of schedules is here
Let's celebrate the arrival of autumn by celebrating the arrival of full-on conference play. The reason we have 33 undefeated FBS teams through three weeks of play is not because we have 33 really good teams. It's because some teams schedule their way to greatness. Minnesota (3-0) ranks second in the FBS in total offense (554.7 ypg) and rushing (312.7 ypg), but not until the Golden Gophers play at Michigan State on Saturday will we begin to get an idea of how nice a boat P.J. Fleck's team is rowing. No. 4 Michigan, TCU, UCLA – the list could go on for a while. Now the tests begin (OK, UCLA plays Colorado, but you get the point). The giddiness of opening the season has passed. We are into the meat and the potatoes, and hallelujah.