2024 4-star OT Kam Pringle commits to South Carolina: 'I just feel like I can't go wrong'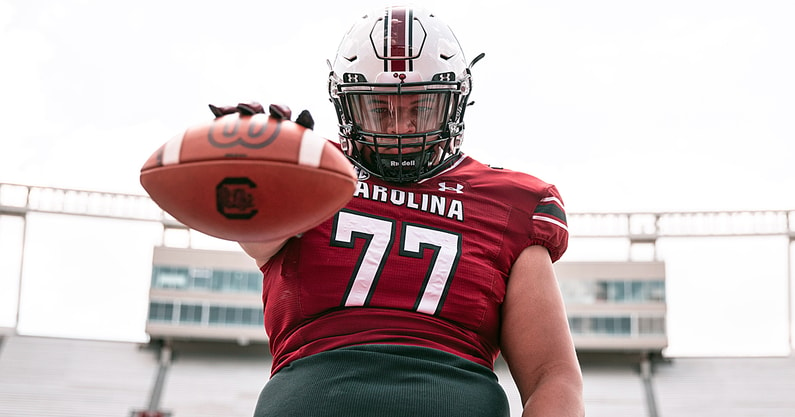 Dorchester (S.C.) Woodland four-star offensive tackle Kam Pringle announced a top six of Clemson, Florida, Georgia, NC State, South Carolina and Tennessee on Jan. 5. Nine days later, he traveled to the Gamecocks' campus and privately committed to head coach Shane Beamer.
The top player in The Palmetto State and the No. 30 overall prospect in the 2024 On300 made the news official on Sunday.
"It means a lot to rep the state I grew up in and stay home and compete and try to bring a first national championship to the school," Pringle told On3. "It's just amazing. I feel like that's how it's supposed to be. When you grow up in-state, a school you're right up the street from, you just ride past the facility and you think, 'What if?' Really staying home, I got the people around me, the support system around me, I got fans around me. I just feel like I can't go wrong."
In addition to playing in his home state, Pringle believes he can develop and win games at South Carolina; he and his family built great relationships with the Gamecocks' coaching staff.
South Carolina has a 'one big family' atmosphere
Pringle has visited South Carolina nine or 10 times, and is already excited for his future in Columbia.
"It's amazing," he said. "I feel like it's a warm welcome. It's like one big family. I've been just about everywhere in the country (and) it's probably the best fan base I've seen. With me being the in-state kid, I get a lot of love around here from Carolina fans, so the fan base is amazing. The coaching staff as people, they're amazing. They just got great people, great with their kids, great with their players, just great people all around."
Pringle also believes the program is on the track to win — and win big — in the SEC.
"And then the opportunity to win and actually compete for a national championship," he said, "I feel like the program's on the rise and it's turning around, so I could definitely go in there and contribute and have an opportunity to win at the highest level."
Pringle is a believer in Shane Beamer
Beamer led the Gamecocks to eight wins in 2022. Two of those victories came against top-10 programs in Clemson and Tennessee.
On the recruiting front, South Carolina has a top-20 2023 class and two four-star pledges in their 2024 group. As a result, Pringle believes the future is bright for the Gamecocks.
"He can make them a powerhouse," Pringle said. "I feel like he has what it takes, he has the right people around him, he has a great fan base around him that loves him. Win or loss, they love him. There's plenty of time and opportunity for him. He doesn't have to go and win the national championship tomorrow, but the fanbase and the people are just, little by little, they believe in him and they're invested in him and they feel like he knows what he's doing and he has what it takes."
Pringle has known Beamer since he was 15. The four-star believes South Carolina's head coach is a "great man."
"Just knowing him, he's a great guy," Pringle said. "He does everything he's supposed to do. I've seen him around his kids. I've hung out with his kids. Just seeing him as a dad or seeing him as a head coach to his players, you just see a great man in him. The way he handles people from his secretary and his coordinators, all the way down to the people sweeping floors in his facility, he's just always a great man, very genuine person."
Pringle is 'locked in' with the Gamecocks
When Pringle decided on South Carolina, he felt like "a huge weight was lifted off me." Now, the four-star is all in with the Gamecocks.
"I feel like as long as the relationship stays and everything, everybody keeps the same energy they've been having, I'm locked in," Pringle said. "I'm here for the long run. I'm not one of those guys who's gonna commit Sunday and then take a visit to Southern Cal on Monday. If I'm committed somewhere, that's where I'm going, that's where I'm visiting, that's where I'm spending my time, that's where I'm watching practice, that's where I'm trying to learn. I'm not one of those guys who's unfaithful to their commitment."
There is more than a year until Pringle enrolls in Columbia. However, he is already looking forward to his career at Williams-Brice Stadium.
"They're 40 minutes away from my front door," Pringle said. "I could get a great education. The level of competition, playing in the SEC, and the doors that are open for me to come in and play early. They've got multiple fifth-year offensive lineman leaving and then, I don't think they signed a real, true offensive tackle in the '23 class. So the opportunity for me to come in and play is really there, so that's why it made sense for me."